In Iowa, Expect the Unexpected
Trump leads the late polls, with Rubio positioned for a strong finish.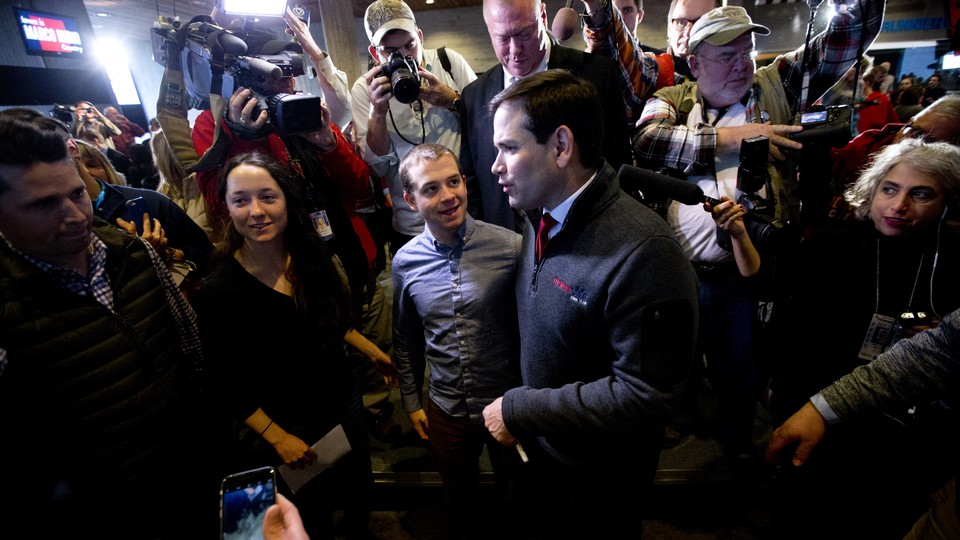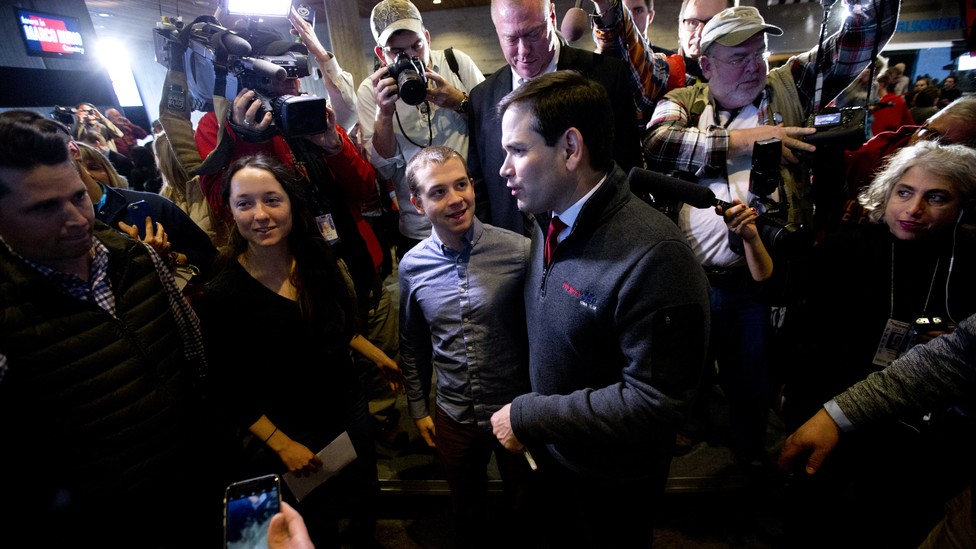 URBANDALE, IOWA—The latest polling in Iowa confirms that Donald Trump has pulled into a narrow lead in the Republican race, with Ted Cruz nipping at his heels and Marco Rubio performing respectably in third place.
But on the campaign trail, it's apparent that the race is still very volatile—and it would be prudent to expect some surprises in the caucuses on Monday night. Rubio, in particular, is starting to translate his potential into larger crowds and more-widespread support.
The Des Moines Register/Bloomberg Politics poll, the gold standard of Iowa surveys, had some fascinating below-the-radar nuggets that could determine the outcome of Monday's caucuses. Trump leads with 28 percent, but he doesn't have much ability to expand his support. Only 7 percent of voters list him as their second choice, and his unfavorables are very high among Republicans, at 47 percent. Meanwhile, Cruz and Rubio have sky-high favorables, with their supporters even more enthusiastic about their candidacies than Trump's. When second-choice preferences are included, Cruz tops Trump and Rubio ties him.
The big question is whether supporters of the longer-shot candidates will ultimately back alternatives. Ben Carson is poised to play spoiler, tallying 10 percent that could ultimately go to Cruz or Rubio. The small share of the electorate backing Jeb Bush, Chris Christie, and John Kasich are natural Rubio supporters, too. Even with the race coming down to three front-runners, the crowded field is Trump's best friend.
Rubio has the highest approval ratings of all the candidates (an enviable 70/21 favorability score) and even a wave of attack ads have done little to dent his potential. On the trail, he sounds more confident and loose. Trump and Cruz, meanwhile, have seen their favorability slip since the last survey—and they have been going after each other harshly. The pieces are in place for Rubio to easily surpass his 15 percent tally. And if he hits 20 percent, second place is a very realistic possibility.
On caucus night, I will be reporting from a bellwether precinct in the Des Moines suburb of Urbandale, where we should get an early sign of Trump's strength and Rubio's potential. The affluent area went for Mitt Romney in 2008 and 2012, and should be receptive to Rubio's message. He drew one of his largest crowds here Saturday night with about 1,000 supporters in attendance at a rally. Follow me at @HotlineJosh Monday night for a live preview of how things are shaking out.  
TRAIL MIX
Democratic voters are moving as far to the left as Republicans are to the right in Iowa. In the Des Moines Register/Bloomberg Politics poll, Bernie Sanders wins 42 percent of the Democratic vote and runs just three points behind Hillary Clinton. And over two-thirds of Democrats (68 percent) said they're fine with nominating a socialist as their nominee.   
Rule of thumb: Lower turnout benefits Cruz and Rubio, while higher turnout is critical for Trump. Iowa Republicans expect turnout to exceed the 121,500 voters that turned out in 2012, but not by much. If that number nears 140,000 or more, Trump is a near-lock to win. The Cruz campaign boasts of its microtargeting of its most loyal supporters, but it isn't as prepared for a surge of new caucus-goers to the polls. (On the Democratic side, Sanders needs higher-than-usual turnout to beat Clinton.)
The numerous attacks directed at Jeb Bush's super PAC for attacking Marco Rubio—and not airing ads against Donald Trump—are mostly unfair. Rubio is Bush's biggest rival and, in order to survive past New Hampshire, he needs to pick off the Florida senator's supporters in the Granite State. Going after Trump now doesn't benefit Bush at all; his campaign/super PAC isn't a charity case. The bigger question should be directed at Bush himself: for deciding to remain in the campaign even as polls have consistently shown that his path to the nomination is extremely narrow. From the get-go, the Bush operation underestimated how much baggage his last name carried. Moderates and conservatives both view him unfavorably, even after his super PAC spent millions promoting his record. At a time when "establishment" is a dirty word in both parties, the notion that a dynasty candidate would win easily was a serious miscalculation from the beginning. So the bigger question is whether Bush, like Scott Walker before him, should have dropped out of the race after it was clear that it would require nuking other candidates to win the nomination. Once he decided to stick around, attacking more-electable Republicans is the only logical strategy for someone with his weak approval ratings.
Donald Trump relentlessly bashes Jeb Bush on the trail, but another Florida GOP governor should serve as a model for his campaign on how to beat the odds and win elections. Like Trump, Gov. Rick Scott was an eccentric businessman who spent his fortune to challenge a party-backed Republican (Bill McCollum). After winning a nasty nomination fight, he defied expectations again and managed to win a battleground state against a Democrat seeking to become the first female governor of Florida (Alex Sink). Scott was never personally liked, but he took advantage of voters' dissatisfaction and desire for change. Sound familiar?
Iowa Gov. Terry Branstad made headlines for calling on caucus-goers to reject Cruz, but he's not acting like a Rubio fan, either. He's steadfastly refused to criticize Trump, even after the businessman skipped Iowa's only debate. And in the campaign's final stretch, he's appearing with Christie even though the New Jersey governor is a non-factor in the state and is likely to play spoiler to Rubio. Branstad and Christie are close from their work together as governors, but his distance to Rubio is a sign of how much of the so-called "establishment" is still skeptical of the senator from Florida.