Closing a Budget Gap by Emptying Prisons
A massive shortfall in Alaska has put reforming the state's system of incarceration at the top of the agenda.
Decreasing oil revenues have left Alaska facing a massive budget shortfall. The state has looked at all sorts of ways to cut costs, including slashing spending on roads, schools, and boats. Its newest plan could save almost half a billion dollars, and it's drawing support from both the left and the right. The savings would come from a surprising place: The state will help some people avoid serving prison time.
For decades, politicians have all stripes have competed to be  "tough on crime." But now, in Alaska and other conservative states across the nation, difficult finances have led politicians to another conclusion: Prisons are expensive, and programs to reduce their populations can save states a lot of money. In Alaska, criminal-justice reform, long pushed by liberals who don't like the way people are treated in the system, is now a favorite cause of fiscal conservatives.
"The budget situation has put this into the 'we-got-to-do-this' category," said Alaska State Senator John Coghill, who has spearheaded the criminal-justice-reform efforts. "We can't afford to keep doing it the way we used to."
Coghill has been on the state's judiciary committee for most of his 17 years in the legislature. But it wasn't until about two years ago that he got together with other members of the legislature to propose a major overhaul. Coghill was struck by how much the state's prison population was increasing, even as crime decreased. The bill he introduced in 2014 upped the use of electronic monitoring, incentivized substance-abuse treatment, and created a bipartisan commission to come up with even more reforms. Perhaps more significantly, it relieved the state of having to spend even more money on corrections.
"At our current growth rate, we face funding another prison within three years," he said at the time. "Our aim is to make Alaska safer while keeping people accountable and saving tax dollars."
The goal of saving money has assumed even more significance of late. As oil prices dropped from $100 a barrel to $40 a barrel, the state, which depends on oil and gas for about 85 percent of its dollars, saw general fund revenues drop significantly. Revenues have fallen about 81 percent, or $6 billion, since 2012. In December, Governor Bill Walker even proposed introducing an income tax, a big change in a state that has long prided itself on having neither an income nor a sales tax.
Now, Coghill will introduce more reforms in Senate Bill 91, which will likely go before Alaska's legislature later this month. It could reduce the state's prison population by 21 percent, and save the state $424 million over the next decade, Coghill says.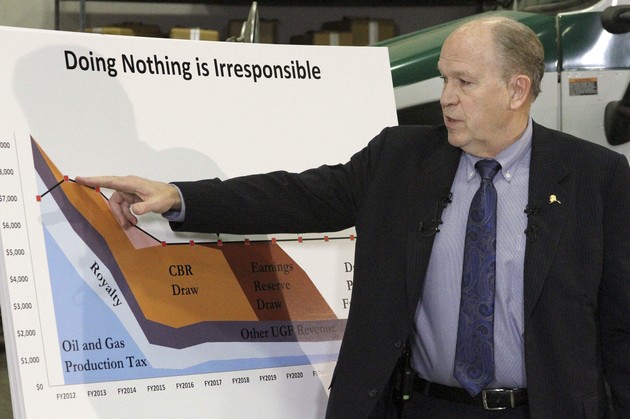 The 2014 bill, passed at a time when Alaska had the highest recidivism rate in the nation, convened a Criminal Justice Commission tasked with recommending reforms to the way the state incarcerates and releases offenders. One of the most important tasks of the commission: figuring out how to save money for a state that had just spent $240 million on a new prison that nearly hit capacity soon after it was opened.
With technical assistance from Pew Charitable Trusts, the commission, which was comprised of representatives from a number of state departments, law-enforcement organizations, and elected officials, looked at some hard numbers about Alaska's criminal-justice spending. The state's pre-trial population had grown by 81 percent over the past decade, driven by longer lengths of stay for felony and misdemeanor defendants. About 75 percent of people entering prison after their trials in 2014 were convinced of a nonviolent offense. The length of stay for felony offenders was up 31 percent in the past decade, and almost half of people in prison for violating parole or probation stayed in prison for more than a month."We were really trying to line up some things to make sure that the crime fits the penalty," Coghill told me.
The commission issued its report in December, recommending 21 changes in how the state deals with offenders before their trials (in Alaska, the state, rather than local jails, deal with offenders before trial), sentences nonviolent offenders, and supervises people on probation or parole. Among other things, it recommended putting in place pre-trial guidelines that would ensure that only serious offenders and those with substantial flight risk would sit in jail before their trials. It recommended pre-trial supervision for even those people who could not pay the fees often required for such supervision; suggested reducing prison use for low-level misdemeanor offenders; proposed eliminating some mandatory minimums for certain offenses, such as first-time DUIs; and advised reclassifying drug penalties to make low-level drug sentences shorter. It also recommended expanding the use of discretionary parole, and adding a parole option for long-term geriatric inmates.
To reduce recidivism, it suggested granting parole officers discretion in sanctioning people who violate their parole, and putting people who violate parole in jail for a weekend or a few days, rather than weeks or months. So confident was the commission that these steps would generate savings that it even weighed in on how to spend the extra dollars. "Recognizing that these recommendations will result in substantial state general fund savings over the next decade, the Commission strongly recommends reinvesting a portion of the savings into priority services designed to protect public safety, reduce victimization, and sustain reductions in the prison population," the report says.
Now, Senator Coghill's office will take those recommendations and put them into a bill that he's convinced will secure swift passage through the state legislature. The governor and speaker of the Alaska House have already signaled their support.
"It's a big body of law for the legislature to assimilate, and I'm going to do the best I can do make sure we get some cost savings," Coghill told me. "I'm going to work bipartisan in a year where bipartisanship is going to be tough to maintain because it's a national race time."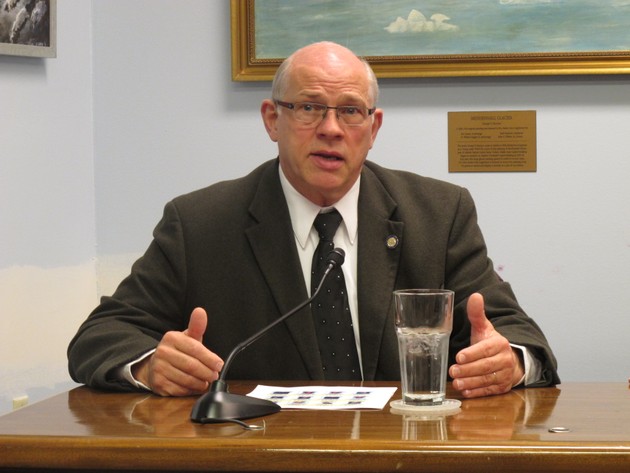 It may seem a strange issue for a conservative politician to embrace in an election year, but conservatives are pushing criminal-justice reform on both the state and national levels. Criminal-justice reform is really about conservative principles, argues Utah's Senator Mike Lee over at The Federalist. It's about smaller government, about restoring family ties, about personal responsibility.
"Respect for the equal dignity of all human life, no matter how small or weak, and for the redemptive capacity of all sinners, no matter how calloused, is the foundation for everything that conservatives stand for. Our approach to policing and punishment should be no different. So, as I see it, criminal-justice reform properly understood represents principled conservatism at its best," Lee wrote.
It's also about reducing spending. The group Right on Crime, created by the Texas Public Policy Foundation, puts forth three tenets to guide the conservative approach to criminal justice: fighting crime, supporting victims, and protecting taxpayers. "Conservatives are known for being tough on crime, but we must also be tough on criminal justice spending. That means demanding more cost-effective approaches that enhance public safety," reads the group's statement of principles, which was signed by 70 influential conservatives, including Rick Perry, Jeb Bush, Grover Norquist, and Newt Gingrich.
Reforms in states such as Lee's Utah, as well as in Mississippi, which passed a sentencing and corrections reform bill in 2014, in South Dakota, which passed a bill in 2013, and in Georgia, which passed a bill in 2012, all follow similar small-government principles. They focus on incarcerating the most serious offenders, which means reducing mandatory minimums for misdemeanors and nonviolent crimes, and push to reduce the amount of time people spend behind bars for violating parole. Many of the reforms have been accomplished through a partnership between conservative leaders who hope to cut costs, and the Pew, which seeks to use data and research to improve outcomes.
"A lot of states have thought about it in terms of, 'prison is our most expensive public safety resource, given that, let's make sure we're using prison beds on the most violent offenders,'" Zoe Towns, the manager of state policy for Pew Charitable Trusts, told me. States have spent the savings from reducing prison populations on programs like drug courts or alternatives to incarceration. Their experiences and criminal-justice research have proved that it is possible to have less incarceration and less crime, she said.
Alaska's proposed reforms mostly follow this general mold. Like other states, it looked at its own data, at what other states were doing, and at research in criminal justice to come up with recommendations, Towns said. Like other states, it wants to reduce incarceration for nonviolent offenders and come up with alternatives to incarceration. But it's different in some ways, too. Because the state is responsible for defendants before trial, it "will certainly be on the forefront of the states that have thought about bail and pre-trial considerations," Towns said.
In Alaska, courts don't consider the likelihood that defendants will engage in criminal activity before deciding whether they can be released before trial. But pre-trial detention can lead to bad outcomes, such as increased criminal activity after they are released. The Alaska commission recommends looking more closely at the risk defendants pose before making pre-trial decisions.
The state has also succeeded in advancing victim priorities, Towns said. The commission recommends diverting more money to services for victims, for example, and in making sure offender reentry programs have a section devoted to victims.
It piloted a program that allows people to take a drug test or blow into a breathalyzer twice a day before going to work and on the way back from work as a way of keeping them out of jail. For conservatives, keeping people out of jail has two benefits: it saves money, and allows for more potential for them to reform their lives. "Quite often, just housing people in jail does not make us a safer community because they come out the same way they went in," Coghill told me.
Alaska's reforms will stop short of spending money to fight poverty or address other leading correlates of crime. That's because Coghill and other conservatives disagree with the premise that poverty causes crime.
"I'll always challenge the premise, and it's a much more liberal premise, that poverty equals crime," he said. "I grew up in a very impoverished area and the crime level was low."
Whether or not these programs will be effective remains to be seen. As Joan Petersilia, a Stanford law professor pointed out to Bill Keller in the New Yorker, efforts to reduce the number of people in state institutions can have unintended results. In California, for instance, which was under a court order to reduce overcrowding in jails, downsizing the prison population has led to an increase in homelessness and crowding at community jails. In the 1960s, when President Kennedy's Community Mental Health Act sought to deinstitutionalize the nation's mentally ill , many former hospital patients ended up on the streets or in jails."We didn't answer the question: if not prisons, what?" Petersilia told Keller.
But Towns says that it's a good thing that states are rethinking a policy that has, for so long, incarcerated so many people with few results."Until recently, using research and using data wasn't really the de facto approach," she said. "Now, a number of states are choosing to press pause and looking at their own state's data, and looking to other states that can act as models, and we're excited by that approach."
From Coghill's perspective, a conservative approach to criminal justice is severely needed. He still wants to hold people accountable, he said, something that he argues doesn't concern his liberal colleagues. But throwing money at the jails and the corrections department hasn't solved anything, he said.
"I'm the conservative end of this conversation, saying, 'Ok, I don't mind changing the way we do business as long as victims aren't re-victimized," he said. "I don't want to be light on crime, I want to be smart enough to hold people accountable at the right level."