This article is from the archive of our partner

Shifting demographics nationwide are changing the face of American employment. Immigrants make up 13 percent of the population and 17 percent of the workforce, but their employment patterns contrast with those of their U.S.-born counterparts across industries and states. Understanding these differences nationally and within each state is vital for policymakers as they consider strategies to boost their economies and develop their workforces. To help give them the clear picture they need, The Pew Charitable Trusts produced first-of-their-kind data on the likelihood of immigrant workers being employed in 13 major industries, compared with U.S.-born workers, in all 50 states and the District of Columbia.
Pew's online interactive tool builds on these data to compare the workforce distribution of immigrants relative to U.S.-born workers across all states and with national figures.  Following are some key takeaways that can help guide exploration of the interactive and inform strategies for policymakers to make use of the data:
At the national level, immigrant workers are distributed differently across industries than their U.S.-born counterparts. Immigrants are more likely than U.S.-born workers to hold jobs in six of the 13 major industries examined, including manufacturing and administrative services.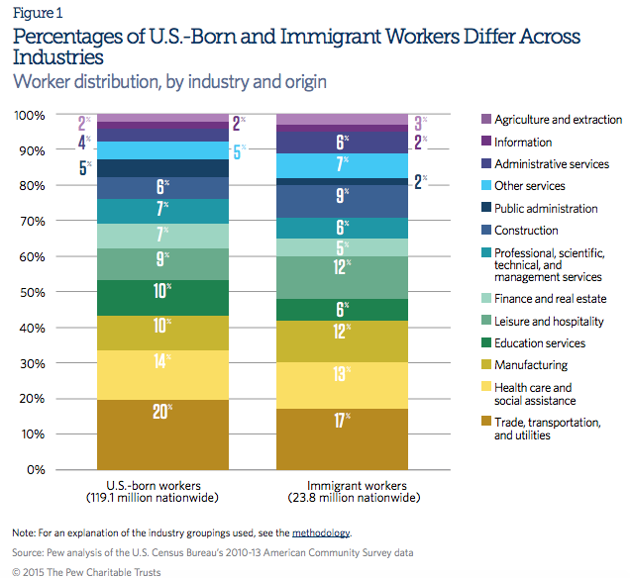 The distribution of immigrants across industries differs from state to state, but some trends are widespread throughout the states, and some industries display patterns of regional clustering. For example, immigrants are more likely than U.S.-born workers to be employed in construction in the Southern states.