Hurdles Pile Up in Front of Criminal-Justice-Reform Bill
The bipartisan effort faces opposition in Washington, but backers plan to step up their efforts.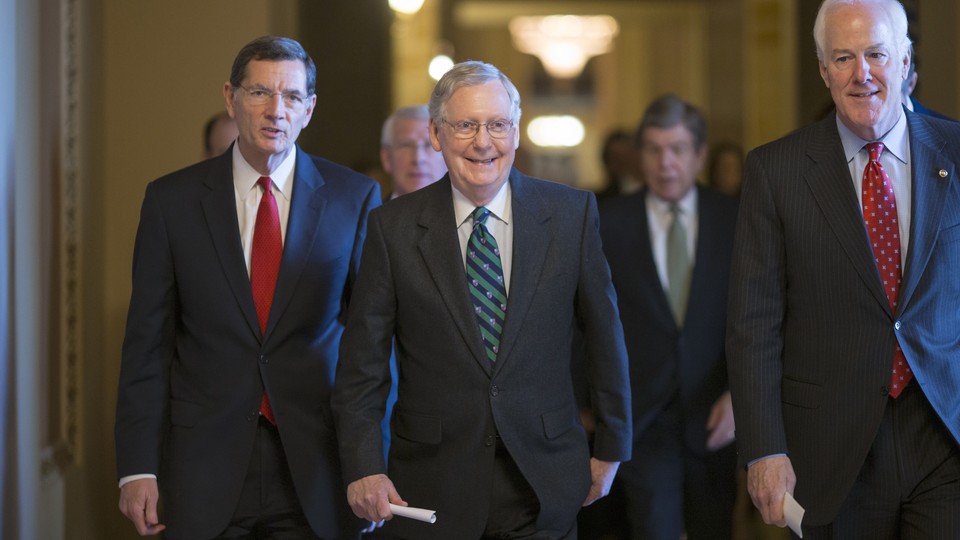 If bipartisan criminal-justice reform legislation were a stock, it would probably be falling right now.
Last week National Journal noted that GOP divisions had prompted Senate Majority Leader Mitch McConnell to adopt a go-slow approach, and a battle over whether to add disputed provisions on criminal intent rages on.
The last few days have brought even more unwelcome signs for advocates of the bill.
Senate Majority Whip John Cornyn, a key sponsor, acknowledged to the Associated Press in a newly published report that the measure may not move this year.
"I am hopeful, but I don't think it's critical we do it this year," Cornyn told AP. "I have been involved in a lot of fights around here that have taken us years to get things done. And ultimately the question is, can you get it done at some point?"
Politico added new details to the divisions within the Senate GOP ranks over the issue, reporting Monday that brash freshman conservative Sen. Tom Cotton is "leading a new rebellion" against the bill.
Elsewhere, Sen. Marco Rubio, who is running for president, told National Journal through an aide that he's still not on board, although he didn't rule out future backing.
"Marco doesn't support the bill at this point, but we continue to monitor its progress and the ideas being offered to improve it," a spokesman said Monday.
The bill that cleared the Senate Judiciary Committee last fall would enable shorter sentences for some nonviolent drug- and firearm-related offenses, and reduce prison time for certain inmates who take part in programs that cut their risk of recidivism.
Criminal-justice reform is among the few issues that have been considered ripe for deal-making this year.
Efforts to tackle crowded prisons, reconsider harsh mandatory minimums for low-level and nonviolent drug crimes, and smooth convicts' reentry into society draw support across the political spectrum.
But opponents of the bill, including Sen. Ted Cruz, who is a leading GOP presidential hopeful, and Sen. Jeff Sessions, argue that the bill could put dangerous criminals on the streets. Another hurdle is the GOP-led push to add provisions that would greatly expand the scope of crimes for which prosecutors must show that a defendant was acting with criminal intent.
An aide to GOP presidential front-runner Donald Trump did not respond to an inquiry about the bill on Tuesday, but his website features tough-on-crime language. (A top aide to Sessions, one of the bill's most vocal critics, just joined Trump's campaign.)
But amid Republican divisions over the bill, activists fighting for criminal-justice reform say they're going to ramp up their work.
U.S. Justice Action Network Executive Director Holly Harris said conservative groups in the left-right coalition will be stepping up their outreach to lawmakers. Harris said the group expected the scuffles over the bill as it moved closer to consideration by the full Senate.
"We anticipated this. As legislation moves closer to the floor, that is when members get more vocal about questions that they have about the bill," said Harris, whose coalition includes Americans for Tax Reform, Right on Crime, and other conservative groups.
The coalition's case includes arguments aimed at conservative lawmakers, such as emphasizing the large taxpayer costs of the nation's huge prison population.
Beyond Harris's group, the broader constellation of liberal and conservative activists pushing criminal-justice reform includes the powerful Koch Brothers. "We believe the issues that are coming up can be resolved to satisfy the concerns raised and still accomplish comprehensive criminal-justice reform," said Mark Holden, the general counsel for Koch Industries.
One key question going forward is whether backers can make headway with Senate Republicans facing tight reelection contests this year. A number of those lawmakers, such as Sens. Ron Johnson of Wisconsin, Mark Kirk of Illinois, and Kelly Ayotte of New Hampshire, have yet to weigh in on the bipartisan bill.
Across the aisle, senior Democrats and President Obama are still pushing on the issue, even as Obama has taken executive action on another aspect of prison reform with a new policy of barring solitary confinement of juveniles in federal prison.
Obama and Vice President Joe Biden met Tuesday with Senate Minority Leader Harry Reid and House Minority Leader Nancy Pelosi to talk about areas where Congress can take bipartisan action, according to a White House spokeswoman. Criminal-justice reform was one of the topics discussed, the White House said.
Backers did get a boost Tuesday with the release of a major report on prison policy from the Charles Colson Task Force on Federal Corrections, a bipartisan group created by Congress to provide recommendations on criminal-justice policy.
Several of the report's recommendations are consistent with the legislative efforts on Capitol Hill.
"Significant reform of the federal system cannot be achieved without addressing mandatory minimum drug penalties—the primary driver of [Federal Bureau of Prisons] overcrowding and unsustainable growth. This policy should be revisited, with drug mandatory minimums reserved for only the most serious offenses and judges empowered with greater discretion to consider the specific circumstances of each individual and case when determining a sentence," the report states.
The task force estimates that its wider set of six recommendations, if implemented, would reduce the federal prison population by 60,000 and save $5 billion over the next eight years, thereby "allowing for reinvestment in programs proven to reduce crime."