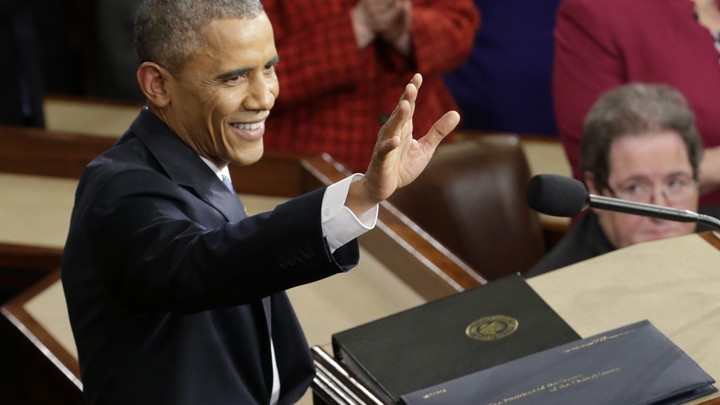 As President Obama prepares to deliver his final State of the Union address Tuesday, he can only hope for better treatment than the last two-term president received. The White House back in 2008 was less than thrilled when President George W. Bush's appearance before a joint session of Congress was overshadowed by another event scheduled by a rival politician more skilled at commanding the media spotlight. That troublemaker's name was Barack Obama.
He was candidate Barack Obama then. And Jan. 28, 2008, was one of the most important days of his campaign. Less than six miles away from Capitol Hill, then-Sen. Obama was donning the mantle of the Kennedy family at what news reports described as a "Beatlesesque" event at American University. There, Sen. Edward M. Kennedy, in what the AU News Service called "part rock concert, part rally, part coronation," officially endorsed Obama over rival Sen. Hillary Clinton on live TV.  Six hours later, President Bush took to the House rostrum. He had a bigger audience. But, The Washington Post concluded, he was "upstaged by the larger and louder speech of the day" given by Kennedy.
Eight years later, now-President Obama will see if he's still able to keep that spotlight or whether it will be drawn away by the larger and louder candidates of the day who are fighting to win his job. For Obama's upstaging of Bush was not the first time an incumbent president has been frustrated trying to make the country—and Congress—pay attention to his last State of the Union address. To the dismay of those incumbents, the reaction has often been a national shrug at a message tuned out as one they've heard before.
Only five presidents have been in the position that Obama will be in Tuesday—George Washington in 1796, Dwight Eisenhower in 1960, Ronald Reagan in 1988, Bill Clinton in 2000, and George W. Bush in 2008. All other two-termers—who didn't run for a third term as Franklin D. Roosevelt did in 1940—submitted written reports to Congress rather than personally addressing the lawmakers. Eisenhower, Reagan, Clinton, and Bush all envisioned the speech as Obama hopes to this time, as a means to battle the view that they were lame ducks with diminishing influence and waning control of the Washington agenda.
"Nobody wants a seven-year presidency," said Clark Judge, one of the writers of Reagan's 1988 address. Explaining his approach to that speech to National Journal, Judge said Obama has to acknowledge what Reagan, Bush, and Clinton learned. "The president is struggling in the eighth year. No matter who you are, you're struggling."
He added, "You are always struggling with the question of how you keep momentum." The State of the Union address can be important to that fight. "You need to keep that focus. And even if you can't pass anything, you want to have established agenda items. If you have political skills and don't think 'it's my way or the highway', you can have a very productive last year in office. Reagan certainly did."
Stephen Hess, who helped write Eisenhower's 1960 speech, noted that all the post-FDR two-term presidents faced hostile Congresses in their last year in office and understood that their chances for legislative victories were slim. "We saw that speech as really a flight plan for the bureaucracy," he said.
This is a key point, said Lee H. Hamilton, the 17-term Democratic congressman from Indiana who is now director of the Center on Congress at Indiana University. "There isn't any doubt that the president's use of the bully pulpit diminishes as he approaches the end of his tenure. He doesn't command the attention of the American public that he did earlier in his presidency. But he cannot be ignored and he still has all the power. He still has total control of the executive branch."
Reagan, Clinton, and Bush all used their final addresses to forcefully remind everyone that they had a year to go. "My message to you tonight is put on your work shoes: We're still on the job," said Reagan. Clinton warned against complacency. "We have unfinished business before us and the American people expect us to get it done," declared Bush.
For all the two-termers, though, there were ample reminders that others now were seen as the future. In 2008, Bush looked out at an audience that included Sens. Hillary Clinton and Obama—as well as the scene-stealing Kennedy. (The eventual GOP nominee that year, Sen. John McCain, did not attend.) Eisenhower had six Democratic presidential candidates before him and Vice President Richard Nixon behind him. Clinton had four Republican candidates and Vice President Al Gore present. Even George Washington had multiple candidates present among his cabinet, Congress, and the Supreme Court.
The challenge to shift public attention away from the campaign and back onto the White House is daunting. It is made no easier by the insistence of every president to take one last stab at agenda items previously denied in Congress. George Washington was the most beloved and popular president in history. But he used his address to complain of Congress's reluctance to build a navy, open a military academy at West Point, and establish a national university.
Eisenhower made a staunch push for increased foreign aid; Reagan again demanded a line-item veto and his Strategic Defense Initiative; Clinton used almost 10,000 words to lay out a long and familiar agenda; Bush once more appealed for immigration and Social Security reform. Reagan, Clinton, and Bush all complained the Senate was not confirming their judicial appointments, something certain to be in Obama's text Tuesday. And all three openly threatened vetoes if Congress sent them legislation they viewed as obnoxious. Again, expect Obama to make a similar threat.
Another reality for lame-duck presidents is that fewer people watch their final State of the Union. Nielsen did not measure audiences for Eisenhower or Reagan, but documented the decline for Clinton and Bush. Clinton went from 45.8 million in 1994 to 31.5 million in 2000. Bush had 51.8 million viewers for his first in 2002 and only 37.5 million for his last in 2008. Clinton's 31.5 million still stands as the smallest audience, a record almost certain to be broken Tuesday. Obama's audiences have gone from 48 million in 2010 to just 32 million last year.
Obama will likely take another page from the two-termer playbook and make a pitch to historians and analysts starting to assess his legacy. Reagan opened his address stating that he would not offer "a proud recitation of the accomplishments of my administration. I say let's leave that to history." But he wasn't taking any chances and within minutes was offering just that recitation.
That was not accidental, said speechwriter Judge. "That was something we did all eight years," he said. He called it an intentional effort to keep the economic numbers in front of the press. "There was an effort to downplay our achievements and by going back to that over and over again, it made it harder to downplay them," he said.
It also was part of the desire to force the candidates to talk about Reagan's issues. "We were laying out an agenda for the eighth year," said Judge. "But also laying out themes that we felt should drive the debate that year. I am sure that President Obama will be trying to shape the upcoming election in his speech as well."
The lesson of the previous two-termers for Obama is clear, said Hamilton. "Full speed ahead, damn the torpedoes," he said. "Go ahead and make your pitch to the American public in what you believe in, what you have learned, what you think the country needs. Act as if you have all the power you ever had and push it as hard as you can. Don't slack. Use the power you have."
Obama, he added, "cannot be cowed by the fact that power is slipping away. He wants to go out with guns blazing."
We want to hear what you think about this article. Submit a letter to the editor or write to letters@theatlantic.com.