As the Supreme Court grapples with whether to ban the use of race in college admissions, a new report calls instead for a "poverty preference" as a way of ensuring that students of all backgrounds have an equal chance to attend elite schools.
The nation's economic and creative vitality hinge on our ability to find the brightest young people to fill lecture halls at the best universities, Harold Levy, executive director of the Jack Kent Cooke Foundation and former chancellor of New York City public schools, told a handful of reporters at a roundtable this week. But right now, even the smartest low-income students make up just 3 percent of enrollment at elite schools.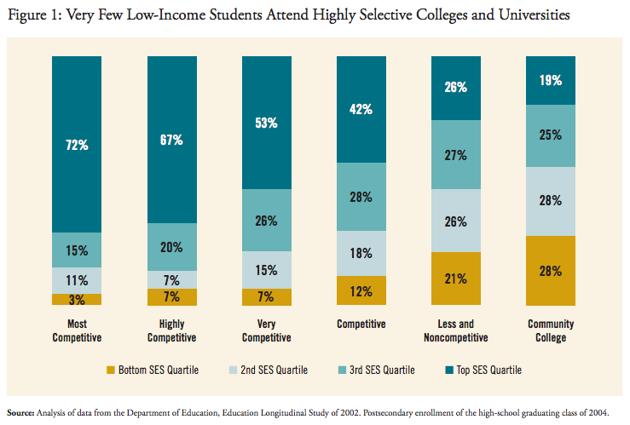 The current system is an example of "demography determining destiny," he said.
That figure comes from the foundation's new report, which outlines how nearly three-quarters of students at the nation's most competitive colleges come from the richest 25 percent of the country.
Why?
There's no easy answer, but a host of factors are at play. Wealthy kids are more likely to have parents who attended elite colleges, and therefore are more likely to be legacy admits. Poor kids are just half as likely to have taken SAT prep courses and are less likely to be able to afford to take the test multiple times. They are also more likely to attend high-poverty high schools where counselor-to-student ratios are high, and where going to any college—even a less-selective local school that doesn't have the resources or support systems that a high-end college offers—is seen as a victory. They are also less likely to have participated in extracurricular activities that can make the difference between admission and rejection.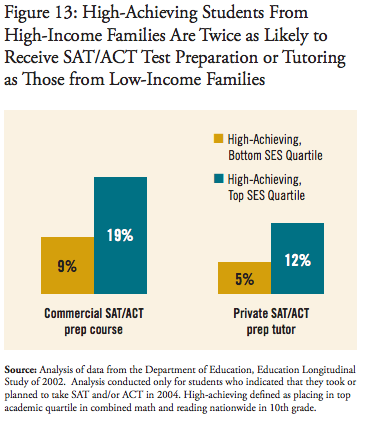 Even while researchers like Caroline Hoxby have brought the issue forward in recent years, even partnering with the College Board to send school information to low-income kids, and the Obama administration has made getting more students of color through college a priority, few high-achieving, low-income students even apply to a selective school. One major reason is families think they cannot afford it. Ironically, out-of-pocket costs are lowest for poor kids at elite schools because many offer scholarships or grants for these students, but they're not necessarily well-publicized. Stanford, for instance, covers all tuition for families earning less than $125,000.