How to Get More Smart Low-Income Students to Elite Colleges
Some see a need for this since even the smartest low-income students make up just 3 percent of elite schools.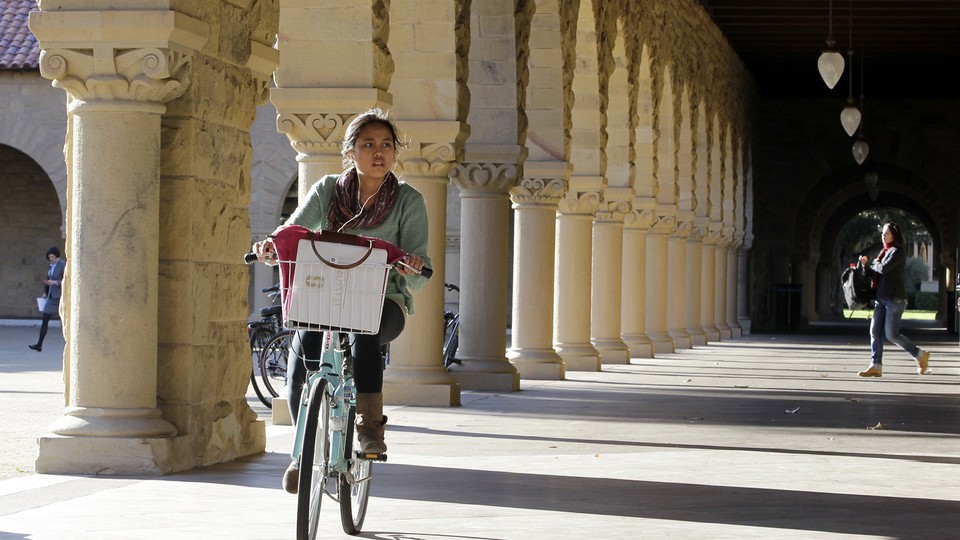 As the Supreme Court grapples with whether to ban the use of race in college admissions, a new report calls instead for a "poverty preference" as a way of ensuring that students of all backgrounds have an equal chance to attend elite schools.
The nation's economic and creative vitality hinge on our ability to find the brightest young people to fill lecture halls at the best universities, Harold Levy, executive director of the Jack Kent Cooke Foundation and former chancellor of New York City public schools, told a handful of reporters at a roundtable this week. But right now, even the smartest low-income students make up just 3 percent of enrollment at elite schools.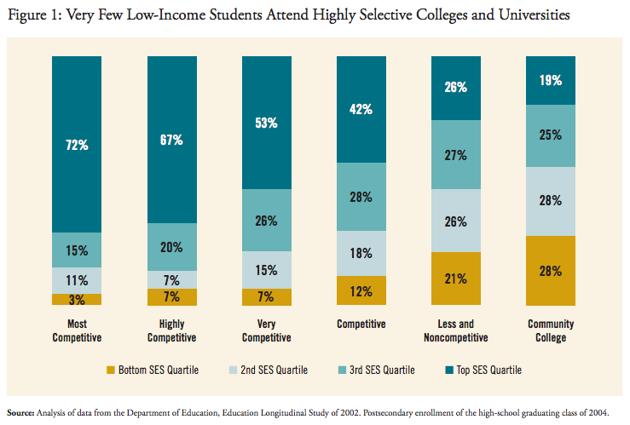 The current system is an example of "demography determining destiny," he said.
That figure comes from the foundation's new report, which outlines how nearly three-quarters of students at the nation's most competitive colleges come from the richest 25 percent of the country.
Why?
There's no easy answer, but a host of factors are at play. Wealthy kids are more likely to have parents who attended elite colleges, and therefore are more likely to be legacy admits. Poor kids are just half as likely to have taken SAT prep courses and are less likely to be able to afford to take the test multiple times. They are also more likely to attend high-poverty high schools where counselor-to-student ratios are high, and where going to any college—even a less-selective local school that doesn't have the resources or support systems that a high-end college offers—is seen as a victory. They are also less likely to have participated in extracurricular activities that can make the difference between admission and rejection.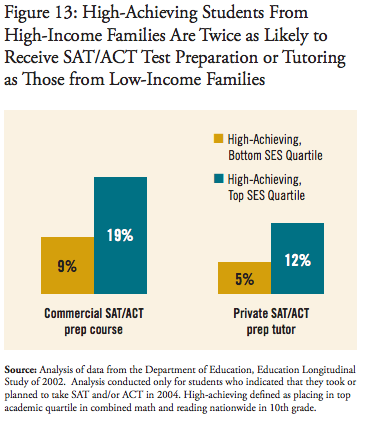 Even while researchers like Caroline Hoxby have brought the issue forward in recent years, even partnering with the College Board to send school information to low-income kids, and the Obama administration has made getting more students of color through college a priority, few high-achieving, low-income students even apply to a selective school. One major reason is families think they cannot afford it. Ironically, out-of-pocket costs are lowest for poor kids at elite schools because many offer scholarships or grants for these students, but they're not necessarily well-publicized. Stanford, for instance, covers all tuition for families earning less than $125,000.
According to the report, while 48 percent of high-achieving, high-income kids apply to elite schools, just 23 percent of high-achieving, low-income kids do the same. But, encouragingly, research suggests that low-income students who do enroll in elite schools succeed, with 92 percent doing well academically and graduating.
These young people are more likely to have higher earnings after graduation than low-income students who attend less-selective schools, and they are more likely to pursue graduate school. None of this is to say that a young person at a less-selective college cannot be successful. She can. But elite schools generally have more resources and broader networks that can open life-changing doors. The report notes that half of all corporate industry leaders and government officials graduated from just a dozen selective schools.
Levy did not mince words in assessing the disparities. When schools that rely on public funding serve only a very narrow segment of the nation's population, he said, it "undermines the American Dream."
One critical component of getting more high-achieving, low-income kids into these schools is convincing the institutions themselves that it should be a priority. Most schools say they want students from all backgrounds. But many have taken just meager steps to make that a reality. Many schools offer more merit aid than need-based aid, which disproportionately benefits wealthy kids. Many schools use what is known as an Academic Index, a score comprised of factors such as GPA and advanced coursework, as a way to automatically eliminate applicants. Students who score below a certain marker are not even considered. This can disadvantage low-income applicants, the report notes, because they are less likely to have access to the advanced courses that boost such scores.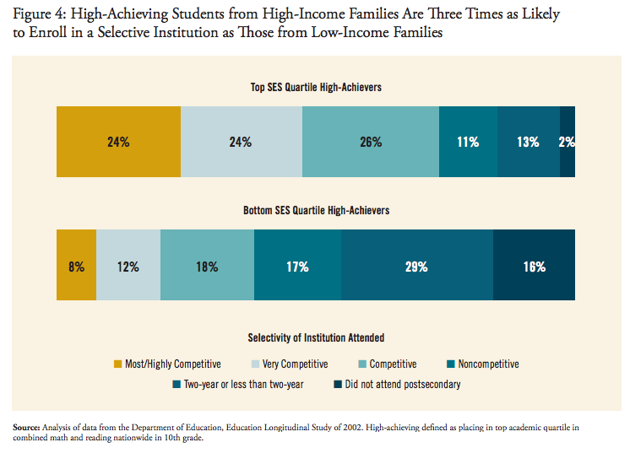 A poverty preference, Levy argued, would give students who might be overlooked by elite schools a path to admission, particularly if the Supreme Court bans or limits the use of race in admissions. A few schools have moved in this direction already, and have seen positive results. UCLA's law school considers the income of an applicant's family as well as the neighborhood he comes from. The program tripled the proportion of students who were the first in their family to go to college the year the program was introduced in 1997. Bar-exam pass rates increased, too, meaning fears that the program would somehow diminish in quality were unfounded.
Ultimately, Levy said, the nation will be ignoring enormous untapped potential if schools don't expand access for low-income students. But he thinks there has "begun to be movement." Last year, the foundation presented a no-strings-attached $1 million award to Vassar College for attracting and graduating low-income, high-achieving students. The school has raised the percentage of students eligible for Pell Grants by 11 points since 2008. Nearly a quarter of the school's first-year students are eligible for Pell Grants, meaning they have families earning $40,000 or below. Levy hopes other colleges will follow suit.