How to Dismantle an Obamacare Exchange
Kentucky is following a difficult trail already carved by a handful of other states.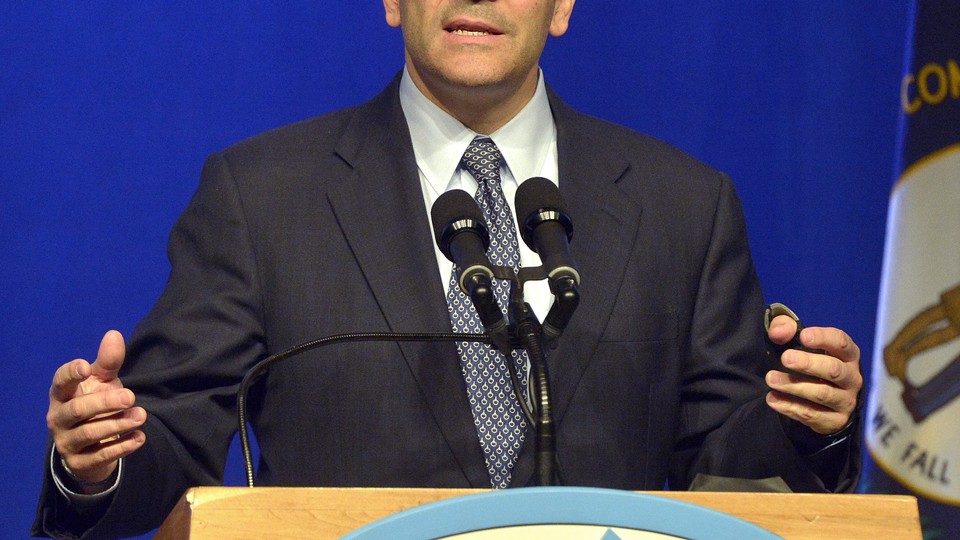 The Hawaii Health Connector greets its callers with an urgent message:
"Beginning Nov. 1, 2015, every person who has an individual or family health plan through the Hawaii Health Connector must reapply through HealthCare.gov," the automated recording says. "Even if we renewed your plan last year, you must take action."
This could be played on Kentucky's exchange in future years—or even as soon as this fall—as the state dismantles Kynect, a state-based marketplace that health experts have hailed as one of the most innovative and successful. But Kentucky's new GOP governor, Matt Bevin, campaigned on a pledge to undo the work of the former Democratic administration, and that starts with getting rid of Kynect.
It's a task with many moving parts. That's because dismantling an exchange can be complex, involving everything from crafting a transition plan to involving multiple stakeholders to reformatting files.
"It's certainly not what l would call a plug-and-play type of project," said Bruce Gilbert, executive director of the Silver State Health Insurance Exchange, who oversaw Nevada's move to HealthCare.gov. "It's not simple and easy. There's not a lot of room for error. It requires a tremendous amount of testing and a significant amount of resources in order to be able to do it with any hope of success. And frankly, it's something I would tell you is assiduously to be avoided unless it's absolutely necessary."
At least three other states have transitioned from their own insurance exchange to the federal one, though for a vastly different reason than Kentucky, where politics largely came into play. The programs in Oregon, Hawaii, and Nevada had technical flaws and Hawaii's was also unable to financially sustain itself. (The three states are using the federal enrollment program, but retaining control over many functionalities of a marketplace.)
To be clear, there are still many unknowns surrounding Kentucky's move to the federal exchange. Bevin sent a note to Health and Human Services Secretary Sylvia Mathews Burwell on Dec. 30 saying Kentucky would "wind down and cease operation" of Kynect and transition to the federal exchange "as soon as is practicable."
The official line is that the governor is taking "steps to eliminate the redundancy of the Kynect exchange," as a statement from Bevin's office says. "The vast majority of Kentuckians are paying for a website that only 2% of the population uses to purchase qualified health plans."
Kentucky consumers will likely use HealthCare.gov to sign up for health insurance in the next open-enrollment season. And Oregon, Hawaii, and Nevada have gone through that switch.
For Oregon, outreach and education involved a "huge push," as automatic renewals weren't an option when the technology switched, forcing all consumers to reenroll in coverage, said Joel Metlen, Oregon Health Insurance Marketplace's communications and legislative manager.
The same happened in Nevada, where consumers had to make new log-ins, input their information, and reenroll in coverage. "It's year one all over again," Gilbert said.
Ultimately, Gilbert feels the effort was a success. But it took time. A transition team comprised of multiple agencies and stakeholders met every Monday. New file formats were engineered and tested. Officials had to figure out how to get Medicaid and health enrollment sites to talk to each other.
"It was a nerve-wracking process because we understood that there was a lot riding on this," Gilbert said. "There simply could not be a repeat of the meltdown that we had experienced in our first go-around. I can't begin to tell you the amount of effort that we put into making sure that that went well."
In Hawaii, the private nonprofit Hawaii Health Connector handled the transition, and it shuttered its doors last month. Laurel Johnston, deputy chief of staff for Hawaii Gov. David Ige, said she couldn't speak to the actual transition because the nonprofit had handled it, but that it wasn't a big deal, as most of the state's residents receive insurance elsewhere. (Nearly 11,950 Hawaiians have chosen individual or family plans on HealthCare.gov as of Jan. 9, according to data from the Centers for Medicare and Medicaid Services.)
As for Kentucky, what will change—and by when—is all up in the air. More details will be available when they're finalized, according to the official statement, as the state holds discussions with CMS and stakeholders to craft its own transition plan.
A CMS statement notes that Kynect helped "tens of thousands of Kentuckians" shop for and buy insurance. "A successful transition from Kynect to the federal Marketplace will require strong cooperation and commitment from the state of Kentucky to its residents who have gained health insurance under the Affordable Care Act," the statement says. "HHS is committed to work with the state on a seamless transition."