How This Black Woman Made Room for Herself in The World of Comics
The owner of a new comic book shop and cafe in Philly wants everyone to be open about their "nerd stash."
PHILADELPHIA—Sandwiched between a $6-haircut spot and a tattoo parlor, across the street from a Steak 'n Shake in a north Philly neighborhood that might best be described as "transitioning," Amalgam Comics & Coffeehouse is bustling on a Friday afternoon.
Owner Ariell Johnson, 33, sips from a giant silver thermos full of water as she checks in with her employees at the cafe counter. The shop, a dozen years in the making, has been open just a month and uses up all of her energy.
Johnson's path to opening a comic book shop has not been straightforward. The Baltimore-native majored in accounting at Temple University and worked in bookkeeping for a nonprofit before taking time in her late 20s to reevaluate what she wanted to do. Some formative experiences guided her down this path. A comic lover since high school, while in college Johnson bought comic books at a shop and then took them to a nearby coffee shop to enjoy leisurely.
"I wanted to create a community space," she said. Someplace where comic book fans don't "feel like you have to take your nerd stash home and read it there," she added. "You know, just be out and kinda communal with it."
Johnson hopes this is a welcoming space.
"I was nervous about going into a comic book store," she recalled of her first experiences as a fan. "I am black and a woman, and comic book stores are not places that historically have been welcoming to different people."
Had she encountered a comic book store owned by a black woman, Johnson said, "I would've gone to one a long time ago, much sooner than I actually did."
"Because I do fall into two groups that have been in the background for so long, other groups that have also been in the background for so long feel comfortable here," she continued.
Yet, even while the comic book genre continues to be dominated by white men, women and people of color are increasingly visible.
"We are out there and looking to be represented and we're comic buyers and readers and consumers of the medium," Johnson said. "There's still a long way to go, but strides are being made. People are realizing ... it's not something they can sweep under the rug."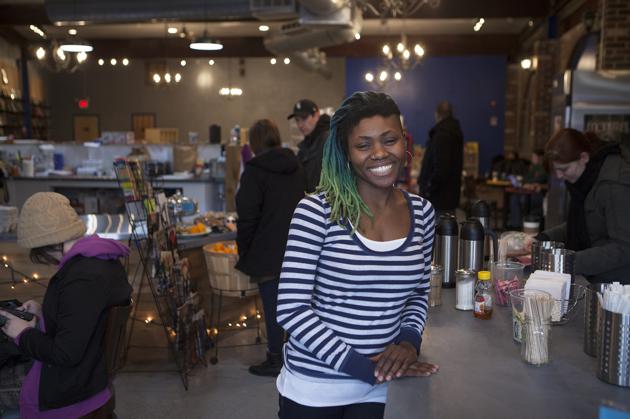 The new Ms. Marvel is Muslim. Thor is a woman. Power Girl is black, and Hulk is Asian. Companies are finally becoming aware that there's a huge consumer base outside of the geeky white teenager demographic, and comic enthusiasts who don't fit that mold have found each other online.
The shift is welcomed news for young comic book readers like Layla Gholston, a 15-year-old who traveled from Columbia, Maryland to Philadelphia to talk to Johnson (who willingly carved out time in a busy schedule) for a school project on how the lack of diversity in comics might affect readers like herself.
"It's kind of awkward to be the only girl or only one of color," Gholston said. "But I think it's getting better."
"I think for any person, they want to be able to see their reflection in something they're watching and enjoying," added her mother, Melissa Fleming-Gholston.
Still, there is a long way to go, particularly in the world of gaming, a space Johnson wants to include in her own store. While she's loathe to expend any energy engaging with gamers who are resisting the shift toward a more inclusive atmosphere, she's clearly thought about where the vitriol comes from.
"A lot of it is people feel like, 'This was the space for me and you're taking up space,' and it's like, well, there's enough space for everybody," she said. "But a lot of times when you're in a position of privilege, equality feels like a step down for you because you're used to having elevated status."
That's ironic, Johnson pointed out, because comics are, at their heart, social commentary, with good often triumphing over evil by restoring a balance of power. She thinks the best way to challenge the status quo is by exposing detractors to people who make them question their views.
"The more you meet people as people, people themselves start to tear down what you're holding in your mind," she said.
If a glance around Amalgam is any indication, Johnson is well on her way to creating a space where people—old and young, black and white, gay and straight, comic-book novices and aficionados—can all feel at home.