By renewing his push to expand background checks on gun sales, President Obama on Tuesday vastly increased the odds that gun control will play a larger role in the 2016 election than in any presidential contest since 2000.
With Hil­lary Clin­ton im­me­di­ately em­bra­cing it, and the lead­ing Re­pub­lic­an pres­id­en­tial con­tenders all quickly con­demning it, Obama's pro­posed ex­ec­ut­ive ac­tion to ex­pand back­ground checks for gun sales is likely to widen the cul­tur­al chasm between the parties that defines the 2016 race.
As the chart below underscores, gun control now generates sharply contrasting reactions from the groups central to each party's electoral coalition.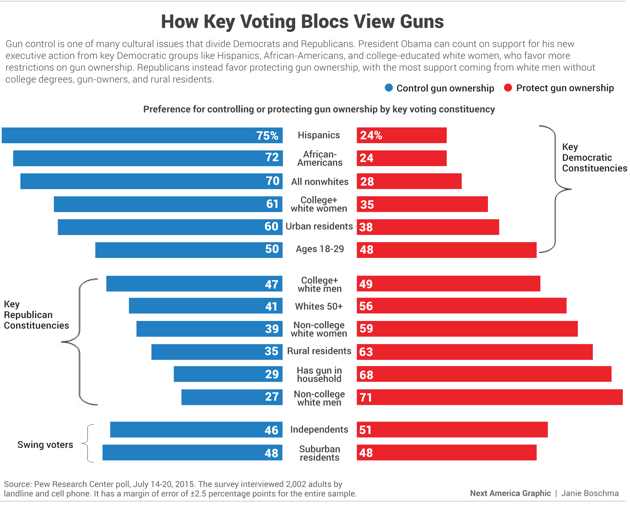 The split is most apparent when looking at the philosophic question at the core of the gun-control debate: whether it is "more important to protect the right of Americans to own guns or to control gun ownership." When the independent Pew Research Center last asked that question in July 2015, it found that slightly more adults prioritized controlling gun ownership (50 percent) than emphasized protecting gun rights (47 percent). During the 1990s, a solid majority of Americans leaned toward controlling gun ownership on that question; since Obama took office, the results have oscillated, but always remained close to a 50-50 split.