How Health and Homelessness are Connected—Medically
This doctor examines the web of medical conditions that lead to and compound homelessness, and vice versa.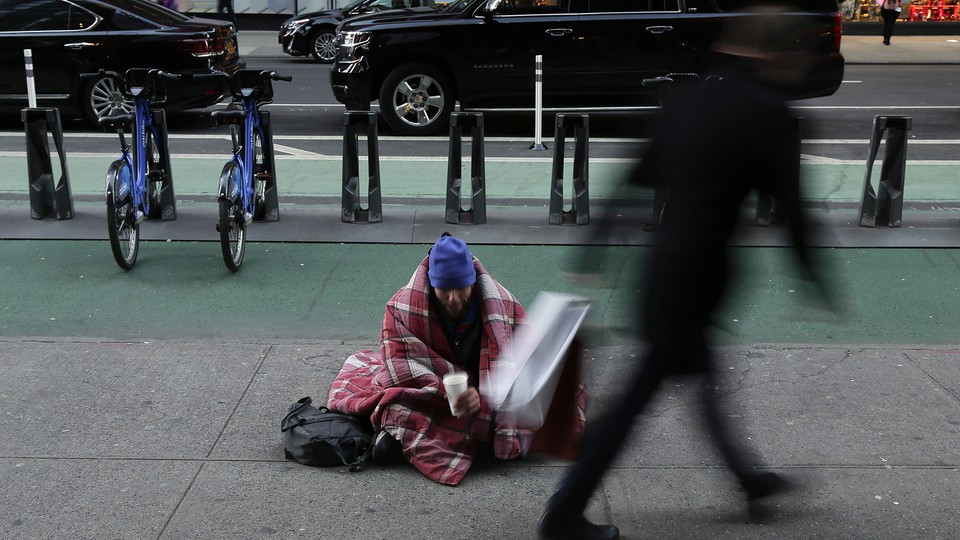 Housing is so important to health that those without a home die decades younger than those with a home. While the average life expectancy in the U.S. is almost 80, chronically homeless individuals can expect to live only to their 60s. One study by Jim O'Connell, president of Boston Health Care for the Homeless Program, showed that the average life expectancy for the homeless in select cities was between 42 and 52 years.
Every day, a half-million people find themselves without a stable place to stay, and up to 3.5 million experience this at some point during the year. Homelessness impacts men, women and children across the U.S. in big cities and small towns. It impacts all races and ethnic groups, but disproportionately people of color. African-Americans and Latinos comprise 40.1 and 19.9 percent respectively. Families headed by women make up a third of the homeless, and well over 100,000 children are homeless each day. Half of those children are younger than 5.
The connection between housing and health is coldly logical. The sick and vulnerable become homeless, and the homeless become sicker and more vulnerable.
Although the tipping point is often the loss of a job, sickness or injury often precede it. Sickness and injuries make holding a job difficult, which leads to income declining and homelessness for those without a safety net. Due to the mostly employer-based health insurance coverage system in the U.S., no job means no health insurance. The combination of unemployment and poor health can then lead to financial ruin. Nerdwallet estimated that 57.1 percent of U.S. personal bankruptcies are due to medical bills, making it the leading cause of the financial calamity that often precedes homelessness.
For women, the connections between health and homelessness are even more disturbing.
One in four women are homeless because of domestic violence. Since domestic violence is often accompanied by social isolation and financial reliance on the abuser, those that flee have little resources to find alternative places to stay. A 6-year study in Massachusetts conducted by the National Center on Family Homelessness found that 92 percent of women who are homeless have experienced violence against them at some point in their lives, often before the age of 12. Even if domestic abuse did not precipitate the immediate housing crisis, victims of violence have lifelong vulnerability to financial and social instability that often results in homelessness.  Not surprisingly, women of color have higher risks of being victims of domestic violence. African-American women experience domestic violence at a rate 35 percent higher than white women. Exposure to violence (directly and indirectly) results in PTSD, depression, and anxiety.
Youth also become homeless due to violence, sexual abuse, and other traumatic experiences.  The U.S. Interagency Council on Homelessness (USICH) identifies LGBTQ youth as particularly vulnerable, along with pregnant girls, those with a disability, and victims of human trafficking. Although Asian Americans and Pacific Islanders comprise a small percentage of the homeless population, they comprise a third of victims of trafficking and commercial sexual exploitation, according to Kimberly Chang, a national expert on the topic. Nationally, nearly 50,000 unaccompanied youth are homeless each day, but USICH considers this number a serious under-count because homeless youth avoid using shelters.
Once homeless, the healthy become sick, the sick get sicker, and the downward spiral accelerates. In a study published in the Journal of the American Public Health Association, Monica Bharel and her colleagues found that homeless individuals used the emergency room almost four times more than other low-income residents of Boston. Bharel also calculated that approximately 6,500 homeless individuals cost the state's health care system $16 million a year in emergency-room care, almost $2,500 per person.
It is not hard to piece together how this happens.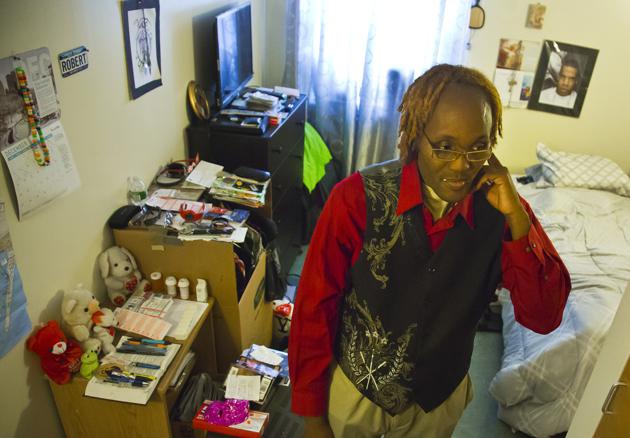 Managing chronic illnesses such as heart disease and diabetes is always challenging, but adhering to treatment regimens is nearly impossible while homeless. For example, taking medicines at certain times or with meals is important to control blood sugars in diabetes. Not knowing when the next meal will be makes taking medicines difficult, so patients often skip doses. Taking diabetes medicines without food can cause dangerously low blood sugar, and not taking the medicines will lead to elevated blood sugar that can increase the risk for heart attacks, strokes, kidney failure, and blindness. But such logistical hurdles only come into play if the person succeeds in obtaining the medicines in the first place.
Unfortunately, the majority of adults that experience homelessness have more than one health issue. These range from hypertension and diabetes to HIV and viral hepatitis, but the most significant contributors to excess emergency-room usage are mental illness and addiction. According to the White House Office of National Drug Control Policy, close to a third of people experiencing chronic homelessness suffer from a serious mental illness, and two-thirds have a substance use disorder or other chronic health condition. These disorders sap people's ability to focus, make rational judgments, and plan ahead—key functions needed to find a way out of homelessness.
Making matters worse, people without a home lack personal safety. The National Coalition for the Homeless uncovered 1,437 cases of violence against homeless individuals over 15 years.  Over a quarter resulted in death. Elise Riley and colleagues found that 60 percent of homeless women in San Francisco were victims of assault in the preceding six months. The National Health Care for the Homeless Council aptly states, "Given these high rates of violence, it is not surprising that many homeless women suffer from emotional symptoms, including major depression, substance abuse and post-traumatic stress disorder."
Homelessness is caused by and exacerbates poverty, poor health, addiction, mental illness, and violence. What can be done to stop this seemingly hopeless cycle?
We can learn from how one doctor addressed hunger, another so-called health-related social issue or "social determinant of health." Decades ago, Jack Geiger founded the first federally funded community-health center in the U.S. There, he began giving impoverished patients prescriptions for food using its pharmacy funds. Nervous about this practice, federal officials tried to stop him, but Geiger responded, "The last time we looked in the book, the specific therapy for malnutrition was food."
The specific therapy for homelessness and its associated health issues is housing.
The approach known as "Housing First" is very simple: Provide housing, give support, and people's health will improve. Skeptics may argue that this approach is naïve and refer to the welfare reform debates from years ago which advocated for the boot-straps approach and questioned whether a person "deserves" housing or is "ready" to make full use of it. Lastly, people may argue that we could never afford it.
Fortunately, Housing First has already proved successful. The first pilot was started in 1988 by PATH Beyond Shelter, a homeless program in Los Angeles. This model focused on getting people into permanent supportive housing rather than the usual patchwork of services at homeless shelters. Beyond housing, Housing First programs provide individuals and families with case management services to connect people with health care and social services.
Homeless programs across the U.S. have since adopted it. In 2009, the Journal of the American Medical Association reported that a program in Seattle that provided housing to merely 95 severe alcoholics saved the city $4 million by decreasing health care costs and jail-related expenses. The program cost less than $14,000 per person per year. Cities such as San Francisco, Denver, and Minneapolis also demonstrated success, but most notable is what Salt Lake City and the entire state of Utah have accomplished. Salt Lake City virtually ended chronic homelessness among veterans. The entire state has decreased chronic homelessness by 91 percent according to state officials.
When asked why Housing First works, Josh Bamberger, a national expert on housing and health, responded, "Exposure to trauma is the one causative agent that all homeless adults have in common.  The most effective treatment for trauma is a sense of safety which can come with acquiring independent housing." He added, "In order for people to make choices that improve health, it requires that an individual feels that they matter. Housing helps provide that."
Despite the overall cost savings, finding the specific source of funding for housing remains a challenge because federal and local housing resources are stretched to the limit. Medicaid, the health insurance program for the poor, does not allow funds to be used for rent, but recently expanded their policy to allow states to pay for services to move people into housing and to maintain it. When questioned by advocates arguing that Medicaid should pay for rent since housing saves money for the health care system, a senior federal official from the Centers for Medicare and Medicaid Services said, "We have to draw a line somewhere."
For the time being, the line was drawn for the use of publicly funded health care dollars for housing, but we need to be thinking more about how we connect all the systems that affect the most vulnerable among us. Although homelessness is multifaceted and complex, if health, housing, labor, education, and other sectors all focused on what they can do to assist people getting into housing, we can end this.
Seiji Hay­ashi is a fam­ily phys­i­cian and ex­ec­ut­ive vice pres­id­ent for trans­form­a­tion and in­nov­a­tion at Unity Health Care, Inc.
Say It columns are works of opin­ion that re­flect the writer's view­point as sup­por­ted by evid­ence. They do not rep­res­ent the opin­ions of Next Amer­ica, its par­ent com­pany or af­fil­i­ates.