House GOP Leaves Retreat With a Plan
Republicans don't have a firm policy agenda yet, but Paul Ryan vows that they will by the time the party has a presidential nominee.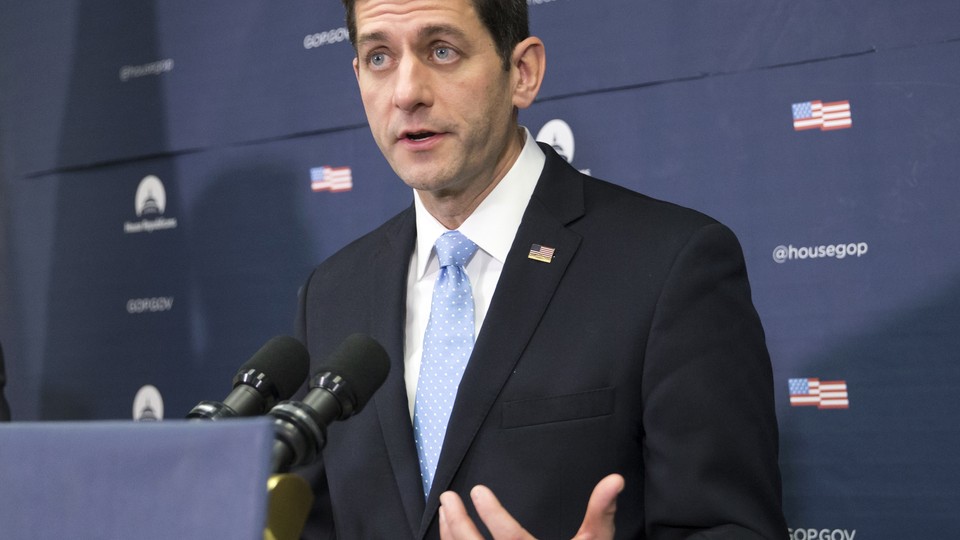 BALTIMORE—After three days of discussions at a waterfront retreat here, House Republicans announced the broad outlines of an election-year agenda, one they hope can hand their presidential nominee—whoever that may be—a winning message.
Speaker Paul Ryan told reporters just before leaving the city that he wants the House to craft legislation that can differentiate the GOP from Democrats along five policy areas: National security, jobs and economic growth, health care, poverty and opportunity, and restoring the constitutional balance of powers.
"I expect we will have a complete agenda by the time we have a nominee," Ryan said. "Believe you me: The people of this country will know who we are and what we stand for when this is done, and they will be given a choice in 2016, so that when they go to the polls in 2016, when they vote for Republicans, they will know what they are voting for."
With few specifics, however, the task now falls to committee chairmen and members to fill in the blanks. Ryan said he does not want to hand down policy from his leadership team and will instead convene several task forces populated by members from committees of jurisdiction to discuss each policy area and come up with ideas.
Still, the question remains about how willing the Senate, and indeed the yet-unchosen GOP nominee, will be to take up the House agenda. Beyond that, the party will have work to do to sell their agenda to the public. With that in mind, one member suggested in a private question-and-answer session of the House GOP that the party have another retreat once the agenda is set to talk about how to message it.