House Democrats Paint an Optimistic 2016 Landscape
Biden, Lujan assure the troops that the party will gain seats, but the odds remain steep that they can take back the chamber.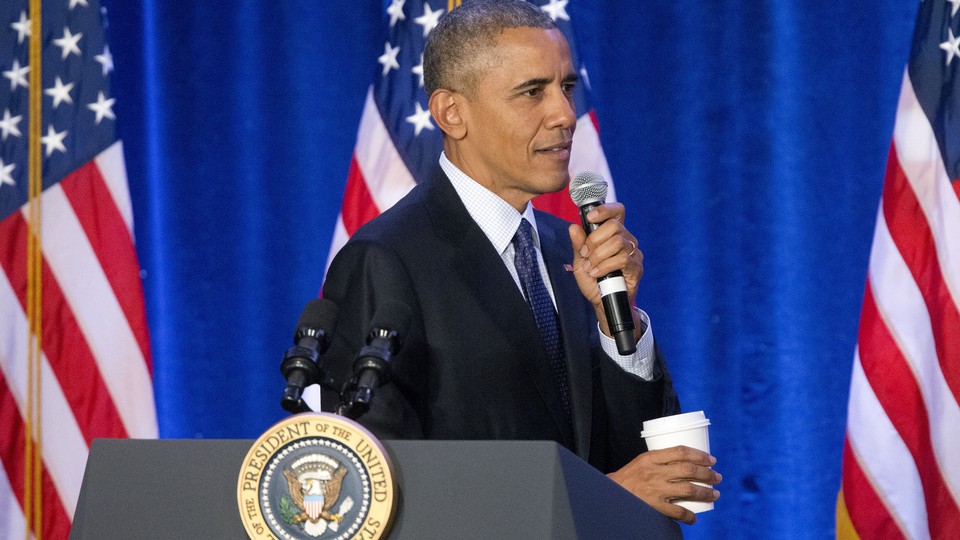 BALTIMORE—House Democrats gathered here for their annual retreat heard an optimistic rallying cry about their electoral prospects from Vice President Joe Biden—and an in-depth summary of their incremental progress from their top campaign chief.
"It's been a tough couple of cycles, but we should get up, man. There's a real shot here. There's a real shot," Biden told the gathering. "I'm confident we can win back the Senate, and I think we can make great inroads and maybe win back the House, when no one expects it now. … I am bullish on the possibilities for the House as well as the Senate. The key is, don't run away from what you've done."
Later Thursday, President Obama gave the group some encouragement of his own. "I'm not worried about this party staying united," he said. "The other side may have some stuff to work out, but our trajectory is clear. … Democrats will win in November, and we will have a Democratic president succeeding me." He did not weigh in on the party's prospects in the House.
Democrats are outnumbered 246-188 in the chamber, after a historically poor midterm-election effort in 2014. They would need to flip 30 seats this year to regain the majority.
Rep. Ben Ray Lujan, who heads the Democratic Congressional Campaign Committee, was more measured in his comments, but he said his closed-door address to the caucus earned plaudits for the great strides the committee has made.
The DCCC, he said, has recruited challengers in 55 GOP-held districts, including many not traditionally considered battlegrounds. Many of those districts have Republican incumbents but were won—or narrowly lost—by President Obama. Others have members, like Reps. Mia Love and Scott Garrett, who look safe on paper but are "untested" and potentially vulnerable.
In addition to outraising the National Republican Congressional Committee, the Democrats boast of their new data hub for congressional races, bolstered efforts to reach minorities and young voters, and inroads into redistricting efforts to change the maps that heavily favor the GOP.
Still, Lujan acknowledged, the process will be a long one, and his job now is to create opportunities rather than make guarantees. "I don't think there's a question that Democrats will pick up seats. We are on offense," he said. "I know that we will be ready, and we have a plan to maximize our wins. … [The goal is] to build a battlefield strong enough so that whatever comes in 2016, we'll catch those winds."
Those "winds" are the national political climate, which Democrats see as increasingly tilted in their favor. GOP front-runners Donald Trump and Ted Cruz, Biden said, are a "gift from the Lord. … I don't know who to root for more." The DCCC also sees opportunity; in a report this week, the committee listed 14 Republican incumbents whose vulnerability could be exacerbated by a Trump or Cruz-led GOP brand.
"I don't have to try to tie the GOP to Trump and Cruz," Lujan said. "Trump and Cruz are the GOP now. They're the national brand. They've hurt the Republican brand. Regardless of who becomes their nominee, the damage is done."
While Lujan focused his message on the mechanics of campaigning, Biden's appeal was more simple: Own your record. "We didn't do it enough last time, in my view—the best way to win is to run on what we've done, and what we stand for," Biden said. "We don't make the case enough. … We shouldn't apologize for what we're for, and we should point out what [Republicans are] for."
House Minority Leader Nancy Pelosi wouldn't speculate on Biden's assertion, but she did bring up recent campaigns in which both parties outperformed expectations. "[Biden] was just saying what's at stake," she said. "What is at stake makes it urgent for us to win. I'm optimistic; I'm always optimistic."
Pelosi also brushed off the notion that the Democrats' aims of a majority would have to be put on hold for several more cycles. "People say, 'Oh, you can't win until there's redistricting.' But remember this. In '06, when we won, we had just suffered the terrible redistricting at the hands of [former House Majority Leader] Tom Delay. … We had a tide and they had a tide. We can have a tide again."
Even if Democrats do remain the minority until redistricting in 2020, Lujan says they're focused on making sure more districts are drawn in their favor this time around. A few weeks ago, he met with representatives from the Democratic Governors Association, the Democratic Legislative Campaign Committee, the Democratic National Committee, and the Democratic Senatorial Campaign Committee—an attempt to coordinate efforts with redistricting in mind.
For all those efforts, Democrats' prospects in the House remain an uphill climb in 2016. "The numbers are challenging," Lujan conceded.
This article has been updated.