Hoping for a Boost, Rand Paul Gets a Vote on His Fed Bill
The presidential contender and his father have long pushed for an audit of the Federal Reserve.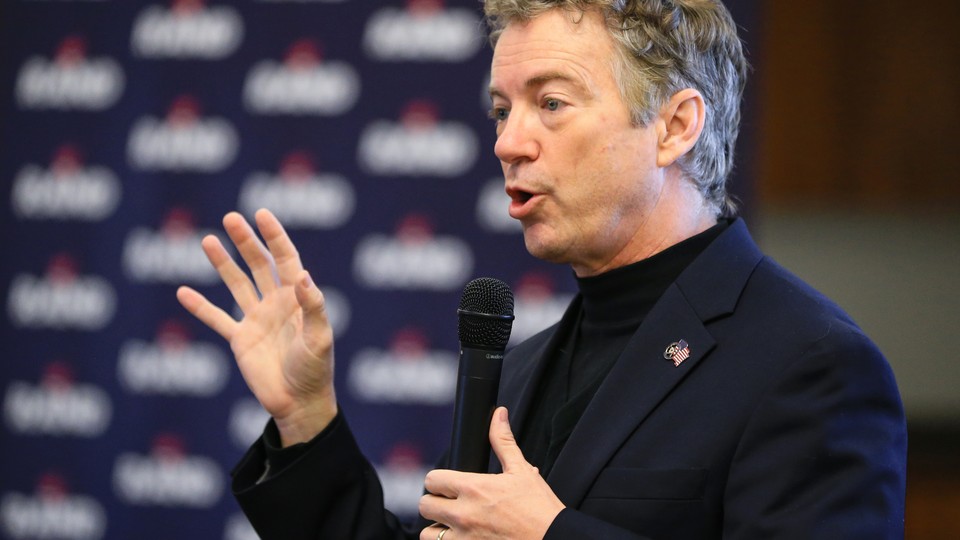 With his presidential campaign struggling to stay relevant, Sen. Rand Paul returns to Washington this week for what could be a big gift, allowing him to notch a major legislative accomplishment and try to reignite interest in his candidacy from some of his father's most fervent supporters.
The Senate on Tuesday will take up legislation to audit the Federal Reserve, a decades-old rallying cry for Paul, father Ron Paul, and their libertarian supporters—and one that could provide a much-needed boost to Paul's presidential race.
The vote, the first on major legislation for 2016, comes at an important time for Paul just weeks before the early presidential contests in Iowa and New Hampshire that could make-or-break his already-faltering candidacy. Paul hasn't seen double-digits in polling in either Iowa or New Hampshire—where his father came in second and third, respectively, in 2012—since June. And he averages 2 percent and 3.8 percent in Iowa and New Hampshire respectively, according to Real Clear Politics.
The timing, it seems, was orchestrated by Paul's home-state colleague, Senate Majority Leader Mitch McConnell, who has given prime floor time to all of the Republican candidates for president, but has not been shy about his personal support for Paul's campaign. McConnell put Paul's audit-the-Fed bill on the calendar for January at the end of 2015, making it the first piece of major legislation that will earn a Senate vote in 2016.
it's unclear how Paul's Federal Reserve Transparency Act of 2015 will fare in the Senate. The bill has 24 cosponsors, but will need 60 votes, including the support of at least four more Democrats to pass. A similar Paul bill of the same title, one that has been languishing in the Senate Banking Committee for months, has 34 cosponsors, including Democratic Sen. Mazie Hirono. (Its House companion legislation has 185 cosponsors, including eight Democrats, which is nearly enough for passage).
But it's clear that getting a vote on the audit-the-Fed legislation is a coup in itself for Paul, who has spent the winter recess posting videos and tweets and sending out campaign emails to raise money ahead of Tuesday's vote. Paul's father has also sent out several emails through the Campaign for Liberty PAC to raise funds and encourage his own supporters to rally their senators behind the bill.
"I think its a validation of one, the importance of the issue, and two, both of their leadership skills" said Jesse Benton, a former aide to both Pauls, who now serves as a consultant to the pro-Rand Paul America's Liberty PAC. But Benton emphasized that the vote to audit the fed is not a mere show vote for the younger Paul to increase support for his presidential campaign or attract his father's supporters.
"It's to pass meaningful legislation," he said. "The Pauls are not grandstanders. … This vote is a common-sense first step to sort of pragmatic fiscal policy."
Dismissing the vote as a mere ploy to boost a flagging presidential campaign, Benton said, "ignores about six years of history." Rand Paul "campaigned on this issue as one of his four or five core campaign planks" during his initial run for the Senate, Benton added.
And the vote itself underscores how much the issue has grown in the eyes of the Republican Party at large. The bill is cosponsored not only by McConnell, but also by Sens. Ted Cruz and Marco Rubio, two of Paul's opponents in the presidential contest.
That's a far cry from the early dismissals of the issue—and of Ron Paul himself—as being too niche to find broad appeal. The elder Paul began the fight to audit the Fed in earnest in the early 2000s, and each time he introduced legislation, he'd find at best about a dozen cosponsors for the bill, Benton noted. He credited the Pauls' efforts in the ensuing decade for the rise of interest in the issue, particularly in the wake of the financial crisis, which Benton argued "was largely brought on by the Federal Reserve."
"I think it's a great way for him to connect with his own supporters, and his dad's supporters and a lot of people out there who are really concerned about the Federal Reserve. … It's a great way for Rand to capitalize on years and year and years of hard work and of course it comes at an opportune moment."
That moment gives Paul the opportunity to show off his monetary-policy cred, but it could also help him to draw contrast from his father among the establishment as he brings one of the libertarian wing of the party's long-held policies from online comment boards and signs at Paul campaign rallies to the Senate floor with the support of the majority leader and dozens of his colleagues.
"I do think it has the potential to give Rand a good boost. It shows again, its a way that separates Rand from the rest of the crowd  in that he's shown leadership and perseverance on this issue in a very unique way. … We think Rand is the only real fiscal conservative in the race. … The only guy who's really detailing how exactly he would cut. … The only guy who has been really serious about the monetary issue," Benton said.