Head or Heart? Famed Iowa Reporter "Out of the Closet" as Democrat
Like many liberals poised to caucus, retired AP scribe Mike Glover is torn between Clinton and Sanders.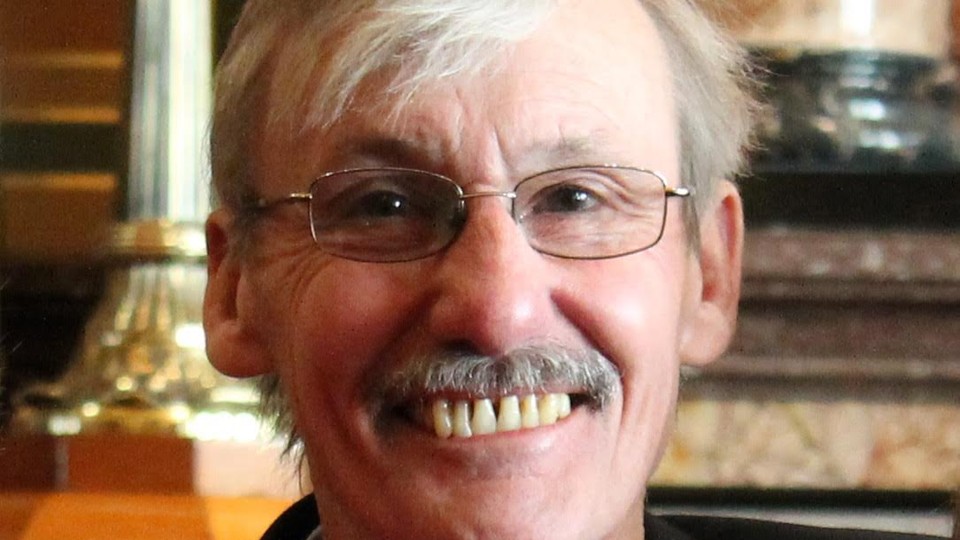 DES MOINES, Iowa—Before he retired in 2013 after 33 years at The Associated Press, Mike Glover was a legend in Iowa journalism. His aw-shucks demeanor and access to Iowa's front pages endeared Glover to political candidates and operatives of all stripes. He played it straight—hard-hitting and objective, like they do at the AP.
Three years into his life's second act, Glover plans to do something Monday that he's never done before. He's going to caucus.
Glover is a Democrat. One of his post-retirement hobbies is writing for The Iowa Daily Democrat, an online news source for liberals.
"I'm not going to be for Martin O'Malley. He's out of it," Glover told me over lunch at the Drake Diner, near Drake University, where he lectures for the journalism program. "The race is between [Hillary] Clinton and [Bernie] Sanders, and I probably won't know who I'll caucus for until I show up Monday night."
Glover's thought process is instructive for understanding why the Democratic presidential race is so fluid and unpredictable. Before I delve into his conflicting mind-set, a disclosure: Glover is a friend of mine.
We worked together at the AP for years, and Glover has been my first stop on every trip to Iowa since the mid-90s. Until he retired, Glover compartmentalized his personal political views. I suspected he was a Democrat, if for no other reason than most journalists lean left, but he didn't tilt his coverage. Even privately in our favorite bars, Mike was ruthlessly objective.
"I'm out of the closet," he said with a husky laugh.
With that, he opened up. Glover said he is "fairly liberal" and probably aligns ideologically closer to O'Malley than to either Clinton or Sanders. He doesn't think O'Malley stands a chance and he wants to back a winner, so that leaves either the former secretary of State or the senator from Vermont.
Of the two, Glover said his political views line up better with Sanders than Clinton.
Still, he leaned toward Clinton for months. "She seemed to be the inevitable nominee, and I want somebody who is going to beat the Republican nominee," Glover said. "Now I'm not so sure."
Sanders has a slightly better ground game in Iowa, Glover said, and the Vermont socialist is leading Clinton in New Hampshire. Back-to-back defeats would destroy Clinton's aura of invincibility, Glover believes.
Then there's Donald Trump, the billionaire celebrity lapping the GOP field. Glover is not a fan. "For the longest time, I thought Bernie Sanders couldn't win the White House," he said. "Well, if Donald Trump wins the GOP nomination, why can't he beat Trump?"
Personally, I can think of many reasons why Sanders would be vulnerable in a race against Trump. So can Glover. But his point is that a flawed GOP nominee makes it possible for Democrats to take a chance on their own choice.
For many liberals like Glover, their heads are telling them to vote Clinton, but their hearts are pulling for Sanders. The New York Times's Charles M. Blow captured the dilemma in a column on Thursday that underscored Clinton's character issue. "Even many people who admire her simply don't trust her," Blow wrote.
And that informs the choice Democrats have to make in choosing a nominee: Do they want to put forth a survivor in chief, of whom many are suspicious and about whom few are truly excited, or a dream in chief (in the candidacy of Sanders) who says all the things they want to hear but that they quietly know he'll never be able to deliver?
I can't predict Monday's outcome. Sanders needs a huge turnout driven by new and young voters. Is he this cycle's Barack Obama, who won Iowa in 2008, or Howard Dean, the insurgent liberal who flamed out in 2004? For every Democrat like Glover who thinks Trump gives him permission to follow his heart, I can find a liberal like Jeff Link for whom the prospect of a Trump presidency gives him a headache.
"Trump could win this whole thing," said Link, a prominent Democratic consultant in Iowa. "That makes Hillary the safe bet, the smart bet."
In the same sentence, Glover talks about Clinton's strengths as a candidate and her weaknesses: her rogue email server, the umpteen scandals dating to Bill Clinton's presidency, and the disingenuous way in which she responds to both.
"The closer Trump gets to the nomination, the less urgency I feel about backing Clinton," Glover said. He paused, took a sip of his Diet Coke, and said, "I'm leaning Sanders."