Good News for the Gun Lobby
President Obama's attempt to tighten ​​firearms laws could​​ benefit advocacy groups, dealers, and manufacturers.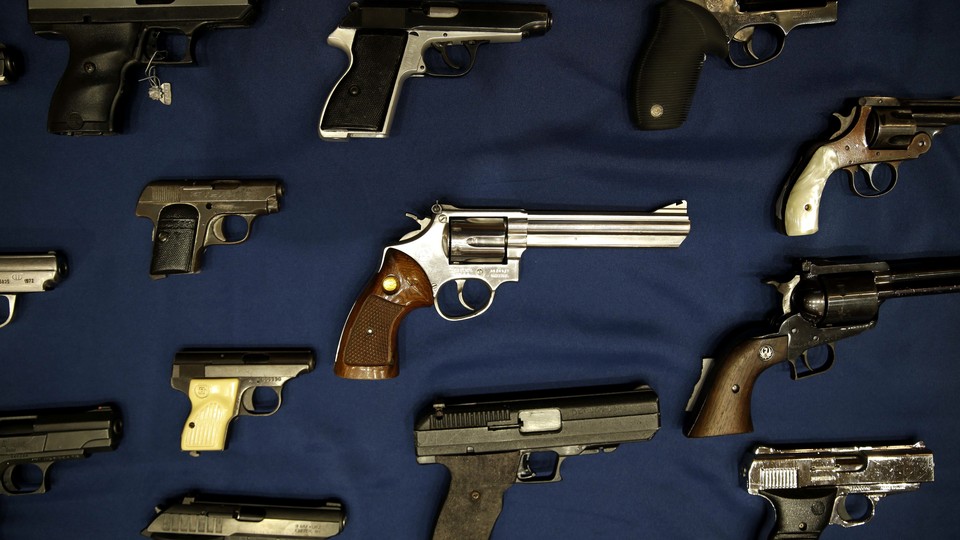 The politics of gun control are shifting. Democrats have long feared that loudly advocating for stricter gun laws, and attacking the gun lobby, would cost them elections. But now President Obama and Democratic presidential frontrunner Hillary Clinton are unapologetically picking a fight with the National Rifle Association.
At a televised town hall on gun control Thursday, Obama accused the NRA of having "a stranglehold on Congress." Meanwhile, on the campaign trail, Clinton has vowed to take on the gun lobby. "The safety of our families is more important than the interests of the NRA. Full stop," the candidate's twitter account declared at the end of the president's town hall.
That criticism reflects a strategic calculation: Democrats are increasingly convinced that gun control may not be so politically toxic after all. At least some are willing to bet that the NRA is not the threat they once believed. But a push for tightening regulations on firearms has the potential to make the gun lobby even stronger.
When Americans fear the government may be on the verge of confiscating guns, they rush to buy more. The president's calls for gun control also create an opening for the gun lobby to make highly-charged appeals to their members. Gun owners may feel motivated to write checks to gun rights organizations if they worry that their Second Amendment rights are threatened. That's good for firearms dealers and manufacturers, and good for the gun lobby.
This cause-and-effect is currently on display. Obama announced executive actions aimed at curbing gun violence on Tuesday. At the heart of the effort is an attempt to clarify what it means to be in the business of selling guns, a move expected to expand background checks. The president kept up the drum beat on Thursday, writing in a New York Times op-ed that he won't "campaign for, vote for, or support any candidate, even in my own party, who does not support common-sense gun reform." As my colleague Russell Berman explains, Obama's executive actions are unlikely to change much.
But the president's high-profile stand on gun control sparks fear. Gun rights groups say that firearm owners are rallying against the president's agenda: "It helps everything, fundraising, recruiting, getting people active, I'm really shocked that he [Obama] would do this in an election year," said Erich Pratt, the executive director of Gun Owners of America, a gun-rights organization that advertises itself as "the only no-compromise gun lobby in Washington," a quote the group attributes to libertarian icon Ron Paul.
"It does energize gun owners to want to really get out there and exercise their rights," said Amy Hunter, a spokeswoman for the NRA. "You do see that at any time that people perceive or believe to be a threat to their gun rights."
It's not just the president feeding that fear. After Obama's executive actions debuted this week, Republican presidential contenders leapt to denounce them with angry rhetoric, casting the gun control push as proof of an overbearing White House intent on destroying individual liberty. "OBAMA WANTS YOUR GUNS," the Ted Cruz campaign proclaimed against the backdrop of an image of an ominous-looking Obama decked out in military-style attire. The homepage of Gun Owners of America broadcast the message: "Obama Declares War on Gun Owners." The NRA suggested that Obama was attempting to trample on the Second Amendment rights of American citizens, calling the executive actions "ripe for abuse."
Firearms manufacturers and retailers also stand to benefit. Gun sales have soared in the wake of Obama's executive actions. Stock for gun manufacturers like Smith & Wesson rose earlier this week amid reports that Obama would call for gun control. "Mr. Obama is the best gun salesman on the planet," Wall Street money manager Louis Navellier told CNBC on Tuesday.
Gun sellers across the country echo that idea. "The more he tries to take away or talk about gun control the more people come in," John Walters, the manager of J and E Guns, a firearms and ammunition dealer in Pennsylvania, told the Centre Daily Times. Tom Engle, the owner of Pennsylvania arms retailer Hunters Warehouse put it this way: "It's the way he talks and makes statements about things like legislation on assault weapons and saying he was going to take measures. Statements like that really push people to buy more."
None of this means the gun lobby likes what Obama is doing. There are very real fears within the gun industry and among gun owners that the president wants to restrict access to firearms. Gun Owners of America believes that background checks of any kind are a violation of constitutional rights. The NRA is suspicious that the administration's attempt to expand background checks is a scare tactic designed to make people hesitant to buy and sell guns. There is also the concern that Obama will look for any avenue to chip away at the ability of Americans to own and carry firearms.
The president realizes of course that there will be pushback to any gun-control agenda. But Democrats hope that the wrath of the gun lobby won't amount to much. The fear and anxiety  that gun owners are currently feeling, however, is exactly the sort of thing that could make the gun lobby more powerful.
---
This article is part of our With Great Power project, which is supported by a grant from the Joyce Foundation.