Guantanamo's Declining Population
The number of prisoners at Guantanamo Bay has fallen below 100 for the first time since it opened in 2002.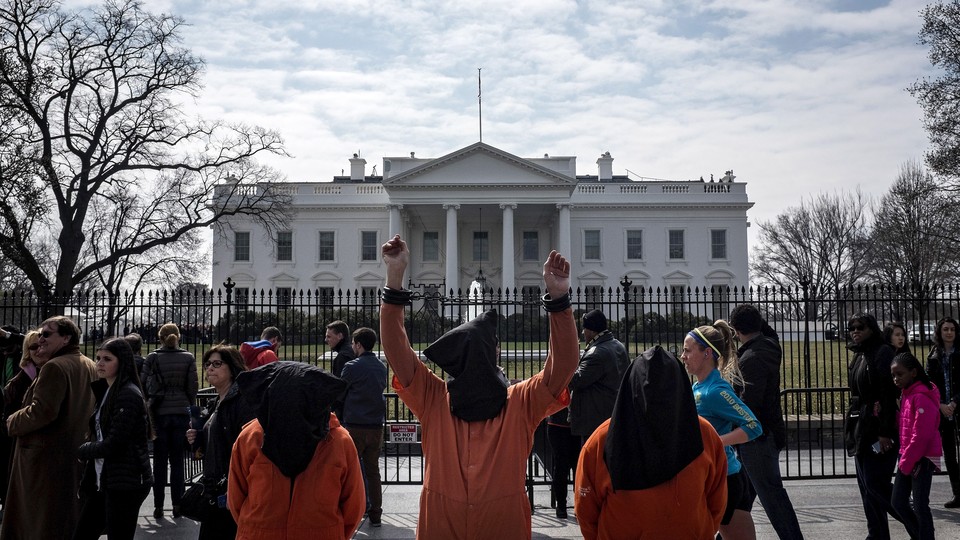 The number of prisoners at Guantanamo Bay fell below 100 for the first time since it opened 14 years ago—two days after President Obama vowed to work on closing the detention center for good in the last months of his presidency.
The Pentagon announced Thursday that 10 prisoners from Yemen have been released and sent to Oman, where they will be resettled. The Guantanamo Review Task Force—a collection of dozens of intelligence analysts, law-enforcement agents, and lawyers from the Justice, Defense, and State departments, CIA, FBI, and other agencies—determined the prisoners do not pose a security threat.
Ninety-three detainees, mostly from Yemen, remain at the prison, which was created in January 2002 to house individuals captured in the war on terrorism. Thirty-four of those have been cleared to leave, according to a database maintained by The New York Times and NPR, and are expected to be released by summer. About 780 people have been sent to Guantanamo since it opened.
"I will keep working to shut down the prison at Guantanamo: It's expensive, it's unnecessary, and it only serves as a recruitment brochure for our enemies," Obama said Tuesday in his final State of the Union.
The road to closure has been rocky. In 2009, two days after he took office, Obama signed an executive order that called for Guantanamo to be shut down within a year. Forty-eight prisoners left the prison that year, but the pace of transfers slowed considerably in the coming years. In 2010, a Republican-controlled House blocked funding for the administration's attempt to buy U.S. detention facilities to serve as replacements for Guantanamo. One prisoner was released in 2011, and four in 2012.
The numbers climbed in 2014 (28 releases) and 2015 (20 releases), but opposition from congressional Republicans remained. Former prisoners, opponents of their release argue, could return as terrorists. The latest National Defense Authorization Act, passed last November by a Republican-controlled Congress, prohibits the use of government funds to transfer prisoners to American soil and the construction of facilities to house them—restrictions Obama sharply criticized.
The White House has promised to present a final proposal for the closure of Guantanamo Bay to Congress this year. Should Congress reject it, Obama may consider executive action.
The Pentagon transferred four other Guantanamo prisoners this month, in addition to the 10 sent to Oman. A total of 678 prisoners have been returned to their home countries or resettled in countries that were willing to take them—in all, 56 nations—since Guantanamo opened, according to the Times/NPR database. The majority have gone to Afghanistan and Saudi Arabia. Only two have been transferred to the U.S.; one, a citizen of both the U.S. and Saudi Arabia, was repatriated to Saudi Arabia, and the other, a native of Tanzania, is held at a federal super-maximum security prison in Colorado.
Polling from 2014 shows most Americans don't want the detention center to close. In December 2013, the now-retired Mar­ine ma­jor gen­er­al who helped establish the pris­on said Guantanamo should have nev­er been opened, and called on the government to close the prison.
"In retrospect," Mi­chael Lehnert wrote in the De­troit Free Press, "the entire detention and interrogation strategy was wrong."