Gary Johnson: 'I Have No Delusions of Grandeur Here'
The former New Mexico governor hopes to be the Libertarian Party's nominee, but is realistic about his prospects in the fall.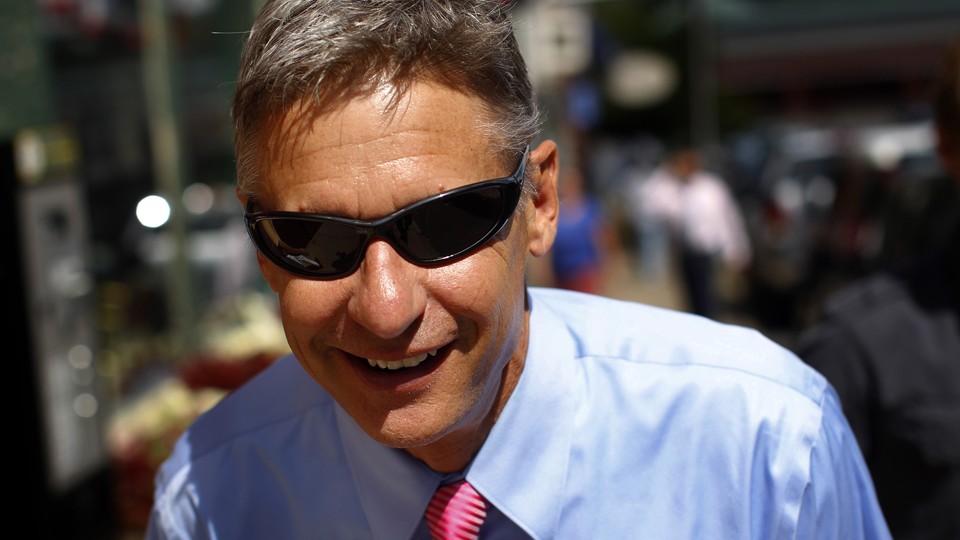 Gary Johnson wants you to know that he's not delusional.
The former New Mexico governor knows that his campaign for the presidency, which he announced Wednesday on the Fox Business Network, won't end with him in the White House.
"I have no delusions of grandeur here," Johnson told me shortly after his announcement, in his characteristic frankness. "I know what happened last time."
By "last time," Johnson means the 2012 presidential election cycle. He ran first as a Republican, visiting early primary states like every other candidate, but, he notes, without the national attention others received. He switched his affiliation to the Libertarian Party by late 2011, and competed as its nominee. In a creative interpretation of his bid, a campaign press release on Wednesday said that he "placed third" in 2012 as the Libertarian candidate. It's a role he hopes to fill this year, too.
Johnson's presidential ambitions were hiding in plain sight for months, before he announced his bid on Wednesday afternoon, citing big and "unwieldy" government as the biggest problem the nation faces. The move comes just ahead of the Iowa caucuses, and after eight major-party contenders have already dropped out of the contest.
Reason, a libertarian publication, noted in a story early Wednesday morning that Johnson appeared ready to announce. His plans didn't exactly come out of nowhere. My colleague Molly Ball noted back in 2012 that he wouldn't "rule out" a 2016 run if his earlier effort flamed out. Earlier this year, Johnson told The Daily Caller that he hoped to run, and provided more specifics on his tenure as governor and his intent in an October Tumblr post. In a missive titled—rather transparently—"Why I would run for President," Johnson laid out his political accomplishments and worldview.
Johnson told me his campaign is about making sure his viewpoint—that of a "classic liberal," who's fiscally conservative but socially liberal—is aired at the most competitive level possible. He doesn't see any candidate in either party who fits that criteria, but believes the label fits most Americans, he said. Calling himself a "reality-based" person, Johnson said he's got "nothing to lose" by mounting a campaign.
"I like to think that on my deathbed, I will think of myself as a voice of reason in this process," Johnson said.
Johnson's voice has been particularly loud on the issue of marijuana legalization; he's a longtime advocate, and until this week he was the CEO of Cannabis Sativa, Inc., a pot branding and marketing company. The company cited "political opportunities" for Johnson as his reason for leaving.
Wes Benedict, the executive director of the Libertarian National Committee, said Wednesday that the group is "thankful Gary Johnson is willing to do the hard work again" by running for president. The committee endorses Johnson's effort to sue the Commission on Presidential Debates—through his 501(c)(4), Our America Initiative—to try to change the qualifying rules for debates so third-party candidates can more easily appear alongside the Democratic and Republican nominees.
"If you run for president as a libertarian, it's a major endeavor for a cause you care about," Benedict said. "It's not to seek political power."
Johnson acknowledged to me that his signature issue, a too-big government with too many trillions in debt, might not ignite voters' passions like national security. But he's going to talk about it anyway, as everyone else has "their head in the sand."
In his October note, Johnson also criticized the current field, suggesting the Republican candidates aren't bringing anything new to the table and calling the Democratic options "equally alarming." He suggested that Senator Rand Paul, who's closest to him ideologically, had sold out, and took aim at the "glaring exception" to the same-old-GOP field, Donald Trump.
Johnson told me he understands voters' dissatisfaction with the status quo and the desire to support a candidate without any ties, but he condemned primary voters' current candidate of choice—Trump, whom Johnson believes will be the GOP nominee—for his anti-Muslim, anti-immigrant rhetoric.
He wants to provide a singular voice in the presidential field. Will it get heard? Johnson asks, rhetorically. "I'll be the first person that says 'probably not,' but nowhere does the voice exist."