Gaffe Track: Santorum Calls Deportation a 'Blessing'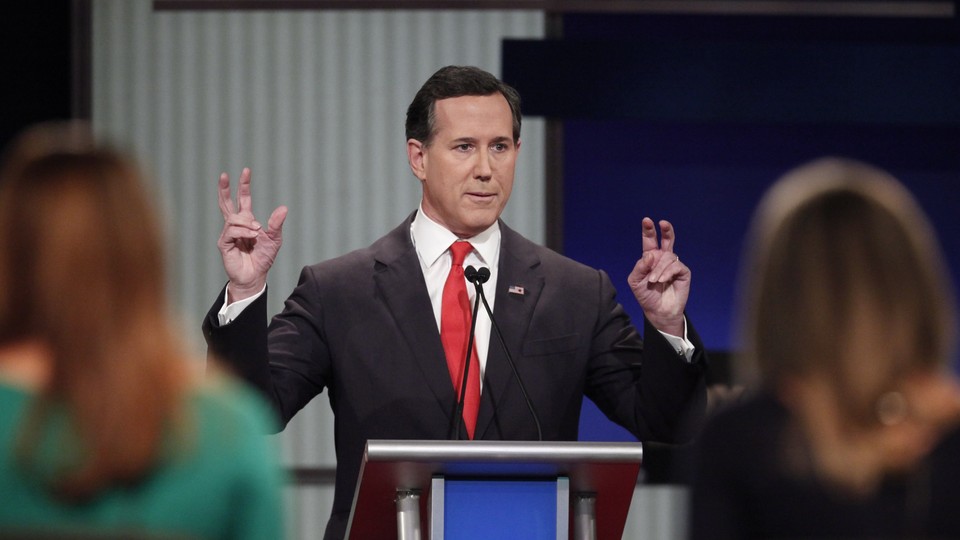 Editor's Note:
This article previously appeared in a different format as part of The Atlantic's Notes section, retired in 2021.
The candidate: Rick Santorum, who is still running for president.
The gaffe: In Iowa, Santorum said a teacher asked him about his plan to deport undocumented immigrants, noting that many of her students were immigrants. "My response is, 'Great. Do you realize what a blessing they will be to their country when they go back?'" Santorum said. "You are talking about folks who are going to be the leaders of their countries. I think that the best thing that we can do to stem the tide of illegal immigration is to have them go home and save their countries." It's Mitt Romney's "self-deportation" gaffe on steroids. And sometimes, deporting immigrants who have learned skills in the U.S. has ugly effects in their home countries. Just ask anyone who's had a run-in with MS-13.
The defense: Some immigrants do come to the U.S. to learn skills and return home. But illegal immigrants overwhelmingly work in low-skill fields in the U.S.—they're leaving home not for self-improvement, but because there aren't good jobs at home.
Why it matters (or doesn't): Santorum hardly registers in this race, so it probably doesn't matter much to him. And while GOP leaders once tried to keep a lid on rhetoric like this that would hurt its chances with immigrants, Donald Trump has made that effort obsolete, too.
The lesson: Counting illegal immigrants isn't the same as counting their blessings.