Gaffe Track: Jeb Bush's NRA Misfire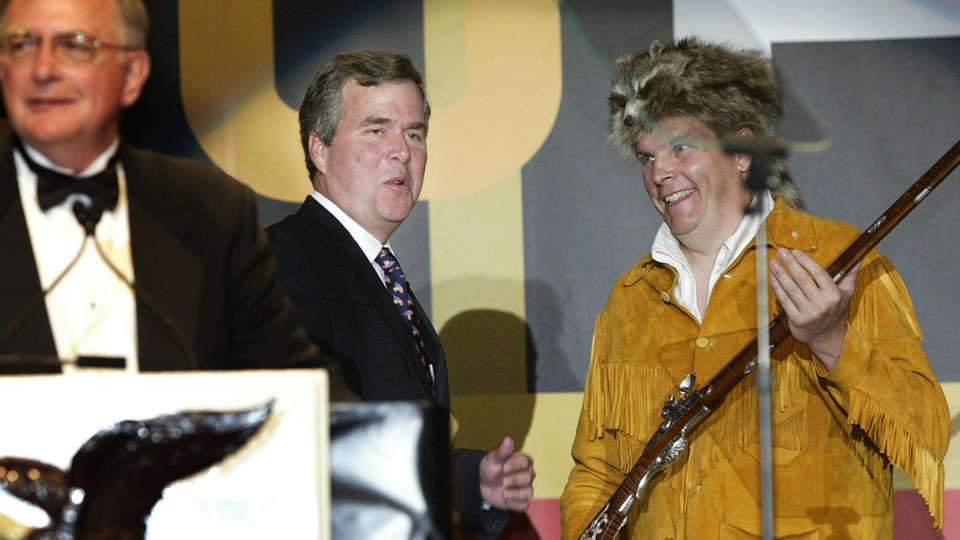 Editor's Note:
This article previously appeared in a different format as part of The Atlantic's Notes section, retired in 2021.
The candidate: Jeb Bush
The gaffe: As Andrew Kaczynski notes, Bush has boasted on multiple occasions that he won the NRA's statesman of the year award, having received the honor from then-NRA President Charlton Heston. Small detail: The NRA does not, and never has, given out such an award. What a blunder(buss)!
The defense: "In recounting the story, Jeb was mistaken and conflated multiple events unintentionally," a spokesman said. "Jeb has a lifetime A+ rating from the NRA." The spokesman also noted that the NRA branded legislation Bush signed as Florida governor the "Six Pack of Freedom." For the record: We recommend restraint when mixing six-packs and firearms. The campaign bit the bullet and removed social-media posts referring to the award.
Why it matters (or doesn't): Candidates (and news anchors) have, uh, taken flak for such misrememberings. Pundits and rivals may snipe at him, but does anyone really doubt Bush's support for gun rights? He still has that A+ rating, plus the fancy ceremonial rifle in the photo above, which he received at a 2003 NRA banquet.
The moral: Jeb's campaign is under the gun, but he still needs to keep his powder dry and avoid going off half-cocked.