For Trump and His Rivals, The Race to Iowa Is Strictly a Numbers Game
With days to go before the first two primaries, the leading GOP candidate's fate may come down to poll margins.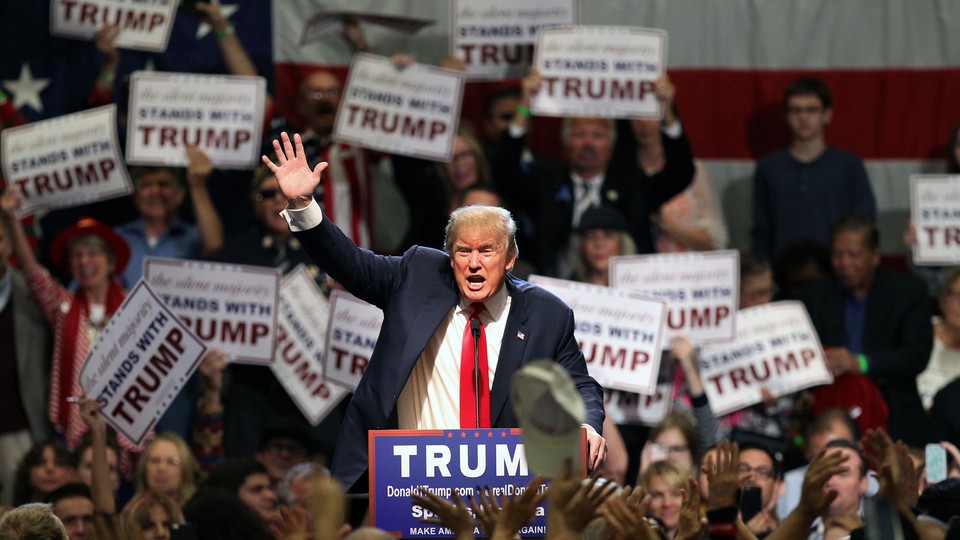 DES MOINES, Iowa—As the first Republican balloting approaches next week, front-runner Donald Trump has established a clear advantage by assembling a remarkably consistent coalition, both nationally and in early contests.
Over the past two weeks, six polls released nationally, and in Iowa and New Hampshire—the critical first two states—show Trump's support converging with noticeably little variation at around one-third of the Republican vote. Each of those polls shows Trump leading his rivals. Four polls released Tuesday morning also largely reinforce these patterns.
The consistency of Trump's coalition across these different battlefields underscores the extent to which the presidential primaries are becoming a nationalized contest in which voters everywhere are moved by the same saturated media coverage of the campaign.
It also demonstrates the solid base of support the unconventional business executive has built in the GOP, which has positioned him to compete across a wide range of states that usually favor candidates from the party's competing factions. "It's easy to pick out what states Ted Cruz will do well in, and it's easy to pick out what states John Kasich could do well in," says Republican pollster Kristen Soltis Anderson, who is unaffiliated in the race. "For Trump, everything is technically on the table."
The big unanswered question for Trump and his rivals is whether the stability in the response to him also indicates a potential ceiling on his support if and when the race narrows. His rivals note that one way of viewing this pattern is that, despite all the attention the flamboyant New Yorker has commanded, these polls consistently show that about two-thirds of Republican voters prefer someone other to Trump—even if they splinter on who that alternative should be.
Trump's numbers look almost identical in six surveys released over the past two weeks—two national polls, two surveys in Iowa, whose caucuses will kick off the Republican race Monday, and two more in New Hampshire, whose first-in-the-nation primary will follow eight days after Iowa. In all six surveys, the share of Republicans backing Trump varies only between 31 percent at the low end (in a Fox News survey in New Hampshire) to 37 percent at the apex (a CNN/ORC poll in Iowa).
"Because Trump is such a national candidate, because his appeal is not 'I spent so much time in Iowa and New Hampshire', to me it makes sense that Trump's numbers would be much more nationalized," said Anderson. "Whereas someone like a John Kasich, who appeals to a very particular flavor of Republican, you find more in one state or another."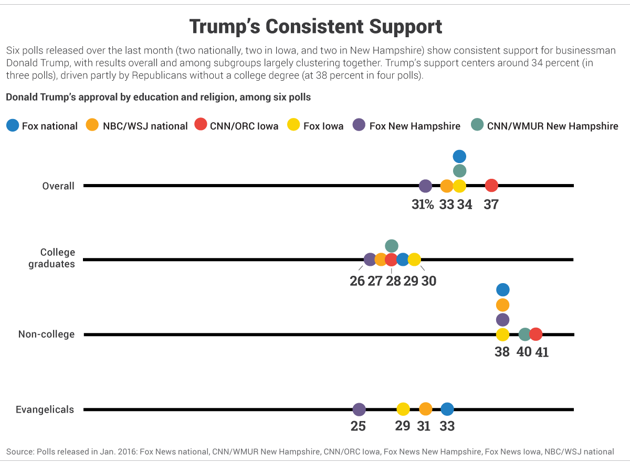 In these new polls, Trump's numbers converge even among the key subgroups in the race. Among Republicans without a college education, his strongest group, support for Trump varies only between 38 percent (in four of the six polls) and a high of 41 percent in the CNN Iowa Poll. (He finishes at 40 percent in the latest CNN/WMUR/University of New Hampshire poll in the Granite State.)
Among Republicans with a college degree, Trump's support is considerably more measured but still consistent. Across the six polls, his backing varies only from 26 percent in the Fox New Hampshire poll to 30 percent in Fox's Iowa poll.
Four other polls released Tuesday morning also largely place Trump within these parameters. A Boston Herald/Franklin Pierce University poll shows Trump at 33 percent in New Hampshire (winning 44 percent of noncollege Republicans and 23 percent of college-educated Republicans there). A Quinnipiac Poll in Iowa puts him at 31 percent overall, drawing 28 percent of college-educated Republicans and 34 percent of those without degrees. An ABC/Washington Post national poll puts Trump at 37 percent overall. Only a CNN/ORC national survey moved him outside these parameters: it shows him attracting 26 percent of college-Republicans, but 47 percent of their non-college counterparts, lifting him to 41 percent overall—his best number in the recent surveys.
In the original six surveys where figures by age are available, Trump's numbers among younger Republican voters (generally those younger than 45) varies only between 28 and 33 percent, and his showing among older voters ranges only from 30 to 35 percent. Likewise, in the original six surveys where gender figures are available, his numbers among women vary only between 30 and 35 percent. Only among men does he show more variation, ranging from a low of 30 percent in the Fox New Hampshire survey to a high of 42 percent in the CNN Iowa Poll. With evangelical Christians, Trump's support differs only from a low of 25 percent in New Hampshire (where there are few of those voters anyway) to a high of 33 percent in the Fox Iowa survey and the latest national NBC/Wall Street Journal poll (which tracks conservative Christians under the rubric of "values voters"). Tuesday's Quinnipiac survey in Iowa put him at 27 percent with evangelicals there.
Support for Trump's chief rival, Ted Cruz, shows more variation.
Among all voters in the first six polls, he varies from a high in these surveys of 26 percent (in the CNN Iowa poll) to a low of 14 percent in the two most recent New Hampshire surveys; in the national surveys he falls almost exactly in between, at around 20 percent. Cruz' support among non college voters ranges from 30 percent in CNN's Iowa poll to just 16 percent in Fox's New Hampshire survey; among college-voters, he ranges from drawing around one in five in the two Iowa surveys to just one in eight in New Hampshire. Those differences largely reflect Cruz' reliance on evangelical Christians at all education levels—voters who are much more prevalent in Iowa than in New Hampshire.
Rubio shows somewhat more consistency across Iowa, New Hampshire and nationally, which helps explain why many Republican strategists still believe he has the best chance of assembling a broad coalition of voters resistant to Trump. But Rubio hasn't matched his breadth with depth: rarely in these surveys does he attract more than about one-in-six among any key constituency, from older and younger voters to those with and without college degrees. The surveys released Tuesday morning showed Rubio with just 8 percent nationally (CNN) and in New Hampshire (Boston Herald).
Trump's consistency of support has put him in striking distance of capturing both Iowa and New Hampshire. No Republican has managed that in a contested race since Gerald Ford did so as a sitting president in 1976.
Candidates have struggled to succeed in both largely because Iowa—with its heavy concentration of evangelical Christians—and New Hampshire, with its more affluent and secular economic conservatives, represent the two opposite cultural polls of the GOP coalition. But Trump is dividing the GOP electorate along different lines—drawing dominant support from blue-collar voters as well as voters disaffected from traditional politicians, regardless of their religious affiliation. Particularly in New Hampshire, he's also benefited because the white-collar voters relatively more resistant to him (he draws just 26 percent of them in the latest Fox survey and 28 percent in CNN's) are splintering their vote among his rivals: six candidates are drawing between 7 and 13 percent of college-educated voters in the CNN/WMUR/UNH survey.
If those white-collar voters eventually consolidate behind a single alternative, Trump will face more pressure to prove his current floor isn't also a ceiling—particularly in coastal states and big Midwestern population centers with large numbers of those upscale voters. But for now, Trump's consistent appeal to almost exactly 40 percent of noncollege Republicans, 30 percent of those with degrees, and about one-third of the party overall, has left his rivals confronting a daunting equation.
---
Janie Boschma contributed to this article