For Clinton, 2016 Is Looking Too Much Like 2008
Despite aiming to avoid last campaign's mistakes, Hillary Clinton finds herself in an uncomfortably familiar position.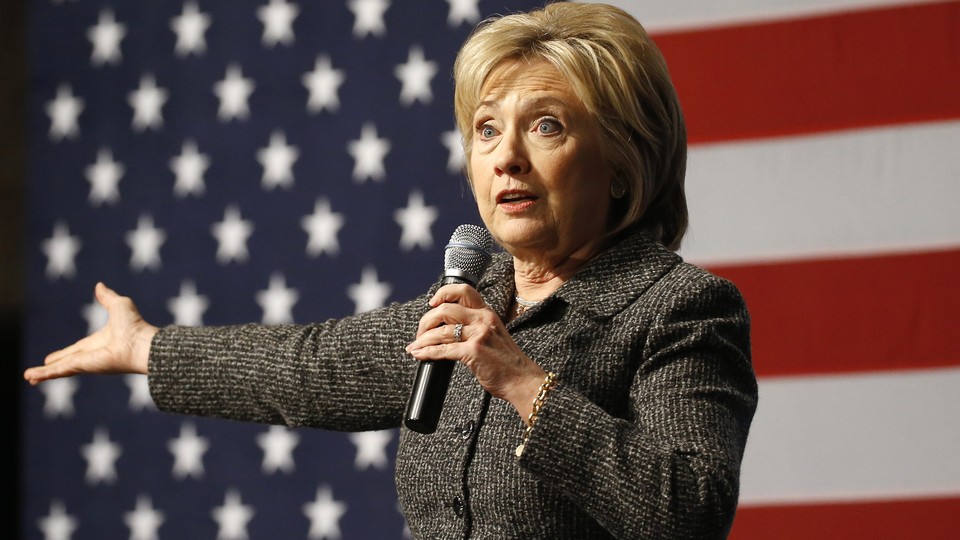 When Hillary Clinton launched her presidential bid last year, she and her advisers were determined to avoid the mistakes of her last campaign. They favored small meet-and-greets over large rallies. They drilled down on the liberal causes animating the Democratic base. They even deployed the candidate to late-night talk shows to highlight The Real Hillary.
But as the first nominating contest approaches, Clinton seems to be caught in a political time warp, buffeted by the same headwinds that felled her 2008 campaign as she seeks to blunt the rise of Sen. Bernie Sanders.
Sunday's debate will be her last big opportunity to change the dynamic before the Iowa caucuses on Feb. 1.
With polls tightening in the Hawkeye State, Clinton is again emphasizing her experience and toughness and painting her surging opponent as a naïve politician who is overpromising sweeping change, especially on health care. On Tuesday, she reprised a main line of attack that she used against Barack Obama eight years ago. "I wish we could elect a Democratic president who could wave his magic wand and say, 'We shall do this, and we shall do that,'" she said. "That ain't the real world we're living in!"
For his part, Sanders is channeling Obama's past bid, pledging to lead a political revolution while painting Clinton as an establishment politician—a message that is resonating deeply with political independents and young people, the same kind of voters who boosted Obama eight years ago. Sanders's aides have suggested they would mount a similar state-by-state delegate chase to clinch the nomination.
"It could be that the inevitable candidate for the Democratic nomination may not be so inevitable today," Sanders said this week.
That doesn't mean, however, that Clinton doesn't remain the strong favorite. She still leads nationally and has a lengthy head start on precinct-level organization in the early-voting states. On Thursday, top campaign officials reiterated to reporters that they have long expected the race to tighten as voters started paying closer attention, especially in Iowa and New Hampshire.
"The campaign has started to heat up, and there has been a very substantive back-and-forth about a lot of different issues," said Robby Mook, Clinton's campaign manager.
Nevertheless, the increased sniping between the candidates represents a clear turning point in the campaign. For months, Clinton floated above the fray in the Democratic primaries, instead training her sights on a bombastic field of Republican challengers while Sanders vied for attention. But in recent weeks, amid Sanders's surge in state and national polls, she has recalibrated her approach. Clinton, her aides, and her surrogates—most notably Bill and Chelsea Clinton—are raising questions about Sanders's electability and launching a series of attacks against him.
The most stinging criticism has been over gun restrictions, one of the few areas where Clinton is more liberal than Sanders. She often cites his vote for legislation that protected gun manufacturers from lawsuits and has called him "a pretty reliable vote for the gun lobby." Sanders and his campaign counter that he's backed other gun-control measures and that he would revisit his position on the liability issue.
For Clinton, it's a rare chance to drive a wedge with the Democratic base—though it's unclear how effective that line of attack will be; she has been using it since last fall and it does not register in polls as a top concern for voters. "Don't talk to me about standing up to corporate interests and big powers," she said, broadening her argument this week as she accepted the support of the Brady Campaign to Prevent Gun Violence, one in a series of recent endorsements. "I've got the scars to show for it."
Many voters, however, remain unconvinced.
According to a new Des Moines Register/Bloomberg Politics poll, Clinton has seen her lead shrink to two points in Iowa, 42-40, with 14 percent of likely Democratic caucusgoers saying they are now undecided or plan to stand up for "uncommitted"—a six-point jump in the last month.
"As we get closer, sometimes things get more volatile, rather than less," Ann Selzer, who conducts the poll, told the Register.
For Clinton, that's another unwelcome echo of 2008.