The Growing Water Crisis in Flint
Michigan Governor Rick Snyder will outline his recovery plan Tuesday night as the White House appoints an official to oversee the federal response.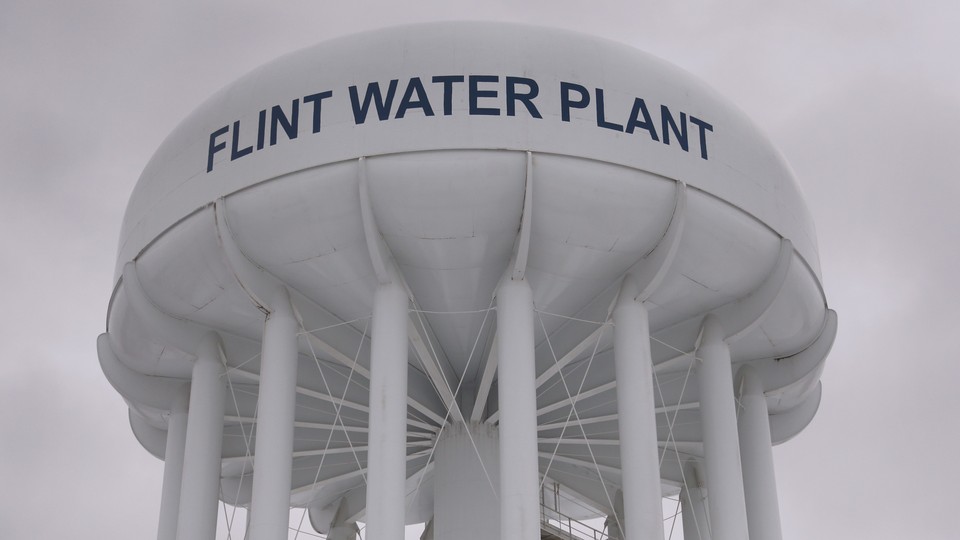 Almost a year after public-health officials first warned about lead poisoning in Flint, Michigan, the city's toxic water-supply crisis is receiving a national response.
First, President Obama declared a state of emergency in Flint and the surrounding county on Saturday at the request of Michigan Governor Rick Snyder, freeing up federal resources for locals affected by the water supply.
Then, on Tuesday, the White House announced it would appoint Nicole Lurie, the Department of Health and Human Services' Assistant Secretary for Preparedness and Response, to oversee the federal response to the crisis. Obama is also expected to meet recently elected Flint Mayor Karen Weaver on Tuesday.
The response underscores how severe the public-health crisis facing Flint residents has become. In his annual State of the State address on Tuesday night, Snyder is expected to outline his response plan and request emergency funding from lawmakers. Hours before the address, a group of local lawyers announced a class-action lawsuit against the state for its "false assurances" about the water's safety.
Many observers singled out Snyder for the state's sluggish response to elevated levels of lead in Flint's water supply. The city switched from Detroit's water supply to the Flint River in 2014 as part of a cost-saving measure instituted by Flint's state-appointed emergency manager. My colleague David Graham noted earlier this month that state and local officials continued to defend Flint's water quality long after it became clear that there were serious problems with it.
While the toxic water supply is first and foremost a public-health issue, it has also become a political nightmare for Snyder. At the Democratic presidential debate in South Carolina on Sunday, former Secretary of State Hillary Clinton criticized the governor for his inaction on a crisis in an impoverished, majority-black community.
"He had requests for help that he basically stonewalled," she told the audience. "I'll tell you what, if the kids in a rich suburb of Detroit had been drinking contaminated water and being bathed in it, there would've been action."
Vermont Senator Bernie Sanders went even further, calling for Snyder's resignation. "A man who acts that irresponsibly should not stay in power," he said at Sunday's debate.
Immediately after the debate, Snyder tweeted an implicit response to the candidates' criticism from his official account.
Political statements and finger pointing from political candidates only distract from solving the Flint water crisis.

— Governor Rick Snyder (@onetoughnerd) January 18, 2016
GOP candidates, for their part, have largely stayed mum. "Well, it's a shame what's happening in Flint, Michigan," Republican presidential frontrunner Donald Trump told reporters in Iowa on Tuesday. "A thing like that shouldn't be allowed to happen, but again, I don't want to comment on it."
When asked in an interview with National Journal published Tuesday if it was unfair to call the poisonings his "Katrina," Snyder replied, "No. It's a dis­aster." He also ruled out resigning, saying that he "wants to solve the problem. I don't want to walk away from it."