Jerry Falwell Gets Religion on Trump
The evangelical leader's political calculus has changed.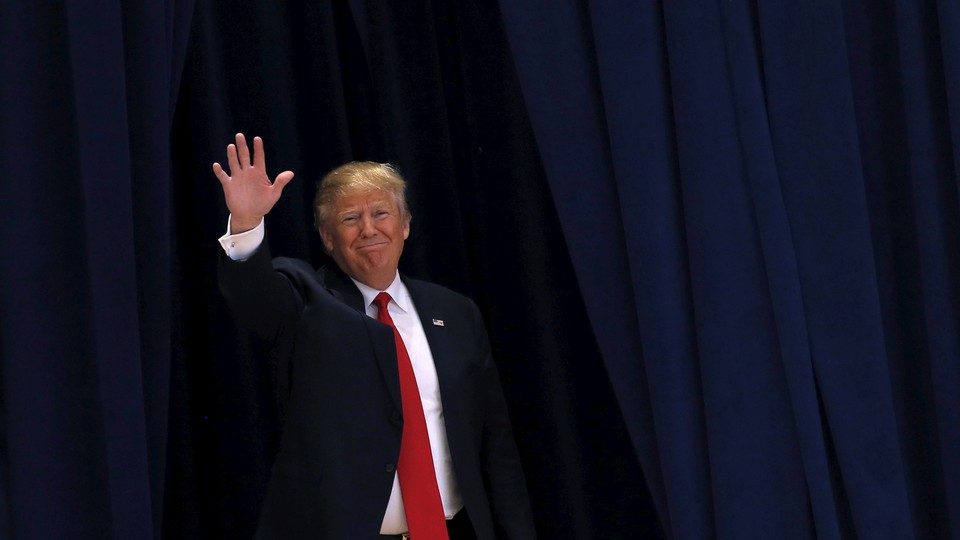 "The talents, abilities, and experience required to lead a nation might not always line up with those needed to run a church or lead a congregation," Jerry Falwell Jr. revealingly declared last week at Liberty University as he readied the crowd to hear Republican presidential front-runner Donald Trump speak. Apparently, religious litmus tests for presidential hopefuls are no longer in style for the evangelical leader. On Tuesday, Falwell once again appeared to set aside righteousness for pragmatism: He officially endorsed Donald Trump for president.
It was only a mere two cycles back that Falwell endorsed Mike Huckabee for the White House, praising the Republican candidate as a true believer. "I think that Gov. Huckabee is one of us. I know that a lot of the other candidates try to talk like evangelicals, but he's actually one of us. He believes like we do on all the issues," Falwell explained in a 2007 op-ed, "Why I Endorse Mike Huckabee," published in the conservative Newsmax.
Today, the president of Liberty University has taken a strikingly different stand. As candidates, Trump and Huckabee create quite the contrast. Huckabee served as a Southern Baptist pastor before becoming the governor of Arkansas. Trump is a Presbyterian who mangles attempts at biblical references. Which is likely why the logic that Falwell is using to justify his endorsement of Trump deviates substantially from his past argument in favor of Huckabee. When Falwell gave Huckabee the nod, he portrayed the candidate's religious conviction as paramount to the decision. With Trump, however, the contender's track record of business success is far more important.
A statement circulated by the Trump campaign after the endorsement went public had Falwell praising the real-restate mogul's private-sector savvy, casting Trump as a "successful executive and entrepreneur." Tellingly, it did not mention Trump's faith.
When Trump spoke at Liberty University last week, Falwell even went so far as to argue that the qualities that conservative Christians look for in faith leaders may not be the same qualities they should look for in elected leaders. At one point, Falwell invoked his father, the late televangelist Jerry Falwell Sr., to make the case: "Dad explained that when he walked into the voting booth, he wasn't electing a Sunday School teacher or a pastor or even a president who shared his theological beliefs; he was electing a president of the United States."
It's not that Trump's moral qualities don't matter to Falwell. To the contrary, Falwell has repeatedly emphasized that Trump is a kind and generous person.  At Liberty University, he even sought to tie Trump to religious tradition: "Donald Trump lives a life of loving and helping others as Jesus taught in the great commandment." Falwell also signaled that Christians should be guided by faith as they decide who to vote for. "Jesus never told us who to vote for, he gave us all common sense and the ability to choose the best leaders," Falwell declared.
Still, it's pretty clear that Falwell's political calculation has changed. He once suggested to Christian conservatives that the best hope for protecting their political priorities hinged on supporting a candidate (à la Huckabee) whose religious conviction matched their own. Now, Falwell appears to be arguing that faith alone is not enough—indeed, the best candidate for president may possess qualities not found in a person otherwise equipped to act as a spiritual guide. In his endorsement of Trump, Falwell suggested that a track record of secular achievement matters a great deal.
At Liberty, Falwell spoke at length about Trump's accomplishments in the world of business, indicating that the candidate's financial independence allows him to follow through on any promises he makes. "[Trump] is not a puppet on a string like many other candidates who have wealthy donors as their puppet masters," Falwell said. "Imagine how wonderful it would be for once that the United States of America had as its president, a man, or a woman, who not only refused contributions but who has built companies from scratch … who runs the nation with the same entrepreneurial business principles that have brought success to their own companies."
Like so many Americans, Falwell's change in tone may be a reflection of his own disillusionment with the Republican Party and a desire to see a break with politics as usual. It also appears to be an acknowledgement that the old formula for picking politicians has not worked for Christian conservatives. "For decades, conservatives and evangelicals have chosen the political candidates who have told us what we wanted to hear on social, religious, and political issues only to be betrayed by those same candidates after they were elected," Falwell said.
Voter dissatisfaction with the political elite, and broken political promises, has so far bolstered Trump's rise. Now, that same outsider status appears to be winning Trump evangelical support, which could be crucial in Iowa, where votes are less than a week away. At this rate, Trump's iconoclasm may just carry the day.