Fading Carson Might Play Spoiler in Iowa
Ted Cruz could see much-needed supporters stick with the retired neurosurgeon.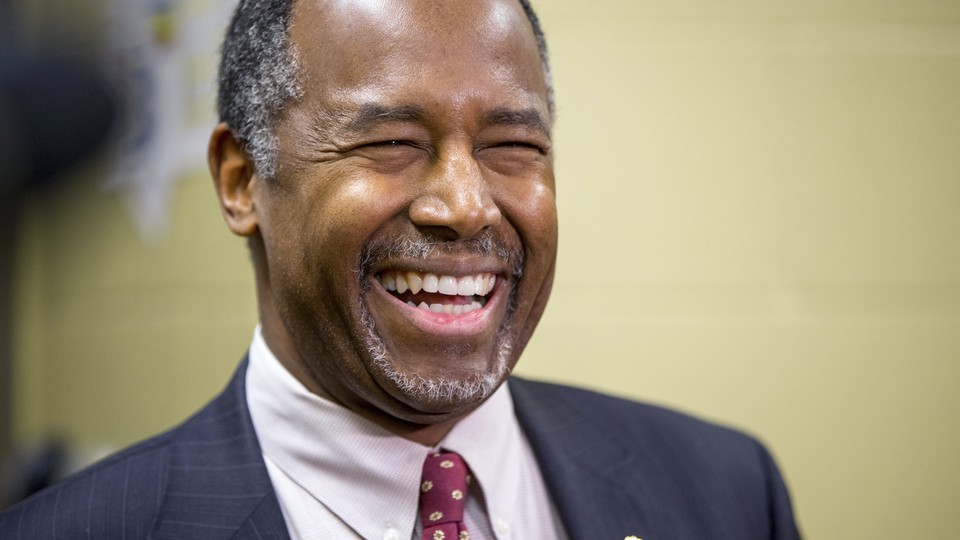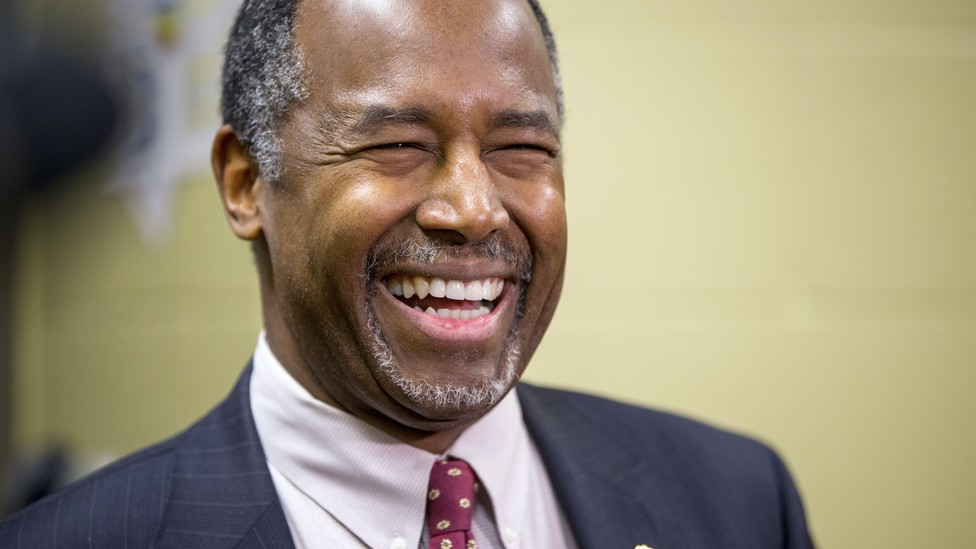 Ben Carson may not win the Iowa Republican caucuses, but the one-time front-runner in the state still could play a significant role Monday: spoiler.
Since topping the Iowa polls with support as high as 32 percent in October, Carson's standing in the state that kicks off the presidential nominating process has slid dramatically. Still, the retired neurosurgeon has not completely vanished. As the latest Real Clear Politics polling average shows, he's stalled out at roughly 8 percent in Iowa, which is still good enough for fourth place.
If Carson pulls that level of support on caucus night, as many Iowa Republicans expect, that could cause problems for the candidate who has taken the evangelical mantle from him, Ted Cruz. The senator from Texas is running neck-and-neck with Donald Trump, and he needs to solidify social conservatives—a critical portion of his base there—to come out on top.
"The better Ben Carson does, the worse Ted Cruz will do," said Jamie Johnson, an Iowa pastor who worked on Rick Perry's 2016 presidential campaign. "I still have talked to people this very week—they love Ben Carson, and they're going to caucus for him. And that does not bode well for Ted Cruz."
Recent polling suggests Carson, who remains extremely popular among GOP voters even if he's no longer their top pick, is eating more into Cruz's potential base of support than Trump's. Cross-tabs provided to National Journal from a mid-January Loras College survey of likely Iowa Republican caucus-goers showed 37 percent of Carson backers saying Cruz was their second choice, compared to 27 percent for Marco Rubio and 10 percent for Trump. And nearly half of Carson's supporters said they were absolutely committed to caucusing for him.
Previous cycles have proven that the final week in Iowa is pivotal, so Carson could bleed more support by Monday. Several of his senior staffers have left the campaign in recent weeks, and the political newcomer has yet to find the ability to clearly articulate his views on national security at a time when the issue is at the forefront of voters' minds.
Still, he's continuing to hit the pavement in Iowa. Through Tuesday, Carson had spent 12 days in the state this month, compared to ten for Cruz and Rubio and eight for Trump.
"Any support that Carson holds on to overwhelmingly are evangelical voters," said Christopher Budzisz, who directs the Loras College poll. "While he certainly has fallen back down to earth, I don't see him going down much further. He could serve as a spoiler for someone who's trying to consolidate evangelical voters."
That someone is Cruz, who has put Christian conservatives at the center of his campaign strategy.
As Carson has faded and other rivals like Perry, Scott Walker, and Bobby Jindal fell by the wayside, evangelical leaders in Iowa and around the country have largely united behind Cruz's candidacy in a way they weren't able to do for social conservatives in elections past. Cruz remains the top choice of white, born-again evangelical voters in Iowa, according to a Quinnipiac University poll released Tuesday.
But the past two winners of the Iowa caucuses, Mike Huckabee and Rick Santorum, are running again and could also peel off some—though not much—evangelical support. Those two candidates are only at 2 and 1 percent, respectively, in the Real Clear Politics polling average, but Iowa Republicans anticipate they may do slightly better than that given their ties to the state. Any support they pick up, along with Carson, would make it that much harder for Cruz to keep pace with Trump.
"It still adds up at the end of the day and really matters," said Craig Robinson, a former political director for the Iowa Republican Party. "For a guy like Cruz, it becomes a math equation. To compete with Trump, he needs every single vote."
Trump, a reality TV star who has been married three times and previously voiced support for abortion rights, has emerged as a surprisingly formidable competitor for the Christian Right vote. Quinnipiac's latest survey found more than a quarter of Iowa's evangelical caucus participants support Trump, second only to Cruz's 39 percent. On top of that, Liberty University President Jerry Falwell Jr., an evangelical leader, endorsed the New York businessman Tuesday.
"I'm as stumped as anyone one by that," Budzisz said of Trump's evangelical support.
So this week, Team Cruz trained its fire on Trump. The senator's campaign and a host of allied super PACs have launched a new round of TV ads in Iowa questioning Trump's conservative credentials. But it's the also-rans like Carson who could bite on caucus night.