Environmentalist GOP Donors Are Losing Hope
Republican donors who care about combating climate change are finding they have to lower their expectations for the presidential race.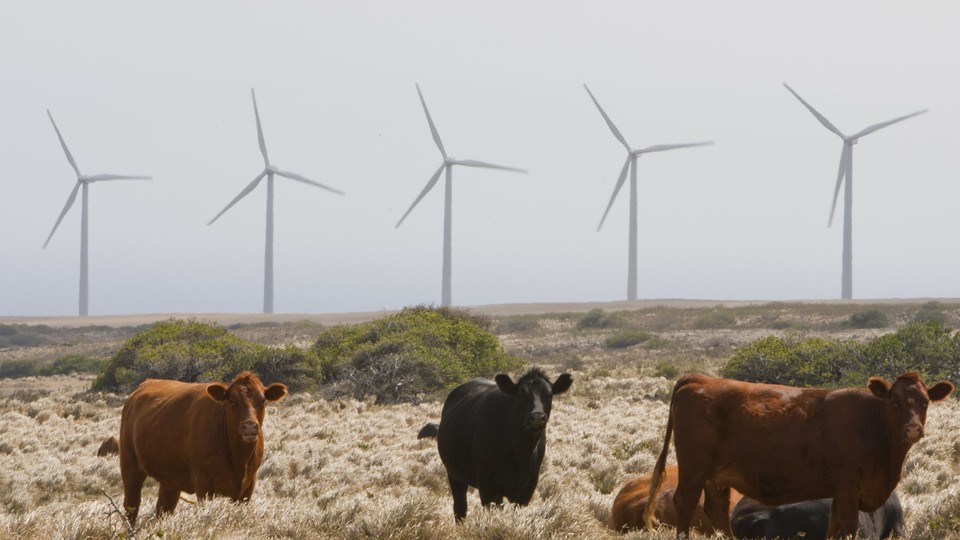 Republican donor Andy Sabin had a great seat on the floor for Thursday's GOP presidential debate and found himself increasingly impressed with the way Ted Cruz answered some questions. But overall, Sabin left frustrated with a lack of discussion of his pet topics: energy and climate change.
"Zero. None. It's a nonissue," Sabin said.
Just another lonely night in the life of a green GOP donor.
Sabin, president of the New York-based refining company Sabin Metal Corporation, may seem like a paradox. He's given to Karl Rove's Crossroads USA PAC and the state Republican Party, but also last year gave $3.5 million to Columbia University's school of climate-change law. He's vowed to try to get the party to fight climate change, even as many standard-bearers on the Right deny that it is happening.
Even though the party on the whole hasn't embraced any climate-change action, there are a handful of donors trying to get the GOP on board. North Carolina businessman Jay Fasion, for example, got plenty of press over the summer (including in National Journal), for announcing a $10 million 501(c)(4) political action group and a $165 million foundation called ClearPath to back Republican candidates who want to work on clean energy.
So far in the presidential race, that money hasn't made much of a dent—and now donors are left figuring out what's next.
Of the candidates with strong enough poll numbers to make last week's main-stage debate, only former Florida Gov. Jeb Bush has acknowledged that humans play some role in the changing climate, although it's hardly an endorsement of the scientific consensus. And with dwindling support that puts him around fifth place in the polls, nobody is counting on Bush's stance to make much headway.
Cruz and front-runner Donald Trump have both been scornful of climate-change action (Cruz on Tuesday said climate change was the "perfect pseudo-scientific theory" backed by "big-government politicians"). Sen. Marco Rubio had to run from a story last week that he had supported a cap-and-trade system in Florida.
The candidates who offered the most full-throated support for climate action—former New York Gov. George Pataki and Sen. Lindsey Graham of South Carolina—both dropped out of the race after toiling in the low single digits (Graham on Friday endorsed Bush, but didn't mention climate change in his endorsement).
"These people, they don't understand," Sabin said, calling out some candidates as "clueless" on the environment. "They think if we mention carbon reduction, it's shutting down American industry. You and I know that's not true."
Faison, in an interview, said his expectations "weren't too high for the primary season" but that he was hopeful the Republican nominee would have a clear energy agenda when the general election came around. Faison said his ClearPath spending group didn't even cut a check to a presidential candidate in the fourth quarter of 2015—his last donation was a $1,000 gift to Rubio's campaign reported in September.
Rubio, he said, has positioned himself on clean energy in a "smart" way. Last week, Rubio said in New Hampshire: "Let's be No. 1 in wind, let's be No. 1 in solar, let's be No. 1 in biofuel, No. 1 in renewables, No. 1 in energy efficiency. Let's lead in all of these things."
"We're all about a conservative clean-energy agenda, and we are seeing candidates talk about that," Faison said. "We don't have to talk about the science of climate change to talk about clean energy, so to that extent we're happy."
But, Faison added: "If you look at the whole spectrum of elected officials, we don't have to support a presidential candidate."
Indeed, there are more glimmers of green on the congressional level. Sen. Kelly Ayotte of New Hampshire has won plaudits from environmental groups for backing President Obama's carbon-pollution limits on power plants (Faison gave her $500,000 last summer). Republican Sen. Mark Kirk of Illinois, facing a tough reelection fight, has been less clear on his climate positions, although he voted against a Senate measure to kill the power-plant rules in November. Sabin gave two $2,700 donations to Kirk's campaign in 2015.
And a smattering of House Republicans backed a nonbinding resolution saying that human activity contributes to climate change and encouraging action to fight it.
Seeing more action down the ballot, Sabin said that he's begun to refocus his efforts on bringing together members of Congress—including Rep. Chris Gibson of New York, Sen. Cory Gardner of Colorado, and Sen. Bill Cassidy of Louisiana—to discuss environmental priorities, like nuclear power and natural gas.
But in a telling detail, Sabin said they're talking about "carbon reduction," not "climate change."
"We're talking about the same thing, just a different title," he said. "I think for some reason, Republicans think 'climate change' is a Democratic thing."