Donald Trump Goes to War With Fox
The Republican frontrunner, the top conservative news channel, and Ted Cruz are squaring off in a carnival of performative masculinity.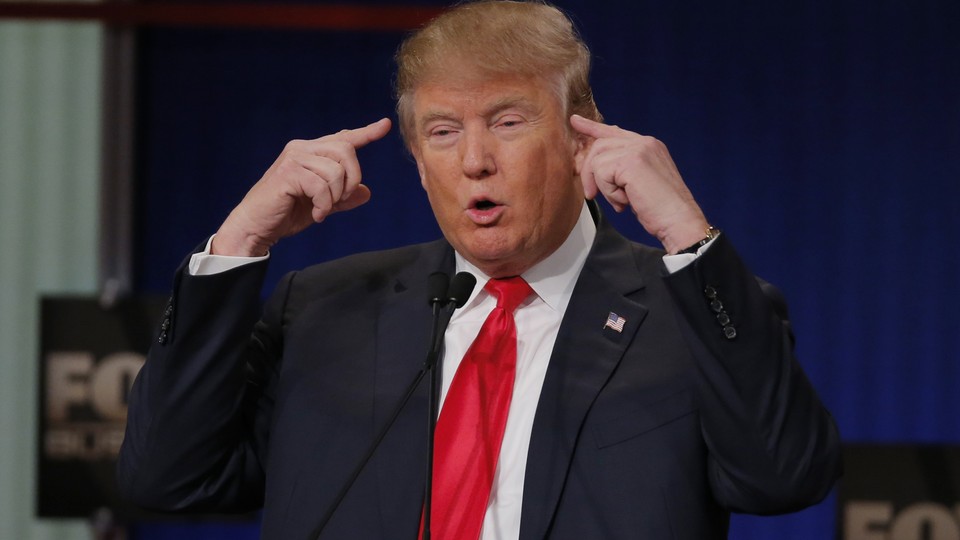 What happens when an unstoppable presidential candidate hits an immovable television network? For now, the result is that Donald Trump is boycotting Thursday night's Republican debate, the final meeting between the candidates before Iowans caucus on Monday.
It's the climax of a bizarre confrontation between the candidate and the dominant conservative news outlet. The first debate the network hosted involved some tense moments between Trump and Megyn Kelly, one of Fox's premier personalities. The aftermath was much uglier, with Trump making comments about Kelly that were acknowledged as misogynistic by pretty much everyone except, well, Trump.
Fox announced that Kelly would be moderating Thursday's debate, too, and Trump started making noises about a boycott. On Tuesday, he posted a cryptic video on Instagram:
Fox responded by mocking Trump: "We learned from a secret back channel that the Ayatollah and Putin both intend to treat Donald Trump unfairly when they meet with him if he becomes president—a nefarious source tells us that Trump has his own secret plan to replace the Cabinet with his Twitter followers to see if he should even go to those meetings."
That was too much for Trump, who announced his intention to skip the debate. Since then, the two sides have engaged in continuing skirmishes. Trump called the ayatollah statement "a disgrace to good broadcasting and journalism. Who would ever say something so nasty & dumb." Fox accused Trump's campaign of threatening Kelly. Trump called Kelly a bimbo, while claiming he wouldn't. Meanwhile, Ted Cruz—who's been engaged in a tense struggle with his old pal Trump for dominance in Iowa—piped up to challenge Trump to an alternate, "mano-a-mano" debate.
In short, it's a big, absurd circus of performative masculinity, complete with accusations of cowardice, misogynistic commentary, and an unstoppable cycle of escalation leading to a position that hardly seems ideal for either side: Trump is rolling the dice by walking away, while Fox doesn't get the No. 1 public attraction in every debate so far to appear on the stage.
Anyone who confidently predicts how this will shake out is either bluffing or employed by Trump or Fox. If Fox manages to get one up on Trump, it'd be a huge victory. Trump has consistently managed to marginalize conservative media outlets throughout the campaign, including, to a certain extent, Fox. If it wins here, it will cement the network's dominance by showing they can win where other right-wing outlets and leaders have failed. For Trump, meanwhile, the danger seems clear enough: Doesn't he look like a quitter for walking away? Well, maybe, but perhaps he's just showing what a tough negotiator he is, willing to turn his back. It has been consistently hard to predict what might hurt or help Trump.
With less than two days before the debate, it's clear that neither side can back down without a serious blow to their hard-won machismo. Unless, of course they can. This isn't the first time Trump and Fox have feuded. After that first debate in August, Trump swore he wouldn't appear on Fox again because he felt he was treated unfairly. Within days, he spoke with Roger Ailes, Fox's chairman, and they made up. They had another blowup in September, then met again to iron that one out.
The political ramifications of this feud matter to both Fox and to Trump, for whom the results in Iowa and New Hampshire could either pave a path to the nomination or quickly and ignominiously deflate his bubble. But who cares about the politics? Ailes and Trump are both show-biz whizzes at heart, and this is great entertainment.