Meet the YouTube Stars Trying to Convert Democrats to Team Trump
Two sisters (and digital-media phenoms) say the presidential candidate has the power to unite America. And they're doing all they can to help him win.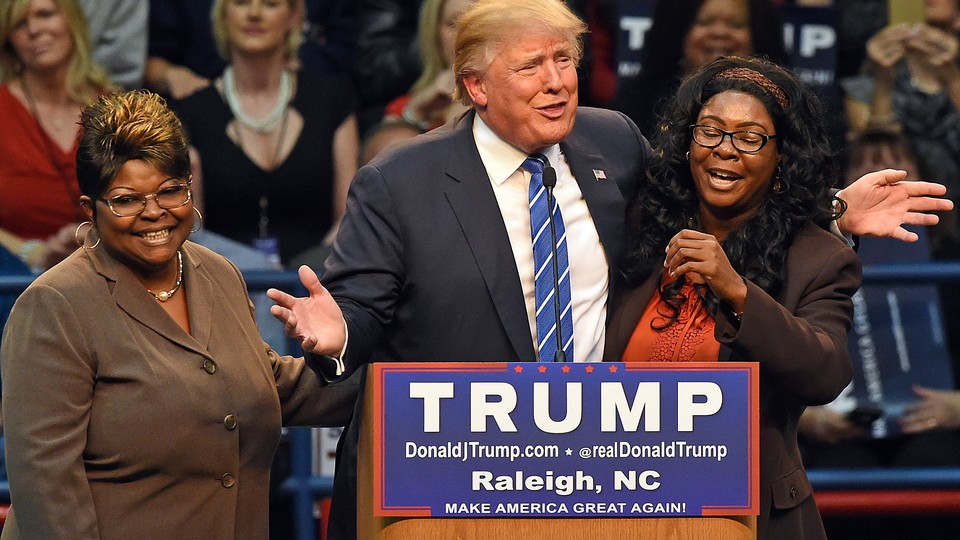 "What Donald Trump did, he just shook awoke America!" Lynette Hardaway tells me. For Hardaway and her sister, Rochelle Richardson, ​the​ connection to the Republican presidential candidate was immediate. It started when Hardaway switched on her television and saw Trump declare he was running for president. She called her sister and told her to watch, too. "When he announced and we heard everything that he stood for," ​says Hardaway, "it was on and poppin', and we've been on the Trump train ever since."
Hardaway and Richardson—the YouTube stars from North Carolina known as "Diamond" and "Silk"—may not seem like typical Trump supporters. But the pair are working hard to help the real-estate mogul win the White House. To achieve that, they're trying to convince Democrats and Independents to vote for Trump.
The sisters are broadcasting a personal story of partisan conversion. Hardaway and Richardson switched their voter registration from Democrat to Republican so they could vote for Trump in the primary election. The sisters have uploaded dozens of videos talking up Trump to their YouTube channel, The Viewers View, which beams out content to more than 22,600 subscribers. Many episodes take aim at the presidential contender's opponents: Ted Cruz, Fox News anchor Megyn Kelly, and National Review have each been on the chopping block. All of that typically happens in under-five-minute increments.
Like many Trump fans, Hardaway and Richardson appreciate the candidate's tough talk on illegal immigration. They like his promises to create jobs, secure the border, and keep the country safe from terrorism. "We already have problems in our country, so why are we bringing in more problems where people want to cut off our heads and kill us?" Hardaway asks. The sisters also insist that Trump has a unique ability to bring Democrats, Independents, and Republicans together as he works to "Make America Great Again."
It's a pitch that lines up with how Trump describes himself. "I think I'll get along great with a lot of people," Trump told an Iowa crowd earlier this month. "Before I was doing this, I got along with the Democrats, with the Republicans, with the liberals, with the conservatives. I get along with people."
The idea that Trump could be a unifier-in-chief seems to clash with the brash style of his campaign. The billionaire has an apparently limitless ability to lash out at any opponent. He has been widely criticized by both Democrats and Republicans for his call to ban Muslims from entering the United States until, as the campaign puts it in an ad, "we can figure out what's going on." When his supporters reportedly attacked a protester at a November rally, Trump responded, "Maybe he should have been roughed up."
Hardaway and Richardson see things differently. "When we go to a Donald Trump rally, it is phenomenal," says Hardaway. "The energy, there's unity in the room. Sometimes maybe one little protester will show up and that's what the media will cover, but that's not his rally. His rally represents unity. In that room, we know that we are one race, and that's the human race, and we are united ... Everyone should get out and experience a Donald Trump rally."
The sisters have appeared onstage at rallies for the candidate twice so far. "How great are they?" Trump gushed, gesturing toward Hardaway and Richardson at a December rally in their home state of North Carolina. "We endorse Donald J. Trump," the pair yelled out in unison as Trump stood a few feet away looking amused and only slightly out of his element. "He's a very passionate, humble man," Hardaway says of meeting Trump. Earlier this month, the pair appeared onstage at a rally in Biloxi, Mississippi. "All of our lives matter in this room, and we finally got a candidate that realizes that," Hardaway called out, deploying a variation on a phrase often used by critics of the Black Lives Matter movement.
When asked if the Democratic Party has failed black Americans and Americans in general, Hardaway replies: "I think yes, yes. Listen, we keep voting for the same system that only hands us some crumbs and thinks that's OK. We deserve more than crumbs; we need a slice of the cake … That's why we look at Donald Trump. He can fix this mess. He can fix this economic mess. He can bring back opportunities for everyone."
The YouTube personalities have created a website detailing how Democrats and Independents can switch their party registration to Republican to vote for Trump. "DITCH AND SWITCH NOW," the site commands. It comes complete with registration deadlines and information on Iowa caucus locations. A video on the site shows Hardaway and Richardson decked out in "Make America Great Again" T-shirts and matching hats while they travel to a local board of elections to officially register as Republicans.
As they call on Democrats and Independents to switch parties, the sisters seem to be sketching out a vision of Trump as the standard-bearer for a more inclusive Republican Party, whether that's a message they originally set out to deliver or not. "Maybe it's time to change the face of the Republican Party a little bit so that they can get more people in the party," Hardaway says. "When we look at the conservative movement, we see Donald Trump. We like what he stands for, and we are a part of it." The pitch depends on the idea that most people are more complex than a single political label can accurately describe.
Conservatives, meanwhile, have rushed to embrace the YouTube stars. The pair has been interviewed by everyone from former Alaska Governor Sarah Palin, who earlier this month endorsed Trump, to conservative radio talk-show host Alex Jones. "I think their passion is the best thing to happen thus far in this entire campaign," Palin exclaimed during an interview on One America News Network. "They're bringing people in, they're getting people excited about what's going on in the presidential race, and I am just so thrilled."
Of course, there has been criticism. They can't be serious, Internet commentators speculate. They must be in it for fame and attention. But the sisters say their message has been mostly well received. "The reaction is phenomenal," Richardson says. "We have a lot of people that have never voted in their life that are signing up to become a Republican just to vote for Donald Trump." ("They are enthusiastic supporters, but they are not paid by the campaign," Trump spokesperson Hope Hicks said when asked if the pair is formally affiliated with the campaign or compensated by it.)
As a former reality-television star, Trump knows how to put on a show. His rallies have become famous for their spectacle, a quality perhaps best captured in a video that recently went viral of three young girls performing a patriotic song and dance routine at a Florida rally. ("President Donald Trump knows how to make America great. Deal from strength or get crushed every time!" the trio melodically intoned.) A pair of YouTube stars at a Trump rally seems like par for the course. Still, the sisters describe what they're doing as starting a movement. "We are tearing down the fear that stands clouded over people's voices that want to speak," Richardson says. "I believe that with Diamond and myself being able to just be outspoken about how we really, truly feel about this thing, it's causing other people to not be scared."
The question now is whether Trump can translate that kind of grassroots enthusiasm into ballots cast. Does his appeal extend far enough for him to actually win? If Hardaway and Richardson have their way, and enough voters are willing to cross over from the Democratic Party to support Trump, the answer could be yes.