Dolce & Gabbana Launch High-End Collection Aimed at Muslim Women
By interpreting their lush fabrics and classic styling for a more modestly dressed audience, the fashion house debuts gorgeous hijabs and abayas for a modern woman.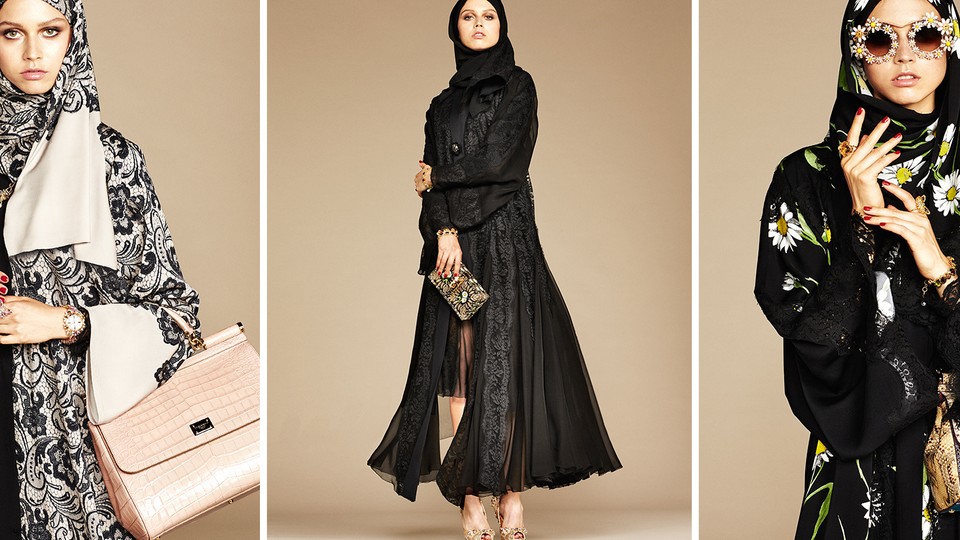 Italian design duo Dolce & Gabbana is the latest brand to introduce a line of hijabs for its Muslim and Arab customers.
The collection includes ankle-length dresses featuring the house's signature Sicily-inspired floral motifs such as daisies, lemons, and red roses. Georgette and charmeuse fabrics in black and beige are combined with lace inserts and styled with python and crocodile embossed handbags. Classic hijabs complete each look.
Dolce & Gabbana joins the likes of DKNY, Tommy Hilfiger, and H&M, who have all debuted modest lines or looks that cater to its Muslim customers. Many luxury online retailers like Net-a-Porter and ModaOperandi have also started featuring fashion editorials for the holy month of Ramadan.
It is not a surprise that in recent years more and more brands have tried to appeal to Muslim customers. A Thompson-Reuters report estimated that, in 2013, Muslim women spent $266 billion on clothing and shoes alone, and that this number was likely to jump to $484 billion by 2019.
The Abaya line will be sold at all Dolce & Gabbana boutiques in the Middle East, Paris, and London.
Take a look at the entire collection in the slideshow below. All photos courtesy of Dolce & Gabbana.