Divided GOP Ponders Way Forward on Criminal Justice Reform
Senate Majority Leader Mitch McConnell wants to slow down until more members learn about the bipartisan legislation.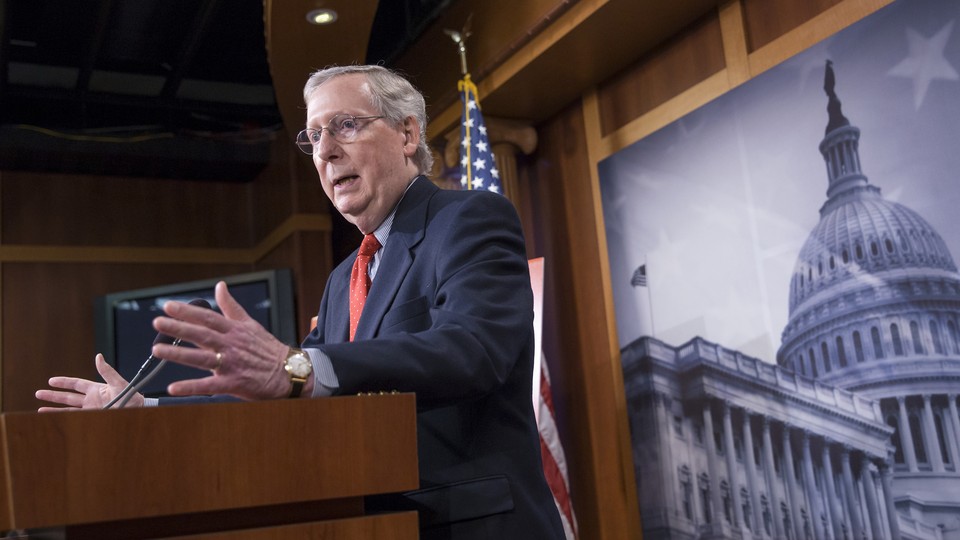 Republican divisions over criminal-justice reform could imperil chances for a bipartisan deal to overhaul sentencing and prison-release policies.
Senate Majority Leader Mitch McConnell on Wednesday signaled a go-slow approach on legislation to ease prison sentences for nonviolent drug offenses, even as the intensifying White House race could make compromise tougher as the election draws closer.
"The members of the Judiciary Committee have been deeply involved in that issue, [but] the rest of the conference is not," McConnell told reporters in the Capitol. He has not made any commitment to bring legislation before the full Senate.
"We are going to be working through the process of bringing everybody in the conference up to speed on this very important issue, and we are going to do that before any decision is made about floor time," McConnell said.
Discussion of the bill during the Senate GOP lunch Wednesday highlighted disagreements over the measure, according to one senator who asked not to be named because he was discussing a closed-door meeting.
Sen. John Cornyn, the majority whip who is a key backer of the bill, acknowledged hurdles facing the bill that passed the Judiciary Committee last fall.
"I think [McConnell] is bowing to reality, and the reality is that it was a 15-5 vote in the Senate Judiciary Committee. Five of our [GOP] members had reservations. We have been trying to work with them to try and address changes in the legislation that might get them on the bill," Cornyn said.
"We have got some work to do to try to build that consensus. We are, I would say, more at the beginning of the process than the end of the process. But I have asked all of my colleagues to work with us to try and find out where that consensus lies," Cornyn said Wednesday.
There's likely more than enough support in the full Senate to approve the bill. But the bill is nonetheless unlikely to come up unless there's broad support among Republicans. "You would want to have a big vote, and certainly on our side we would want to have our guys by and large in favor of where it was headed," Sen. John Thune, a member of the GOP's leadership team, told National Journal on Wednesday.
The measure also enables reduced prison terms for people who take part in programs to cut their risk of recidivism, and overhauls sentencing policy for gun-related offenses in ways that expand some penalties while trimming others.
The bill faces multiple objections. Some Republicans say it's essentially soft on crime.
"I don't think people have studied it closely, and I think [when] they do, they are going to be far more troubled than they think," Sen. Jeff Sessions, who voted against the bill in the Judiciary Committee, told reporters in the Capitol on Wednesday.
"We are at a point where we are seeing smaller federal and state prison populations and you are going to see an increase in crime, an increase in violent crime; it is already beginning to occur. We are also softening our approach to drugs, and you are going to see more deaths from heroin, and more crime related to drug abuse," Sessions said.
He and fellow Republicans Ted Cruz—who is a leading GOP White House contender—Orrin Hatch, David Perdue, and David Vitter opposed the bill in committee, while Cornyn and the other committee Republicans joined Democrats in support.
Another stumbling block is a GOP-led push to add provisions that would substantially expand the number of crimes for which prosecutors must show that defendants knew that their conduct was illegal.
The push led by Hatch to expand "mens rea" (or "guilty mind") requirements was the subject of a hearing Wednesday in the Judiciary Committee that saw supporters of the bill urging their GOP colleagues not to let the mens rea issue take down the whole bill.
"In the coming weeks, we have an historic opportunity to pass legislation that will correct some of the worst injustices in our criminal-justice system," said Sen. Patrick Leahy, the top Democrat on the panel. "All of this progress is now at risk because some are demanding sweeping changes that would make it harder to hold corporations accountable when they sell food that sickens consumers, endangers workers, or poisons our water supply."
Cornyn, while supporting changes to mens rea, said Wednesday that he's concerned about imperiling the bill that's designed to address sentencing and prison reform.
"I worry that if we begin to add additional things to that legislation, it is going to weigh it down to the point where we will not be able to pass anything this year," Cornyn said at the hearing, citing a "small window of opportunity."
But it's a sticky problem because while the Justice Department opposes adding mens rea to the bill and key Democrats do as well, House Judiciary Committee Chairman Bob Goodlatte has said that it's a vital part of the parallel criminal-justice reform effort in his chamber.
"I do believe the House is going to pass legislation that does include some mens rea requirement," Cornyn said, "and whether or not the Senate version has it in there, we are going to have to deal with this issue at some point along the way anyway."