A Reporting Project Puts Disabilities on the Political Agenda
Teams of reporters are cornering candidates in Iowa and New Hampshire, and pressing them to pay attention to issues that are often ignored.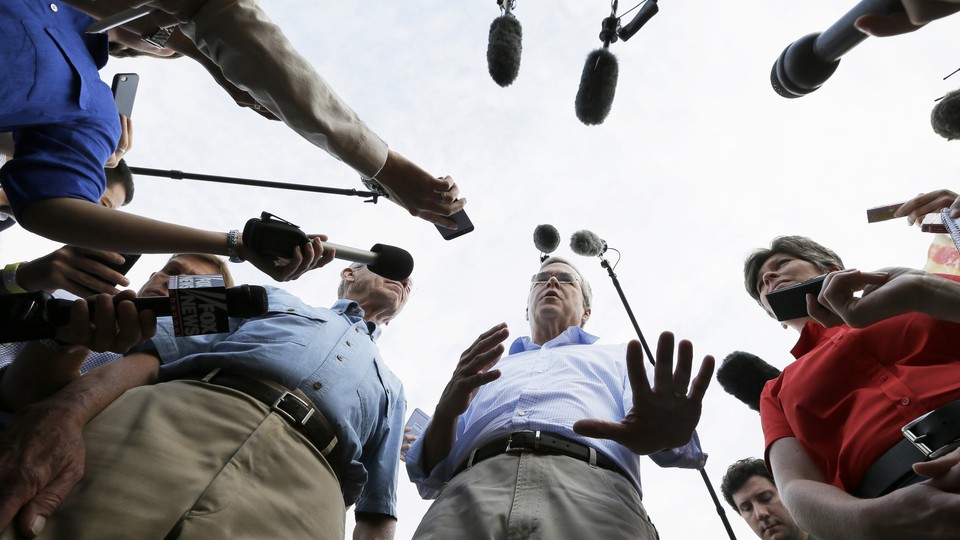 Dahlia Joseph and James Trout have a rhythm. Trout either positions himself in the front row or figures out which campaign staffer has a microphone for the audience Q&A. Either way, he aims to maximize his chances of asking a presidential candidate a question. Joseph takes her position in the press pool, with her Canon EOS Rebel T5 camera. After weeks in Iowa and New Hampshire, where they've attended dozens upon dozens of campaign events, they're now pros. Trout usually tells candidates that 70 percent of people with disabilities are unemployed, and then asks them what they intend to do about it. Dahlia captures it on film.
Joseph told me, "James and I—we're a team. We've worked together for so long now that we have a flow when we go to events. It's unspoken. We don't even talk about it. We know exactly what we're supposed to do." Sure, events don't always go as planned. Sometimes the twists and turns of a campaign event pull the candidate's attention away from them, but there's always the next town hall or rally. They're in this for the long haul.
2015 marked the 25th anniversary of the Americans with Disabilities Act (ADA). The ADA has made life better for disabled Americans in many ways, but also failed in a few important respects. Unemployment remains shockingly high as do rates of violence against disabled individuals. The disabled community has never acquired the level of political influence its numbers would seem to justify. RespectAbility, a nonpartisan nonprofit focused on shaping policies that affect disabled Americans, aims to change that. It's put a class of fellows on the campaign trail, Trout and Joseph among them, to attend presidential campaign events over the last few months.
Ben Spangenberg and Justin Chappell spent two weeks in January traveling around Iowa, committed to a grueling schedule to get to as many campaign events as possible. Chappell, who married Spangenberg last November, called it "a political nerd's dream honeymoon." Both men are wheelchair users with spina bifida, and the snowy sidewalks, ramps, and streets of Iowa were not always easy to navigate. At one Ted Cruz rally where the pair couldn't get close during the event, Chappell made his way towards the stage while Spangenberg circled around the building to wait by the bus, hoping to catch the senator on his way out. "It was really cold," said Chappell, "and Ben was outside for at least half an hour waiting for the senator to come outside to talk to him. We didn't take the easiest path to talk to these candidates."
There are over 56 million Americans with disabilities. Tens of millions more are caregivers or family members of people with disabilities. In fact, pretty much everyone is at most one degree of separation from someone who is disabled. This is a large population that has all hallmarks of a powerful political constituency. Its members are diverse, stretching across the population; they are aware of their rights;  and they rely on government officials to enforce the ADA, fund programs like Social Security Disability Insurance (SSDI), and otherwise work to make American society more inclusive and accessible. Other well organized political groups, such as gun owners or the elderly, have long since found ways to push their issues into the national political dialogue, tapping wealthy donors and organizing interest groups like the NRA and AARP. Why not disabled Americans?
One issue, says Jennifer Laszlo Mizrahi, the CEO of RespectAbility, is the conventional wisdom that all people with disabilities are Democrats fixated on government spending. She told me, "Democrats take the group for granted, and Republicans don't reach out to it," even though her data says that disabled Americans are much more interested in opportunity than government benefits. That's an approach that could easily bridge both sides of the aisle.
The complexities of disability culture, though, also come into play. Many disabled individuals reject the word disability, claiming only their specific diagnosis or dismissing language of impairment all together. Stigma forces many people with invisible disabilities to pass as typical if they can. Voting sites are not always fully accessible, depressing the percentages of disabled voters in any region. Disability-rights organizations tend to be focused on promoting and shaping specific policies, brilliant in their wonky advocacy, but perhaps less focused on broad political impact. Finally, it's possible that the fact that disabled Americans come from all political parties, races, classes, religions, and regions makes it difficult to build political coalitions around electing specific candidates. And yet, disabled people have specific needs that the political process seems to be ignoring.
As the presidential election cycle got underway in 2015, Mizrahi launched a new approach to make every candidate think about the issues most important to disabled Americans. Instead of forming a super-PAC or trying to influence specific candidates through donations, she found funding to hire a group of fellows and send them out into the field. Many of them are disabled. All of them are keenly aware of the major issues facing the community. They would act as journalists, writing reports under the editorial oversight from Communications Director Lauren Appelbaum. When possible, RespectAbility would obtain press credentials for fellows, getting them access to post-debate "spin rooms" and press conferences. Otherwise, the fellows would do what reporters have always done—log the miles, ask the questions, and report on the answers.
The new approach seems to be having an impact. The fellows are determined, well prepared, and most of all—so visible. When campaign officials see the Spangenberg and Chappell in wheelchairs, or when Trout identifies himself as having Aspergers every time he asks a question, they realize they need to be ready. Trout laughed as he told me about being recognized by Secret Service agents at a Trump event because they had seen him just days before at a Clinton one. "It's one of those Iowa things," he said.
More significantly, the campaigns are getting better at answering the questions. Jeb Bush took a question from Trout at Grinnell College a few weeks ago. First Bush talked passionately about employment, and then a few minutes later cycled back to Trout's question to call Donald Trump a "jerk" for disparaging people with disabilities. Chappell described meeting Bill Clinton in Iowa and asking about his wife's support for SSDI. A few days later, at another event, the former president paused to call out Spangenberg and Chappell in the front row, compliment them on their hard work, then took five minutes out of his stump speech to tout his administration's work on supporting SSDI, before transitioning to his wife's plans to go even farther if she's elected.
Candidates don't want to get caught on film unprepared on these issues. When they see the reporters from RespectAbility coming, they prepare clear talking points.
The success of this handful of reporters on the campaign trail highlights how inadequately conventional media outlets have highlighted these issues in the past. Few reporters are savvy about disability, beyond the basics of reporting on inspiring achievements or horrific tragedy. Major news outlets almost never have anyone on a disability "beat," but rather fold such issues into health and medicine. Many in the disability community have spent 40 years trying to move outside a medical model of disability, but the media has been slow to catch up.
The RespectAbility fellows are not traditional, objective, political reporters. They are avowedly nonpartisan, but they are in Iowa and New Hampshire to shape the news, not just cover it. To some extent, though, that's true of all reporters. Anyone who chooses to ask a candidate about one issue rather than another influences the realm of possible answers and the parameters of political debate. Groups and individuals who would like more discussion of their issues—climate change, reproductive rights, eminent domain, the drone war—complain about this routinely. Instead of complaining, though, the RespectAbility fellows are succeeding in shifting the conversation, just by showing up on the trail and asking questions. In the age of super PACs and the most expensive presidential campaign in U.S. history, that's a remarkable accomplishment.