Debate Nightmare for the GOP
Did Trump hurt himself by ducking debate? "Who the hell knows?" he said, as if he didn't care.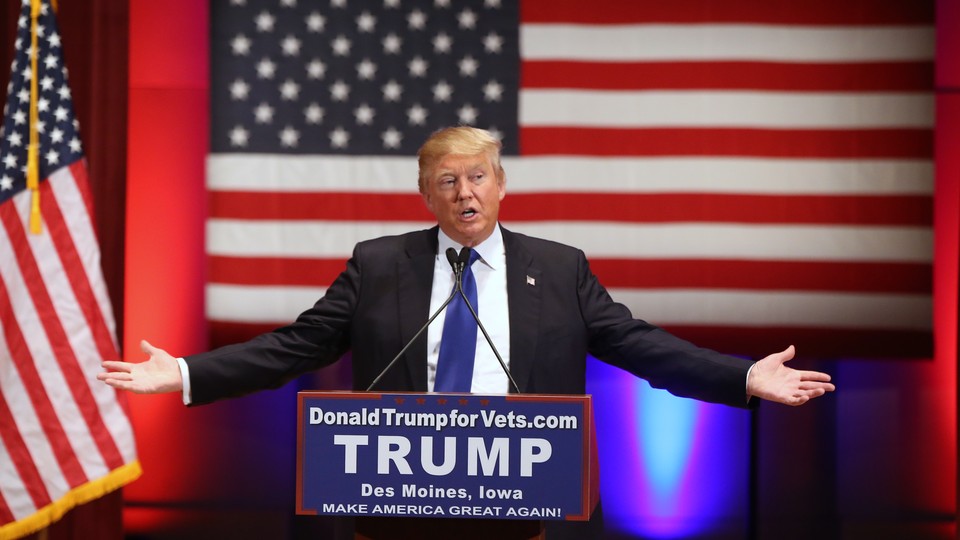 Two hours be­fore the de­bate, and two miles from the de­bate site, Michelle Bell stood in a line that stretched four chilly blocks to see her fa­vor­ite GOP pres­id­en­tial can­did­ate, Don­ald Trump.
"I love him," Bell said. "He doesn't back down."
For voters like Bell, Trump's re­fus­al to par­ti­cip­ate in the last de­bate be­fore the first pres­id­en­tial bal­lots are cast won't soften their love. Nor will his du­bi­ous claim to raise $5 mil­lion for vet­er­ans at a de­bate protest event. Or his laugh­able claim that the news me­dia was pick­ing on him.
"When you're treated badly, you have to stick up for your rights," Trump said at his rally, which star­ted 15 minutes after the Fox News de­bate began. "And that's what our coun­try has to do."
The thin-skinned Trump was up­set be­cause the Fox News mocked his com­plaints about host Me­gyn Kelly, who asked a tough but fair ques­tion in a pre­vi­ous de­bate about Trump's re­cord of in­tem­per­ate re­marks to­ward wo­men.
Trump claims Fox apo­lo­gized at the last minute. Fox claims it merely "ac­know­ledged his con­cerns."
I don't know who is telling the truth, but I do know that Trump is al­ler­gic to it.
Will duck­ing the de­bate hurt Trump's stand­ing with pa­ro­chi­al Iowa voters or em­bolden his icon­o­clast­ic brand? I trust Trump on this one: He said, "Who the hell knows?"
What I do know: Thursday night was a night­mare for the GOP—an­oth­er step to­ward what ap­pears to be a deep and en­dur­ing split between the party's es­tab­lish­ment and its angry in­sur­gents, a rude and un­ruly polit­ic­al cir­cus that re­af­firms for in­de­pend­ent voters their worst im­pres­sions of the Grand Old Party.
Back at the de­bate, Trump's main anties­tab­lish­ment rival took ad­vant­age of the first ques­tion. "I'm a ma­ni­ac, and every­body on this stage is stu­pid, fat, and ugly. And, Ben [Car­son], you're a ter­rible sur­geon," said Sen. Ted Cruz of Texas. "Now that we've got the Don­ald Trump por­tion out of the way ...."
Fol­lowed by Marco Ru­bio, the Flor­ida sen­at­or threat­en­ing to fin­ish in the top two or three dur­ing Monday's caucuses. "He's an en­ter­tain­ing guy," Ru­bio said of Trump, dis­missively. "The greatest show on earth."
"I kind of miss Don­ald Trump," former Flor­ida Gov. Jeb Bush said. "He was a little teddy bear to me."
Bush didn't mean it.
In truth, the de­bate seemed like shad­owbox­ing. For bet­ter or worse, al­most all the race's pas­sion and en­ergy was lined up for blocks at Drake Uni­versity, where Trump held his counter-event. Of the two dozen crowd mem­bers I in­ter­viewed, 12 were polit­ic­al rub­ber­neck­ers—sup­port­ers of Ru­bio, Cruz, and Demo­crat­ic Sen. Bernie Sanders who wanted to see the P.T. Barnum of 21st-cen­tury polit­ics.
"It's an event," Robert Park­er of Des Moines told me. "It's a cir­cus."
The oth­er half called them­selves Trump sup­port­ers and spoke of their frus­tra­tion with an eco­nomy that aban­doned them, a polit­ic­al class that shaf­ted them, so­cial in­sti­tu­tions that failed them, and demo­graph­ic shifts that will soon make whites an Amer­ic­an minor­ity.
To a per­son, Trump's back­ers eer­ily echoed their can­did­ate's own talk­ing points to de­scribe their ad­u­la­tion. "I think he's won­der­ful," said Bell, the moth­er of three from Ames, Iowa. "Huge."
I asked why he's won­der­ful. I asked why he's huge.
"Be­cause he's not afraid," Bell replied. "He doesn't back down. He's strong."
OK, I said. But couldn't his fear­less­ness, re­solve, and strength drive Trump to do things as pres­id­ent that go against her best in­terests?
"Sure," she replied, "but that's not go­ing to hap­pen. I like his feisti­ness, his cha­risma."
We went back and forth:
"What about is­sues?"
"He'll stop IS­IS and build up the mil­it­ary," she replied.
"Every can­did­ate prom­ises to do that."
"That's true. He will help wounded war­ri­ors."
"Every can­did­ate prom­ises to do that."
"You got me there." Bell chewed si­lently on our con­ver­sa­tion for sev­er­al seconds be­fore throw­ing up her hands in sur­render.
"I just think he's strong," she said.
For now, any­how, that's all that mat­ters.