Republicans Face a Big Decision on Criminal-Justice Reform
There's a consensus on policy, but advocates must now convince Senator Mitch McConnell that an election-year push to reduce prison sentences won't backfire on Republicans.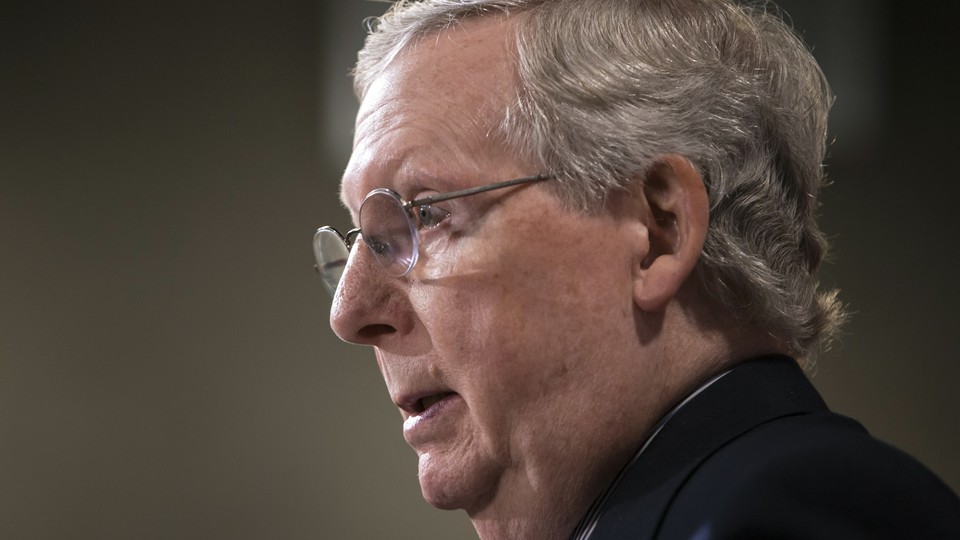 What will Mitch McConnell do on criminal-justice reform?
The fate of the years-long push to overhaul sentencing laws and federal prisons now rests in the hands of the Senate majority leader, who must decide whether bringing legislation to the floor is worth the election-year risk to a Republican majority that he has vowed to protect. Advocates for reform believe they have finally achieved a rare, bipartisan consensus in both chambers of Congress on most of the policy particulars—reducing mandatory minimums, banning solitary confinement of juveniles, and boosting prisoner re-entry programs, among other things.
Their task now is to convince Republican leaders that acting on a justice bill in the middle of a highly volatile presidential campaign won't be political suicide. Top officials in the House seem ready to go, but the man on the fence is the famously risk-averse McConnell. "Let's not miss the forest for the trees here," said Holly Harris, the executive director for the U.S. Justice Action Network, an umbrella advocacy group. "The big issue is to prove to Leader McConnell that not only are these issues good policies that work and make us safer, but also that they make for good politics."
Harris's organization is partnering with conservative and liberal groups, including FreedomWorks and Americans for Tax Reform on the right and the ACLU and the Center for American Progress on the left. She told me the network would be commissioning polls in states with hotly-contested Senate races—think Ohio, New Hampshire, Pennsylvania, and Wisconsin—as part of its lobbying campaign. And this week advocacy groups released a pair of letters signed by nearly 150 current and former law enforcement officials—including two former FBI directors and ex-Attorney General Michael Mukasey—endorsing the Senate's Sentencing Reform and Corrections Act, part of an effort to build a public bulwark from soft-on-crime attacks on the legislation. Advocates are also armed with positive results of state-level reform efforts in Republican bastions of Texas, South Carolina, Georgia.
After a productive first year as majority leader, McConnell has set modest goals for the Senate in 2016; his priority is to pass a dozen individual spending bills in a bid to return to "regular order" appropriating. Like other Republican leaders, however, he has mentioned criminal-justice reform as one of the few major items that could advance this year, and it was a big topic of discussion at the party's annual retreat last week in Baltimore. Still, McConnell has been steadfastly noncommittal on whether the bipartisan bill that passed out of the Judiciary Committee last fall would get a full floor vote. "It is an issue our members are discussing, but I don't have any announcements," McConnell spokesman Don Stewart said.
Harris, a conservative strategist who formerly served in top GOP positions in McConnell's home state of Kentucky, spun the majority leader's openness as a positive sign. "I know Leader McConnell well," she said in a recent interview. "He's a very cautious individual who's very cognizant of all the positions of his members, and quite frankly, he's gone further in his public remarks than we ever hoped he would with respect to saying that these issues are deserving of floor time."
If the liberal-conservative consensus on criminal-justice reform is so broad, what is there to be afraid of? Well, crime. Advocates know that isolated or overblown spikes in murders or violent assaults are easily exploited during campaigns, and that fear is heightened even more when the Republican frontrunners are Donald Trump and Ted Cruz. Trump in particular has used highly-publicized attacks by immigrants to fan concerns about border security. And it's not hard to see him turning to the playbook of the late Lee Atwater, the George H. W. Bush campaign manager who created the infamous ad tying Michael Dukakis to Willie Horton, the Massachusetts felon who raped a woman while on a weekend furlough from prison. Cruz, meanwhile, voted against the bill in committee and made a point of trying to strike retroactive reforms that would have helped prisoners who committed a crime with a gun—signaling he might campaign against it if McConnell brings it up.
"I don't think what the crim­in­al justice sys­tem needs is ad­di­tion­al le­ni­ency for vi­ol­ent crim­in­als," Cruz said. "What this bill does is goes pre­cisely back­wards from where we should be go­ing."
By and large, the House and Senate proposals do not address violent crime, and the prisoners who would be eligible for release are low-level drug offenders or elderly convicts who have been behind bars for decades. "I don't see a whole lot of Willie Horton fodder there, quite frankly," said Mark Holden, senior vice president of Koch Industries and spokesman for the conservative Charles Koch, who is helping to bankroll the campaign for criminal-justice reform.
At the same time, Holden said the company wanted to see legislation passed in the first quarter of the year to avoid any complications with the campaign. The issue that some senators worry could scuttle justice reform before then is the question of criminal intent. Republican legislators like Bob Goodlatte of Virginia, chairman of the House Judiciary Committee, and Senator Orrin Hatch of Utah want any package to include mens rea reform, or changes to the law that would force prosecutors to demonstrate that a defendant knew he was acting wrongfully or committing a crime in order to be found guilty. At a Senate hearing on Wednesday, a senior Justice Department official warned that Hatch's proposed change would "make prosecutors' jobs and law enforcement's job much more difficult."
"You could have guilty defendants of very serious criminal conduct escaping liability," testified Leslie Caldwell, assistant  attorney general for the criminal division. "We think that would be a mistake." As examples, Caldwell said that under the proposal, prosecutors would be unable to convict terrorists who bombed a hotel in Mumbai in federal court unless they could prove the terrorists knew Americans would be there during the attack. Liberal advocates also oppose the changes on the grounds that it would make it much harder to convict corporate CEOs of financial crimes committed by their firms. "It would be a very damaging provision in the white-collar space," Caldwell said.
Democrats and the Obama administration say they're willing to change the intent provisions on a "statute-by-statute basis," but Hatch is pushing for a default standard that would cover hundreds if not thousands of laws. "We're willing to do this, but you're not going to solve a complex problem with simple, one-size-fits-all thinking," Democratic Senator Patrick Leahy of Vermont said at the hearing.
Goodlatte said at an Atlantic Exchange forum last week that legislation without any changes to criminal intent "is not going anywhere in the House of Representatives." His committee has been advancing bipartisan bills that appear likely to make it to the House floor, since Speaker Paul Ryan has voiced support for the effort. The Republican senators backing justice reform are not making those same demands, however, and they have the public backing of conservative advocates like the Kochs. "We don't want to see reform go by the wayside because of this issue," Holden told me.
Senator John Cornyn of Texas, the second-ranking Republican and a leading supporter of criminal-justice reform, suggested at the hearing on Wednesday that the dispute over mens rea could be resolved in a House-Senate conference committee. But that depends on the Senate passing a bill in the first place, and that decision belongs to the man who hasn't said much at all: Mitch McConnell.