Cosmic Latina Grandma Takes Over Latest Guardians of the Galaxy Comic
Grimm and Groot land in New York City's Lower East Side and find new cultural and linguistic roots.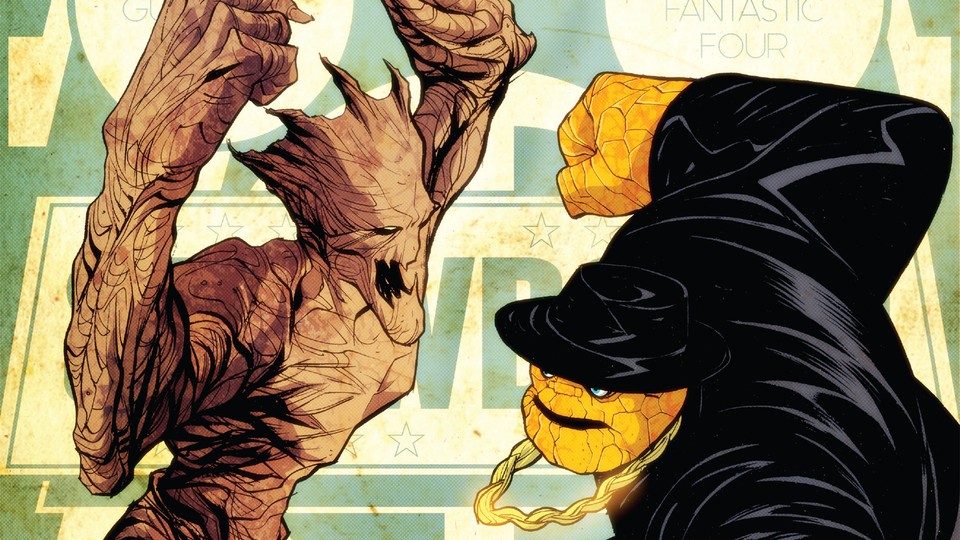 Writer and artist Edgardo Miranda-Rodríguez was one of those "ghetto nerds," drawing copies of the superhero Marvel stories he loved for his schoolmates to avoid trouble in the mean streets of 1970s South Bronx.
"I wasn't in a gang, I wasn't a b-boy or a graffitti artist," he said. "I was terrorized on the way home from school, so I spent a lot of time at home, sketching in my room all the time."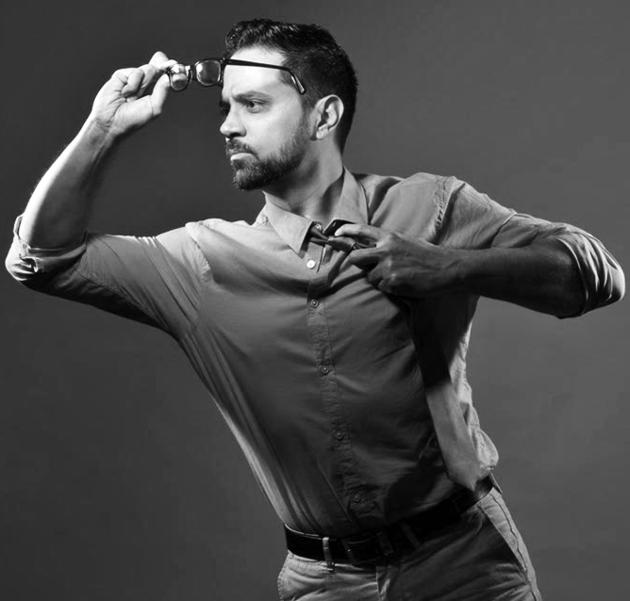 Throughout his stints working as a community activist, a curator and graphic designer, he kept superhero comics close to his heart. And now that love has come full circle, as Marvel will release a comic he cowrote with Darryl McDaniels (of Run-DMC fame, and his partner in the independent comics publisher Darryl Makes Comics) for its "Guardians of Infinity" series. The issue, which hits comic book shops February 3, pairs the tree-like alien Groot from "Guardians of the Galaxy" with old-school superhero Ben Grimm, aka The Thing, from Fantastic Four.
Miranda-Rodríguez's light-hearted adventure for the duo is set in Manhattan's Lower East Side with a distinct vintage 1980s feel. This neighborhood is marked by multiple ethnic groups, grassroots activism, and hip hop culture in ways that gentrification hasn't completely erased.
When Grimm and Groot crash-land in the East River, Grimm puts on a dark track suit, a flat-brimmed fedora and clam-shell Adidas, the look most associated with Run DMC. As the two tour the neighborhood, Grimm even strikes a b-boy pose with fans.
"Darryl's original idea was 'Grimm and Groot are on space mission, crash somewhere, they fight something,'" said Miranda Rodríguez. "But I'm not ready to write full-on sci-fi yet, so I had them land on the Lower East Side."
Real-life details from the neighborhood abound. The two heroes walk around the Jacob Riis public-housing project on Avenue D, check out the nearby basketball courts, and get on a public bus, like any other neighborhood resident.
"Even with gentrification, all that's changing, that section in New York City still looks like the 1970s to me," said Miranda-Rodríguez. "You still have the Dominican restaurants, the basketball courts, the viejitos and viejitas who made little casitas, played dominoes, and kept us connected to a tropical experience."
Even the piece's villain, Plantman, is drawn from the area's history. He is modeled after neighborhood activists responsible for the community gardens that transformed unused, garbage-strewn lots in the 1970s.
"I wanted to do the lamest villain I could think of," said Miranda-Rodríguez. And Plantman is a bit sad. His sole power is to make plants grow and turn them evil. In the comic, this translates into having a giant toothy vine grab the bus that Grimm and Groot are riding, and then to influence the powerful Groot into turning villainous, all the while decrying big development and demanding green space.
"Plantman's monologuing is old-fashioned and a little campy, and I enjoyed it so much," said Miranda-Rodríguez. "I wanted him to sound like the activists I grew up with."
The comic's biggest twist is not its setting, but who turns out to be its secret hero. In the end, it's not the familiar superpowered beings who save the day, but a Puerto Rican grandma who owns a hole-in-the-wall lunch counter.
The brown-skinned bilingual abuela, who is never named and thus feels like an archetypal, mythical being, recognizes Groot as a relative of the Ceiba, the gnarled, giant tree venerated in the Caribbean as a repository for ancestral spirits. "I know he's the Ceiba, I can feel the spirits of our ancestors inside him," she says to her grandson Kian (who shares a name with Miranda-Rodríguez's eldest son).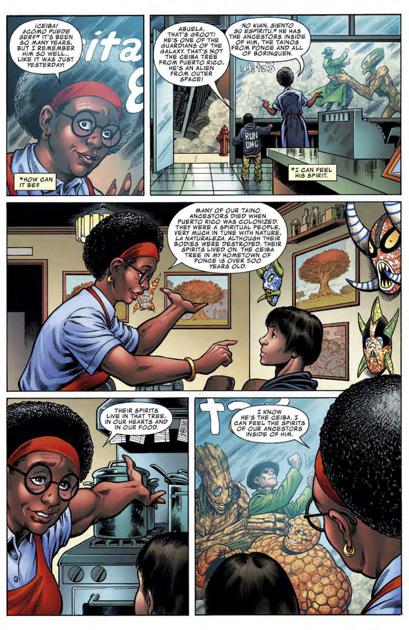 As Groot rampages under Plantman's control, Grimm cannot stop him. The Abuela, still wearing her apron, steps fearlessly in front of the giant alien and exhorts him. "Sacúdete y levántate!" (Shake it off and wake up). And as he does, snapping out of his villain-induced trance, comes the moment that will tickle every Latino nerd out there. For the first time, Groot trades his multipurpose catchphrase "I am Groot" for the Spanish "Yo Soy Groot."
With this small move in a simple story, Miranda-Rodríguez feels he connected a lot of the dots in his life.
"I wanted to tell a Marvel story that looks like us," he said. "That corner on Avenue D and 9th Street, is where my uncle lives to this day, and my wife used to live on Avenue D between 9th and 10th. I even used that same intersection in an issue of Darryl Makes Comics."
The streets and shops in the story are modeled on existing neighborhood places that retain an old New York feel. Ben Grimm ends up near King's Knishes, a shop much like Yonah Schimmel's Knish Bakery on Houston Street, and highlights that Grimm is Jewish, a fact that is canon but rarely mentioned.
Abuela's restaurant is modeled on Casa Adela, which hasn't changed much since it started dishing out Puerto Rican pasteles and sancocho on Avenue C in 1973. And her character is an homage to Miranda-Rodríguez's madrinas (godmothers) Iris Morales, former Young Lord and documentary filmmaker, and Marta Moreno Vega, longtime cultural activist and director of the Caribbean Cultural Center in Harlem.
And what might seem like the biggest leap, connecting Groot to Ceiba trees and keeping things plausible within the Marvel world-view, was for Miranda-Rodríguez the easiest line to draw.
"I had noticed that the Ceiba, with its gnarly gigantic roots looked a little like Groot, and that I did my research on its mystical value," he said. "There is a famous one in Ponce that's over 500 years old, where they've found Taino artifacts, and they say that Tainos still live in that tree."
Watching a cartoon about Guardians of the Galaxy, he learned that Groot was the sole survivor of his planet, and that the life force of all his kind was placed inside him. And when the "Guardians of the Galaxy" movie was released, he saw a promo video where actor Vin Diesel, who voices Groot, read his singular line in multiple languages to dub the movie for different markets. "Vin Diesel exists in this ethnic and racial ambiguity, so in that moment I heard it as Puerto Rican," said Miranda-Rodríguez. Dots Connected. "Yo Soy Groot."
Whether or not Miranda-Rodríguez gets more opportunities to inject Nuyorican-ness into the Marvel world, he is certain that comics are on a definite move away from predominantly white representation, especially if fans can make themselves known to companies that make cultural products like comics and movies.