Connecting Small Businesses and Closing the Digital Divide Face-to-Face
Kansas City Mayor Sly James explains how Missouri's biggest city is closing its digital divide to spur entrepreneurship.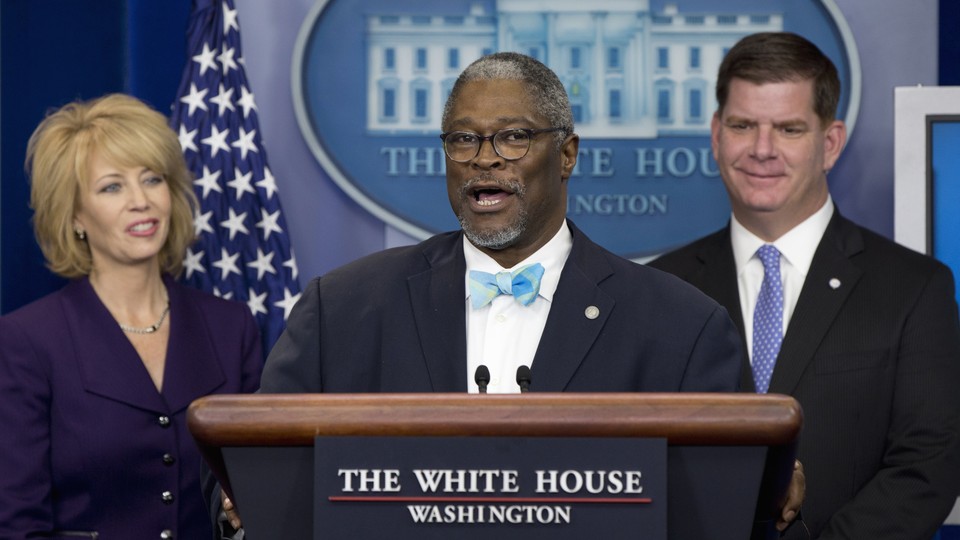 This article is from the archive of our partner

WASHINGTON—Some minority communities can lag behind in efforts to digitally map their small businesses, so municipalities that directly contact the underserved inevitably uncover a wealth of data on otherwise "off-the-grid" citizens.
Visual displays of minority-owned businesses are critical to a city's economic development, but not everyone has a computer, Wi-Fi access, or a smartphone, Sylvester "Sly" James, the mayor of Kansas City, Missouri, said Wednesday at the United States Conference of Mayors winter meeting.
James spoke at a morning meeting of the conference's Small Business and Entrepreneurship Task Force, emphasizing the need for cities to close their digital divides.
"The one thing that is most powerful is face-to-face contact, so we've tried to do that and I certainly get out in the minority community," James, Kansas City's second African-American mayor, said. "We talk about our digital platform and tweet about it because—in the age of Facebook, Twitter, Instagram, and Snapchat—face-to-face interaction is what people on the receiving end appreciate the most."
Kansas City was one of the first municipalities to utilize Google's Get Your Business Online citywide, though the 5-year-old program has since given way to the scalable Get Your City on Google Maps initiative.
The original program was a series of workshops where business owners walked away with websites and one year of free Web hosting, but Google soon learned it makes more money getting more people on its mapping platform.
"This is an idea of really trying to get businesses online, and it really doesn't involve a high level of sophistication," John Burchett, Google's state policy counsel, said during the task-force meeting.
Google has found search-engine users are 38 percent more likely to visit a business with a fleshed out Web listing that includes the address and hours of operation. Lacking that information means the loss of potential customers, so the platform allows owners to claim their business, accurately map its location and ensure other details are correct.
Burchett advises city governments to encourage owners to update their information yearly for a guaranteed uptick in business—user-generated content making for a more-robust Google Maps.
City and Chamber of Commerce websites are no longer the primary way people learn about small businesses. Search engines are, Burchett said, and Google Maps is getting citizens to travel outside their typical areas for products and services.
Kansas City is getting its minority community online in other ways as well, like through the Housing & Urban Development Department's Connect Home program—making Wi-Fi access more accessible to underserved households. The same is true of Cisco's Smart+Connected Communities solution.
A Special Committee on Small Businesses was designed with African-American and Latino advocacy in mind, James said, and includes a councilmember from one East Side district where those minorities are concentrated. Meetings are held with officials within those communities to discuss accessibility issues.
The city's Office of Innovation has a staffer whose job it is to pore over old code ordinances and strip out things impeding business development and entrepreneurship, and Kansas City also hired an economic development specialist to further advance anti-digital divide policy.
Google's toolkit provided a good jumping off point for Kansas City, as well as the city of Burnsville, Minnesota, located outside Minneapolis.
Mayor Elizabeth Kautz's administration tracks permits and Google Maps to follow small business openings and determine which ribbon cuttings she'll attend.
"We all have the data, mayors," she said during the meeting. "Your staff has the data, so mine it and get it out there."
This article is from the archive of our partner Route Fifty.