Confusing Rubio For Cruz
Marco Rubio's supporters have a hankering for Cruz. Could it be his Tea Party past?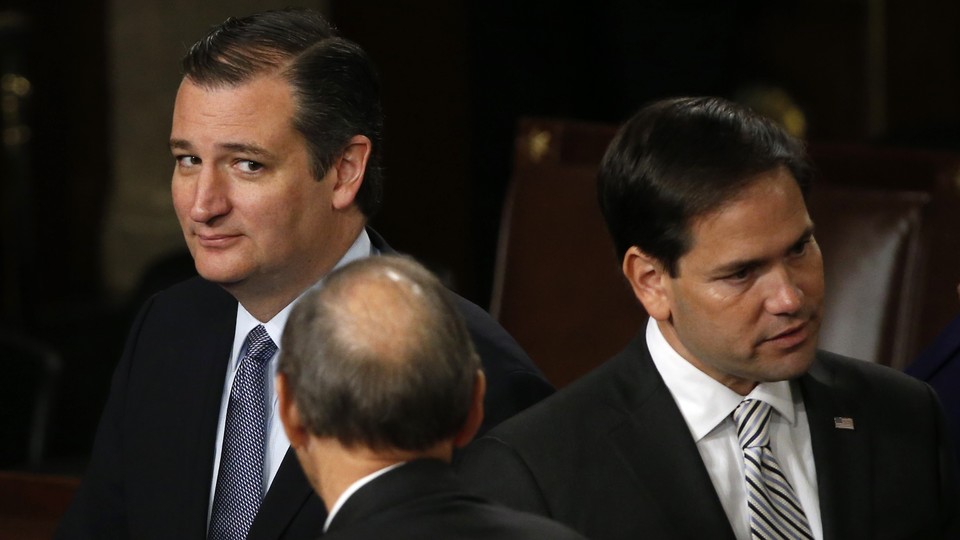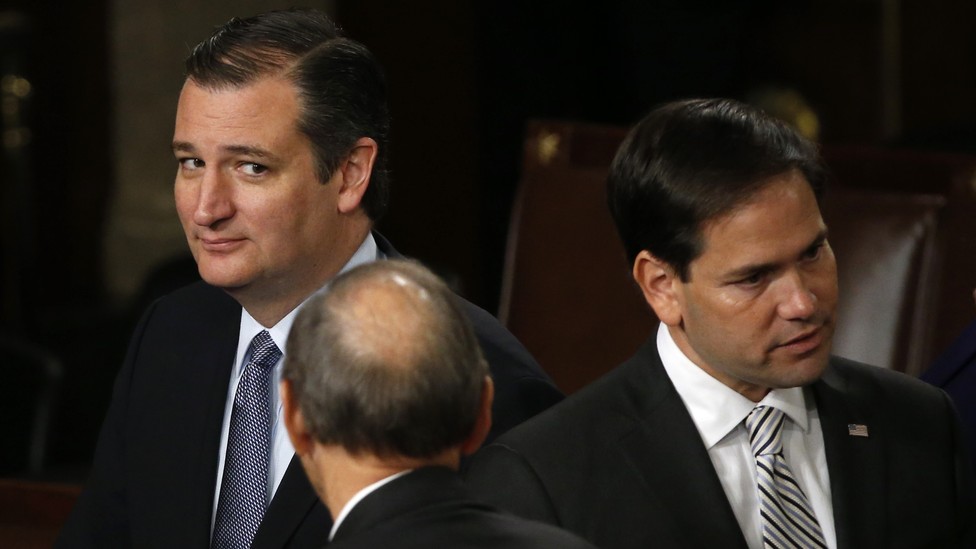 The bromance between Marco Rubio and Ted Cruz—if there ever truly was one—is surely over.
Cruz, who once called Rubio "a critical national leader" on the Senate floor, is now talking about his opponent's attendance record. Rubio, when he's not bringing up Cruz's now-famous flip on crop insurance, regularly lands hits on his immigration and defense positions.
"What's happening to Ted," Rubio said Thursday in New Hampshire, "is people are learning more about him and as they learn more about it him, they're starting to realize ... he's not who he says he is."
Although both candidates were elected as Tea Party favorites, they are totally different, and millions of dollars will be spent on ads to make this clear. Rubio has positioned himself as a neo-establishment candidate with the gentility to sweep up moderates and the fire to ignite conservatives; Ted Cruz, no stranger to fire himself, is setting alight the right wing of the GOP.
But can voters tell the difference?
New polling released Wednesday from Pew Research makes that an open question. Among respondents who said Rubio would be a "good" or "great" president, 75 percent felt the same way about Cruz, the highest overlap in the entire field. The reverse held true, though to a lesser extent, with 62 percent of Cruz supporters thinking favorably of Rubio.
Other polls have produced similar results, although Pew's numbers are the strongest to date. In a national Public Policy Polling survey released in December, 54 percent of Rubio supporters also favored Ted Cruz, the same percentage that liked Jeb Bush.
In PPP's latest Iowa poll, a plurality of Rubio voters said they'd pick Cruz as their second choice, though competition was stiff. (The overlap was even stronger in PPP's most recent poll in North Carolina.)
This effect isn't uniform. But considering the Cruz camp's general distaste for moderate candidates—only 1 percent named Jeb Bush as their second pick, according to PPP's national poll—their support for Rubio seems a bit odd. Indeed, MSNBC marveled earlier this January that supporters of an "establishment" candidate like Rubio would turn to Cruz as their second choice, as indicated by its own poll.
But the idea of Marco Rubio as an "establishment candidate" is brand-spanking new. Before his 2013 immigration proposal cast him (temporarily) out of the Tea Party's good graces, Rubio was their No. 1 guy, winning a come-from-behind campaign in Florida against Charlie Crist. He brought decidedly conservative goals—freezing the budget, opposing same-sex marriage, restraining national education standards—and had the glow of a young reformer out to change the world.
At the time of his Senate swearing-in in 2011, the idea that Marco Rubio would be a mainstream presidential candidate in 2016 would have seemed as laughable as, well, Donald Trump leading by 20 points in the polls.
But conservative Republicans get this. And they love it. As the former Conservative Action Project executive director Wesley Goodman recently told the National Review's Tim Alberta:
If Marco Rubio is the establishment candidate, look at how far we've come. This is someone who ran as an outsider, who ran as a conservative, someone who was a Jim DeMint–endorsed, Club for Growth–endorsed candidate who forced a sitting governor to switch parties. … If it comes down to a Cruz-Rubio race, it's a huge win for the conservative movement.
Indeed, Rubio's favorability is 9 points higher among conservative Republicans than moderates, according to the Pew report.
Cruz and Rubio are doing their best to differentiate themselves. After all, they can't both be president. But the proof is in the polling. And voters, it appears, believe they are more alike than different.