Colleges With at Least 25 Percent Latinos Have Doubled
In the past two decades, the growth in Hispanic-serving institutions has grown, but not kept up with demand.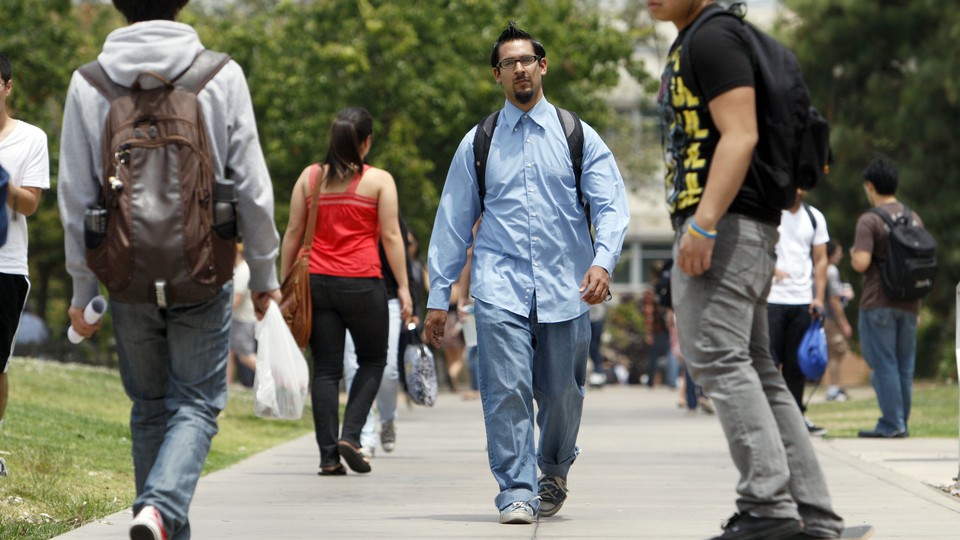 The number of colleges where Latinos make up at least a quarter of the student body has more than doubled over the past two decades.
A full 13 percent of higher-education institutions, or 435 schools, now qualify as Hispanic-serving institutions, according to a new analysis by Excelencia in Education, an education-advocacy group based in Washington.
HSIs are accredited and degree-granting public or private nonprofit schools where at least 25 percent of full-time equivalent undergraduate students are Latino. The distinction brings with it federal dollars, an important factor since HSIs often work with fewer resources than more affluent universities, but serve a considerably higher number of first-generation, low-income students who, studies suggest, benefit from additional academic support and mentoring.
"The success of HSIs in enrolling and graduating Latinos is critical given our youth and growth as a population representing the future of our national workforce and country," said Deborah A. Santiago, COO and vice president at Policy of Excelencia in Education.
While historically black colleges and universities such as Howard University were established specifically to serve black students, HSIs continue to emerge as the number of Latino students pursuing a degree rises.
These schools are concentrated at the moment in a handful of states—California, Texas, Florida, New Mexico, New York—and Puerto Rico, but they have also emerged in places like Nevada and Kansas in recent years. More than 300 colleges in 33 states and the District of Columbia are considered emerging HSIs, according to the analysis, meaning Latinos make up 15 to 24 percent of the student population.
Nearly two-thirds of Latino undergraduates, 1.75 million students, attend HSIs. In 1994, fewer than 500,000 Latinos attended HSIs. The increase is welcome news for civil-rights advocates and the Obama administration, which wants to lead the world in terms of the share of the population with a college degree by 2020. According to Georgetown University's Center on Education and the Workforce, 65 percent of jobs in 2020 will require a postsecondary education. To come anywhere close to achieving that goal, the U.S. will need to dramatically increase college attendance among blacks and Latinos, who have traditionally graduated at lower rates than whites and Asians.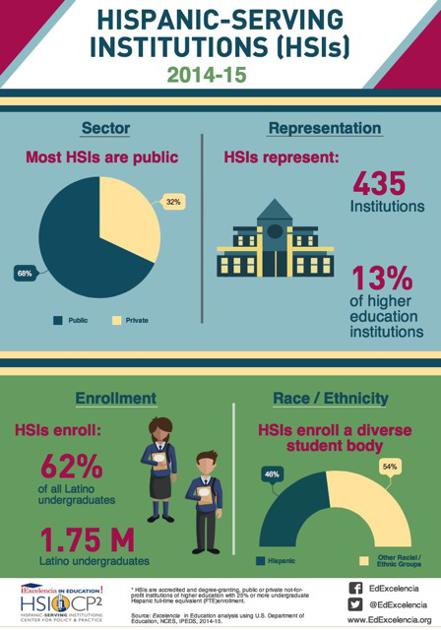 "The rate in the growth of HSIs is in some ways consistent with the growth of the Latino population but the concentration of Latinos at this small number of institutions (62 percent of Latinos are enrolled at HSIs—13 percent of colleges) also reflects the limited effectiveness of other institutions, who are not HSIs, to recruit and enroll Latino students," Santiago said.
Some schools, such as the University of Texas at El Paso, an HSI, are making real progress. Latinas comprise around a quarter of the school's computer science program, a far higher figure than the 1 percent of bachelor's degrees in computer science awarded to Latinas nationwide.
"Oth­er schools cre­ate pro­grams for this slice of their stu­dent pop­u­la­tion, but everything we do is for them," Donna Ekal, as­so­ci­ate prov­ost in the of­fice of un­der­gradu­ate stud­ies, told Next America recently. The school has taken specific steps, such as increasing mentoring and involving more undergraduates in paid research opportunities, to achieve those numbers.
Excelencia in Education hopes that by gaining a better understanding of where Latino students enroll and what practices are effective in helping them graduate, the number of Latinos with college degrees and higher earning power will continue to grow.