Coalition Forms To Oppose Charter Communication's Merger Bid
Competitors and consumer groups claim deal would shut smaller companies out of broadband market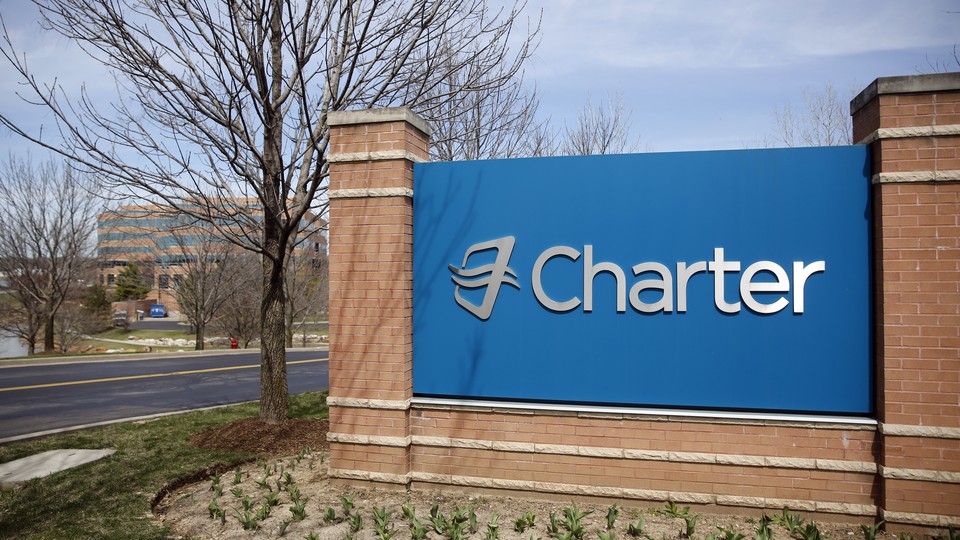 Charter Communication's $67 billion bid to buy two other cable companies is facing new headwinds in Washington after a coalition of rival companies and consumer groups joined forces Thursday to lobby against the deal.
The "Stop Mega Cable Coalition," made up of Dish Network, the U.S. Telecom Association, Public Knowledge, the Consumers Union, and others, will try to persuade regulators and members of Congress to oppose the merger between Charter, Time Warner Cable, and Bright House Networks.
The group is a revamped version of the Stop Mega Comcast Coalition, which helped persuade the Justice Department and the Federal Communications Commission last year to block Comcast's bid for Time Warner Cable. The group bought ads, met repeatedly with FCC and DOJ officials, and spent $50,000 lobbying Congress, according to disclosure records.
The coalition argued at the time that Comcast would have become a cable behemoth with unprecedented power to control the future of the television and broadband Internet industries. This time, their argument is that the proposed deal would create a "duopoly," allowing Charter and Comcast to jointly dominate the markets. The two companies would control about 90 percent of high-speed broadband connections in the country, according to the coalition's figures.
"Once again we are faced with a proposed cable merger that threatens the emergence of robust competition for streaming services," Gene Kimmelman, the president of Public Knowledge, a consumer advocacy group, said in a statement. "This merger, as proposed, would create a cable giant that, alongside Comcast, would control the overwhelming majority of high-speed broadband homes in this country, most of which have very few competitive options."
The coalition argues that Charter may try to bolster its own TV packages by using its expanded market power to stifle competition from new online TV services. Charter could accomplish that goal by making it more difficult for consumers to buy Internet-only service or by favoring its own TV packages, the coalition warns.
Jeff Blum, the deputy general counsel of Dish, explained that his company is lobbying against the deal in an attempt to protect Sling TV, its own Internet-based TV service (also known as an "over-the-top" service). "Right now, Charter is not very big. If this merger goes through, they will be very big and with that increased power, we believe, comes the increased incentive and ability to damage over-the-top services like Sling," Blum said in a conference call with reporters.
But a glaring absence from the members of the Stop Mega Cable Coalition is Netflix, which had been a leading opponent of the Comcast-TWC deal. In fact, Netflix CEO Reed Hastings said on an earnings call this week that he sees the Charter merger as a "tremendous positive" for online video. "In order to get that statement, I don't know what Charter gave Netflix," Dish's Blum said. "I can't speak for their motivations."
Despite the aggressive name of the Stop Mega Cable Coalition, its members have subtly different positions from each other. Dish, for example, says the deal should be blocked outright, while Public Knowledge, Consumers Union, and other groups say they would be open to dropping their opposition if Charter agrees to stringent conditions.
Charter has already agreed to a variety of concessions, including offering low-cost broadband options to poor consumers, abiding by net-neutrality principles, and not capping monthly data usage. The company argues that because it is much smaller than Comcast, its deal doesn't pose as a threat to competition. Tamara Smith, a Charter spokeswoman, called the coalition's attacks "baseless."
"Charter is a different type of cable company—committed to creating American jobs, offering the most innovative products, delivering fast internet speeds, preserving an open internet and advancing online video friendly policies including no data caps and no modem fees," she said in an emailed statement. "It should come as no surprise that Dish and other parties seeking to use the regulatory review process to extract concessions are also engaging in tired PR tactics to further their self-interests."
The New York state utilities regulator approved Charter's merger this month, but the FCC and Justice Department are still conducting their investigations.