Clinton and Trump Take an Edge Into the Iowa Caucus
The final poll of Iowans shows a slim lead for both candidates.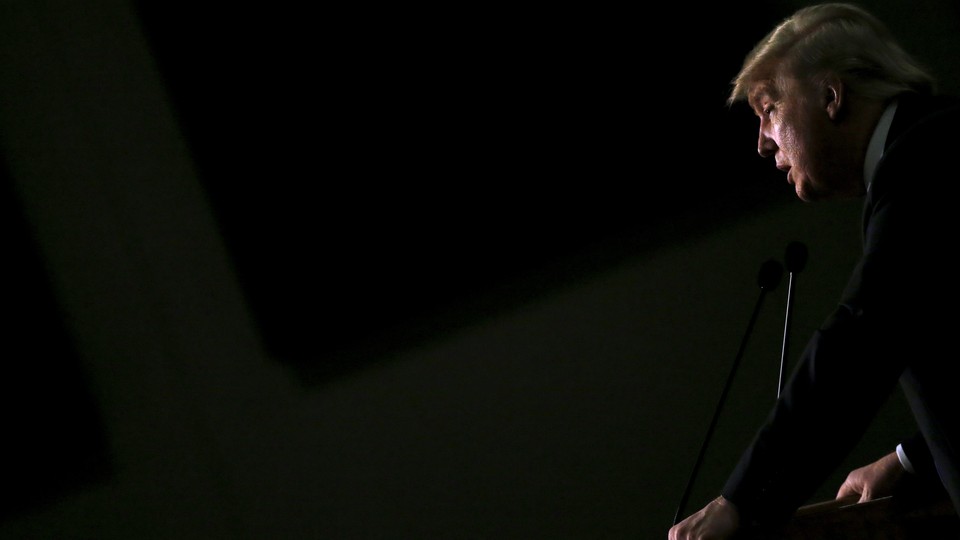 Real-estate mogul Donald Trump has leapt ahead of Texas Senator Ted Cruz in the last weekend before the Iowa caucus, according to a Bloomberg/Des Moines Register poll released Saturday, as the gap between former Secretary of State Hillary Clinton and Vermont Senator Bernie Sanders continues to narrow.
28 percent of likely Republican caucus-goers said they would support the bombastic businessman as their first choice, with Cruz drawing 23 percent and Florida Senator Marco Rubio in third place with 15 percent. Cruz led in the same poll in early January, suggesting that Trump's constant barrage of attacks on the senator have taken a toll.
Trump's supporters also appear to be the most enthusiastic among Republican caucus-goers, with 71 percent saying their minds are made up in favor of the candidate, compared to 61 percent of Cruz supporters and 47 percent of Rubio supporters. 53 percent of Rubio's supporters indicated that they could still be persuaded by alternatives.
But among second-choice candidates, Rubio leads the pack at 20 percent, followed by Cruz at 17 percent, former neurosurgeon Ben Carson at 11 percent, and Trump at 7 percent, suggesting either Cruz or Rubio could leap ahead to first place on Monday night.
In perhaps the most surprising result, only 29 percent of likely Republican caucus-goers said they disapproved of Trump's decision to skip the final GOP debate before the caucus. 24 percent approved of the decision, and another 46 percent didn't care.
A victory in Iowa for Trump, who holds commanding leads in New Hampshire, South Carolina, and Nevada, could give him insurmountable momentum in the Republican presidential race. A win for Cruz or Rubio could cement either senator's position as the alternative to Trump, who many Republicans fear is too divisive to win the general election.
On the Democratic side, Clinton narrowly leads with 45 percent of likely caucus-goers, with Sanders close behind with 42 percent. Former Maryland Governor Martin O'Malley trails with a potentially crucial 3 percent support.
Sanders has a slight edge as a second-choice candidate, leading Clinton 28 to 26 percent. But the candidates remain roughly even when both first-choice and second-choice figures are combined, suggesting that O'Malley's supporters may split roughly equally between Clinton and Sanders when the former Maryland governor is eliminated in the first round on Monday night.
The controversy over Bill Clinton's history of sexual impropriety, which Trump has recently highlighted, also does not appear to faze most Democratic caucus-goers. Only 7 percent said they disapproved of how Hillary Clinton has handled her husband's extramarital affairs, and 73 percent indicated they had a positive view of Bill Clinton's role in her campaign.
And Clinton's edge could be even greater than the first-choice support numbers suggests. According to the poll, 83 percent of Clinton supporters have made up their minds to support her, compared to 69 percent of Sanders supporters when asked the same question.