Can Paul Ryan Push Republicans to Prioritize Poverty?
The House speaker has put the issue atop his agenda, but he'll first have to overcome apathy within his party.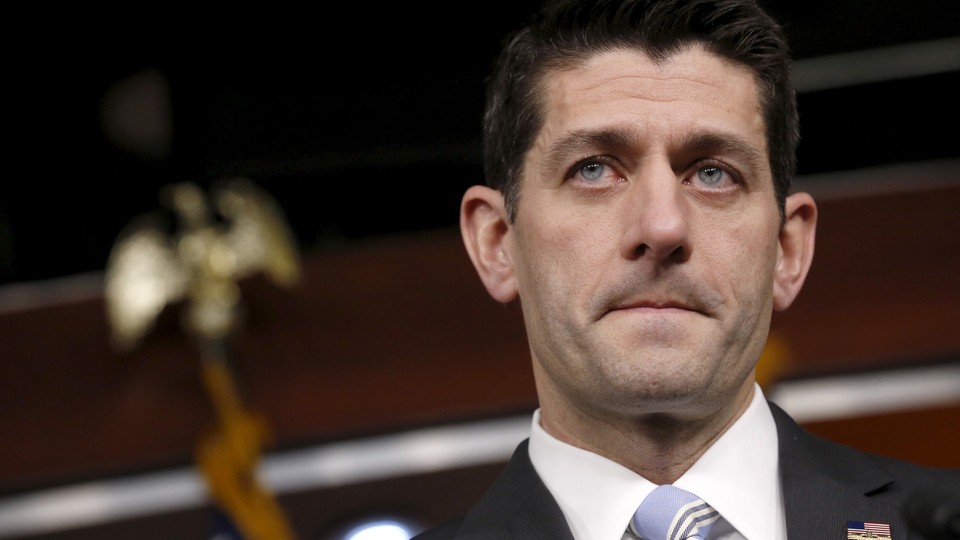 Not two weeks into the new congressional session, Paul Ryan is enjoying a moment—and not just because he scraped off that scraggly excuse for a "hunting beard" he'd been sporting. (I cannot overstate how relieved other members of Congress were to see it go.) Committed to refocusing House Republicans on Big Ideas—going, in his own words, "propositional" rather than "oppositional"—the new speaker has come blazing out of the gate with a much-ballyhooed push to get his party talking about poverty. The policies he fancies include expanding the Earned Income Tax Credit and consolidating federal funding for existing programs into "opportunity grants" managed by the states. But before he can worry about the fine print, Ryan must first gin up political enthusiasm for the broader proposition.
Last Saturday, in the early primary state of South Carolina, the speaker and Senator Tim Scott hosted a presidential-candidate forum on the issue, sponsored in large part by the Jack Kemp Foundation. Organized by Ryan before his abrupt promotion, the event clearly benefitted from his new status. Six GOP contenders showed up to share their personal stories about poverty along with their policy thoughts on combatting it. Political journalists flooded the scene, including MSNBC's Morning Joe and Mika, who did sit-downs with the major players. Afterward, the rave reviews rolled in—for the event's ambition, tone, format, and, most notably, its organizer: The speaker was lauded as a "star" for promoting a kinder, gentler GOP, for trafficking in ideas, for creating a refuge from the presidential bombast, for being, in essence, the anti-Trump. (The Donald, it should be noted, declined to attend.) No one could quite believe that a top Republican was publicly goading his brethren to talk about poor folk.
But Ryan was just getting warmed up. Tuesday evening, his guest list for President Obama's State of the Union swansong included a half-dozen "poverty fighters," activists toiling in the (non-governmental) trenches to aid the needy. On Wednesday, the speaker headed to Baltimore for the House Republican conference's annual retreat, with poverty poised to be a hot topic. Most prominently, Cardinal Timothy Dolan had been invited to critique the nation's existing welfare programs. Conference members were also expecting to talk through what poverty fighting initiatives they most want on the agenda. Going in, everyone seemed very aware that this is the speaker's baby.
At this rate, Ryan could soon find himself with the sort of public profile less typical of a politician than of a Pope.
By all accounts, the 2012 presidential campaign, with its unsubtle class warfare, was scarring for then-vice-presidential candidate Ryan. He has since expressed regret for his trash talk about "makers" and "takers," not to mention that unfortunate crack about the social safety net turning into a "hammock." As penance, he has conducted a nationwide listening tour of in-need communities, introduced a poverty-fighting plan, and devoted part of his 2014 book to the issue. Now, with speaker's gavel in hand, he is itching to show the American public just how serious Republicans are about finding new ways to solve this very old problem.
Except that they aren't. Not yet. Not really. Oh sure, some of the presidential candidates (specifically, Rubio, Kasich, Christie, and Jeb!) are making promising noises. It is noteworthy, however, that the party's two front-runners—Trump and Senator Ted Cruz—are not. (Like Trump, Cruz did not feel moved to attend Ryan's South Carolina compassion-fest.) The Republican Congress is also widely seen as offering infertile soil for anti-poverty efforts. As Representative Tom Cole observes, "If Ryan wants to get anywhere with this, he'll need to develop a constituency for the ideas inside the party. Beyond laying out a proposal, he must get others to care about it along with him."
Reform-minded conservatives off the Hill are similarly skeptical about Paul's chances for really firing up the team. "A lot of the Republicans elected in 2010 and especially 2014 seem to think they are there to do three things: cut spending, reverse Obamacare, and bring back the good old Constitution," observes Ramesh Ponnuru, a prominent reformicon columnist. "So when somebody tries to add other items to the agenda, there's sort of a, 'Does not compute!' reaction." A constituency for this in the Republican conference is "to some extent limited," agrees Scott Winship, a senior fellow at the Manhattan Institute who has become Ryan's go-to guy on anti-poverty policy. "There is a core of pretty influential folks who are very interested," emphasizes Winship, pointing to "the triumvirate" of Ryan, Rubio, and Senator Mike Lee. But, by and large, he notes, fighting poverty isn't among the policy issues that typically drive Republicans to enter politics.
Which is hardly shocking, given that poverty isn't a policy area that drives Republican voters to the polls. Each January, the Pew Research Center surveys voters on their policy priorities. Consistently, the percentage of Dems who cite "dealing with the problems of the poor and needy" as a top priority for the president and Congress runs 25 to 30 points higher than the percentage of Republicans. (Last year, it was Dems 70, Republicans 40.) Equally yawning is the partisan gap Pew has found regarding how people view government aid to the poor (66 percent of Dems think it helps more than hurts; 65 percent of Republicans think the opposite) and how much people think government should do to reduce poverty (67 percent of Dems say "a lot," compared with 27 percent of Republicans.) "It's one of the biggest gaps out there in terms of the partisan bases' priorities," says Patrick Egan, a professor of politics and public policy at New York University who has written about partisan "ownership" of certain issues. "One way to think about it: Democrats care more about poverty compared to Republicans exactly as much as Republicans care about the military compared to Democrats."
And that is what Ryan is ultimately up against in his party: apathy. Not anger or entrenched resistance or the sort of electrified pushback seen whenever anyone suggests messing with voters' guns or Medicare. But rather a vague sense that there is no real urgency—or political percentage—in tackling a tough, complicated policy area that Republican voters don't express much interest in anyway. "It's not like there is strong opposition in party saying, 'No, let's not do this,'" observes Ponnuru. "It's just not a large natural Republican constituency."
The speaker's people dispute the idea that there is a lack of enthusiasm for anti-poverty measures within the conference. "I don't think it will actually be difficult to get people to sign on to this," insists one Ryan aide. "When we released our mobility agenda in 2014, a whole host of offices contacted us about how to get involved," he recalls. "This might be something that folks don't concentrate on that much, but the fact that the speaker is taking the lead may make it easier."
The challenge for Ryan is to find a way to turn an issue that his caucus doesn't focus on into a cause for which they are raring to fight. A key step in this direction, says Egan, is to reframe the debate around issues that Republicans feel more at home with—such as reducing crime or streamlining government. As an example of such reframing, Egan points to President Clinton's 1994 crime bill, a policy area more commonly associated with the GOP.  "One way he picked up a lot of Democratic votes was to include things like social programs." President Bush's No Child Left Behind education reform, similarly, was sold to Republicans as a way to improve efficiency and accountability. This is why Ryan is out there talking about fighting poverty in terms of empowerment and opportunity and devolving power to the local level.
At the same time, the speaker is looking to increase buy-in from the troops by taking pains to get everyone's input. (This is a big theme for him lately.) That is what this week's retreat was about, the Ryan aide tells me. "I've heard a lot from members with ideas that want to be involved," he says. "We want to work to make sure to unite the conference on how best to move the agenda."
Pretty much everyone agrees that nothing much will get passed in this presidential-election year, but they say it's still vital to have the speaker spotlighting his anti-poverty agenda—not just to get voters accustomed to the idea of the GOP caring about the issue, but also to get Republican officials comfortable with it. Conservatives must actively debunk the "false narrative" that they don't care about the poor, argues Jimmy Kemp, president of the Jack Kemp Foundation and son of the late, anti-poverty crusading congressman. "It's psychologically wise for the speaker to make the case to everyone, including his conference, that, 'Hey, these are conservative issues, and we need to be talking about them.'"