Can an Invisible Gas Leak Draw Attention to a Climate Problem?
Environmentalists hope a massive methane leak in California spurs new rules.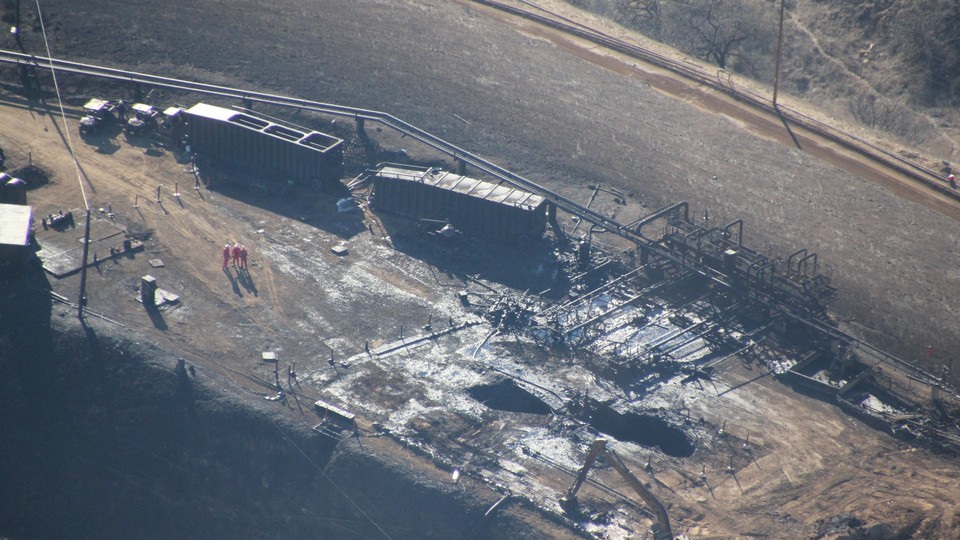 As Californians struggle to address a massive leak of natural gas that's forced the evacuation of thousands of homes and left countless residents feeling nauseous, green groups are hoping that the incident draws more attention to what's been a literally invisible problem.
Natural gas is largely methane, a potent greenhouse gas that traps 20 times as much heat as carbon dioxide. So in addition to making people sick, the California leak could have serious consequences for the climate.
The leak from a natural-gas-storage field in Aliso Canyon, outside of Los Angeles, has been spewing since October, sending tons of methane into the atmosphere. And Southern California Gas Company, the utility that owns the facility in question, says it could be months before it's stopped up.
California has estimated that the leak is emitting between 40 and 64 tons of methane every hour, and that the leak is increasing the state's total emissions of the potent greenhouse gas by a quarter. As of Monday, more than 77,000 metric tons of methane had escaped, the equivalent of more than 732 million gallons of gasoline, according to the Environmental Defense Fund.
The leaking gas well has forced the evacuation of more than 2,000 families from the Porter Ranch neighborhood, with more than 1,000 set to be relocated. Residents have been complaining of nausea, nosebleeds, headaches, and vomiting from breathing in chemicals known as mercaptans, which are added so the gas has an odor. Lawyers have also reportedly detected toxins such as hydrogen sulfide and benzene in the air, which also carry health impacts.
Rep. Brad Sherman, a California Democrat who lives in Porter Ranch, said that even though his family hasn't been affected (he said he hasn't felt any health effects from the smell), his community is feeling the brunt of the problem, and he's trying to get the federal government involved.
"We've gotten at least some action out of the government," Sherman said. In response to his request, the Environmental Protection Agency opened an investigation and sent two on-scene coordinators to the site. Sherman said he's currently working to get the Transportation Department's Pipeline and Hazardous Materials Safety Administration on board as well with state agencies. Sherman said his focus right now is on maximizing the amount of gas that can be taken out of the field to reduce pressure on the leak.
But advocates are hoping that the incident can draw more attention to the dangers of the natural-gas boom. Natural gas is mostly methane, and tiny leaks from wells and pipelines carry a huge climate impact.
"This is a large, maybe unusually large, example of a phenomenon that exists across the industry," said Mark Brownstein, vice president of the EDF's climate and energy program. "States are looking into leak detection and repair requirements, and we think the federal government ultimately is going to have to impose requirements for existing sources of methane."
SoCalGas has said that the leak comes from a 40-year-old pipe that's more than a thousand feet underground, and it could be until late February or March before it is stopped. The company is drilling a relief well to divert the methane flow; then it can stop up the leak.
The scale of the leak—and that it's still spewing gas—has drawn comparisons to the 2011 Deepwater Horizon oil spill, which sent 210 million gallons of crude into the Gulf of Mexico and focused newfound attention on the dangers of deepwater drilling (it also forced a temporary moratorium on some offshore extraction). The federal response to the California leak, however, has paled compared to the outpouring of attention to the Gulf of Mexico.
Methane, which makes up 9 percent of the country's greenhouse-gas emissions, hasn't been at the center of the country's climate policy. The Obama administration has pledged to cut methane emissions from the oil-and-gas sector by 40 to 45 percent in the next decade and last year proposed a rule that would limit methane emissions from new and modified wells.
Green groups are hopeful that President Obama will roll out regulations on existing sources in his final year on top of finalizing the rule for new and modified sources, but it's unclear if those rules would even cover storage facilities like the one in Aliso Canyon.
"This wasn't even in the scope of what was reasonable to consider," said Alan Septoff of Earthworks, an environmental group active on methane issues. "This is something that needs to be addressed separately. We've got to really be on our guard if we're going to rein this in."
According to the Energy Information Administration, there are 326 other storage facilities made out of depleted oil fields like the one in California. But there's been little attention paid to the aging wells and gas fields where the natural gas is stored, and the aging infrastructure that gets it there.
In part, that's because the problem is invisible—Septoff said there was little attention paid to the Aliso Canyon leak until his team used infrared cameras to show the actual gas belching out of the ground. And there are lax requirements on inspections of storage wells and equipment, especially compared to other parts of the natural-gas life cycle.
"We have a natural-gas transportation-integrity system. We do not have the same level of protocols for a natural-gas storage-integrity system," said Sherman, who said he'd be pressing the issue in the aftermath of the leak. "If your home is near a natural-gas pipeline, you get a higher level of protection than if it's near a storage facility."
Richard Mathews, a California environmentalist who is running for the state Senate, said the leak should spur more than just more attention on natural-gas leaks—it should push the state government to get rid of natural gas entirely.
"We've been saying that expanding natural gas is not a good climate solution, and this just demonstrates the dangers of relying on natural gas," Mathews said. "We're going to have a lot more of the leaks if we keep extending the life of these wells. But we don't need more wells; we need to get off of fossil fuels entirely."