Asian Americans Feel Held Back at Work by Stereotypes
A new survey reveals just how much racial misconceptions can impact people at work.
Jason Shen, who came from China to the United States at the age of 3, hadn't thought very much about the role of race in his life while he was growing up outside of Boston in a community that included a number of Asian Americans. Later he attended Stanford, which also includes a substantial Asian-American population.
Shen, who is now a product manager at Etsy, said as he entered adulthood, he became aware of some of the prejudices Asian Americans face through personal experiences and conversations with friends. In one particular conversation, a friend from high school explained the challenges he faced as a Chinese American in the medical field.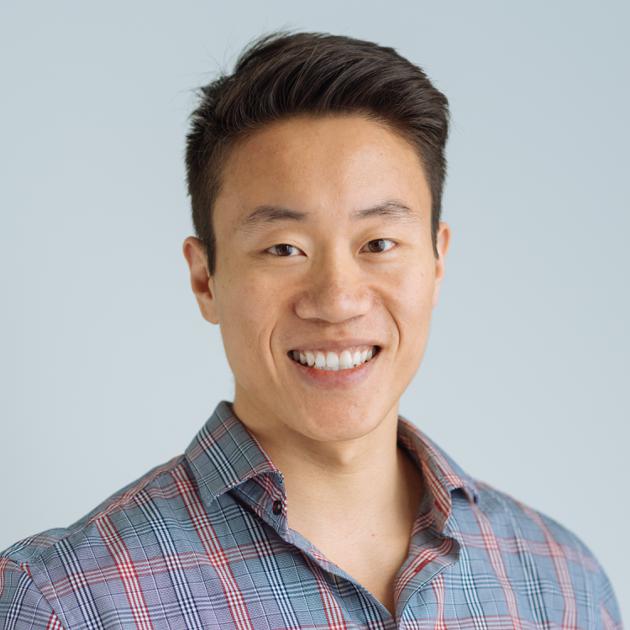 "He was just telling me about a number of situations at work and in his personal life where he feels that the fact that he's Chinese makes him feel separate, like 'other,'" Shen says.
Shen's friend encouraged him to start writing about these issues in his blog. To get a better grasp on the scope of discrimination beyond his friends' anecdotes and his own personal experiences, Shen posted a survey, which about 350 Asian-American men filled out. About one-third reported that they "feel they are treated worse than white people," and 88 percent reported experiencing a racial stereotype. The most common stereotypes were being good at math, followed by having a small penis and being good with computers.
"The survey is by no means comprehensive or exhaustive," he wrote in his summary of the findings on Medium. "But I hope it can shed light on some of the experiences of the nine million Asian men living in the United States and perhaps spark some important conversations."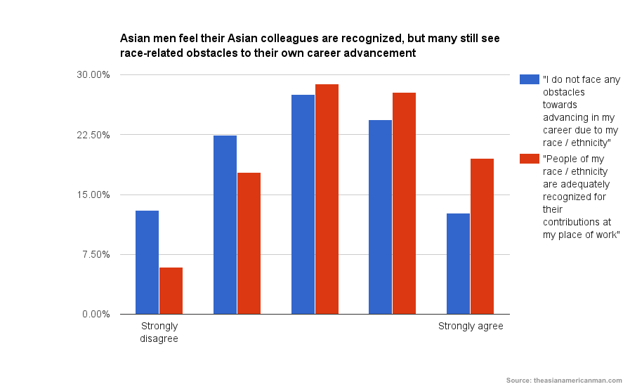 Brian Wang, CEO of Fitocracy, says that many people are simply unwilling to accept that Asians are affected by prejudice. "That's an unfortunate lack of empathy because people will look at the statistics, they'll look at how well Asian Americans in general supposedly do in the U.S., and that 'model minority' myth, and I think that colors a lot of the discussion," he says.
Wang knows Shen—they're in the "ecosystem of tech start-up land," Wang says—and he took the Asian American Man survey. Wang said that the survey topics, which included challenges in the dating scene and the workplace, and bullying at school, were familiar to him. "All of these questions are inescapable for Asian Americans," Wang says.
In the comments respondents left on the survey itself, Shen said he noticed a couple of trends: one, respondents who thought the overall premise "reeks of victimhood," and two, respondents who were excited to extend the dialogue on racism to include Asian Americans.
Some of the prejudice may stem from the perception of Asian success. Asian Americans do outpace other American ethnic groups in terms of bachelor's and master's degrees, according to U.S. Census data. The overall picture, however, is more complex.
Ascend, a nonprofit organization for Asian-American business professionals, released a study in May called "Hidden in Plain Sight: Asian American Leaders in Silicon Valley," which found that Asian Americans at five Silicon Valley tech companies represented a much larger portion of the professional ranks than the executive suite. The survey found that Asian Americans made up 27 percent of the professional workforce but less than 14 percent of executive positions. The study pegged a lack of awareness by employers, a need to change the behaviors of potential hirees, and an overall lack of role models to provide guidance on this issue.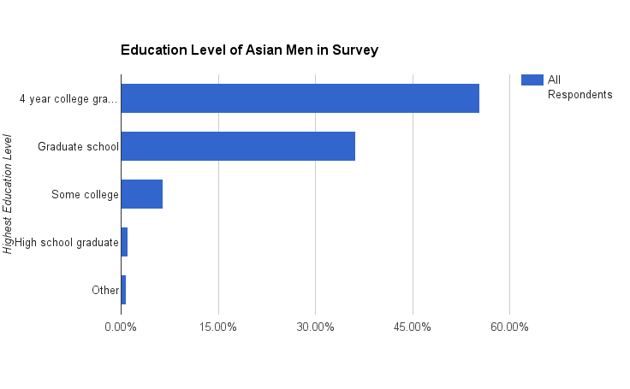 At first glance, it seems Asian Americans are entering the workforce in significant numbers, says Anna Mok, a partner at Deloitte who serves as executive vice president of Ascend. The superficial numbers lead people to believe that the "model minority" concept has validity. The "Hidden in Plain Sight" study, however, tells a different story: Asian-American professionals aren't being promoted.
"You look at the numbers and people say, 'There's so many Asians going into the workforce or going into these companies,'" Mok says. "And that's true. But when you really look at it, you see they get stalled pretty early."
Janet Wong, a coauthor of the report and board director for Enviva Partners, helps conduct training for companies and employees to help Asian Americans reach their career goals and help companies retain and promote Asian-American employees. Wong, an executive adviser at Ascend, worked her way up the ranks at KPMG, eventually becoming a partner, but only after she started to understand what it takes to get a promotion.
"It took three or four years for me to realize that I needed to be building relationships in my company, with my clients, with people that could help," she says. "And then I had to speak up and say that I wanted to be promoted, that I wanted to be in management."
Mok emphasizes that executives who ultimately have a major say in the trajectory of their employees' careers need to understand the nuances of their talent pool. The entire focus, therefore, should not be changing the behaviors of individual Asian Americans.
"We can't move the needle until people that manage individuals really respect and understand those nuances and differences and actually appreciate it—not see it as a handicap but as a strength," she says.
Rather than blatant discrimination, report coauthors Denise Peck and Buck Gee say, this disparity is a result of implicit biases. They say that Asian Americans need to learn the leadership skills that corporate America values, such as adapting public speaking skills to fit their company, while the executives themselves need to learn how to best retain and promote Asian-American talent.
"The expectations are not necessarily those of just white men," Peck says. "It's the corporate expectation, of which there are men and women of different colors, not just Caucasians."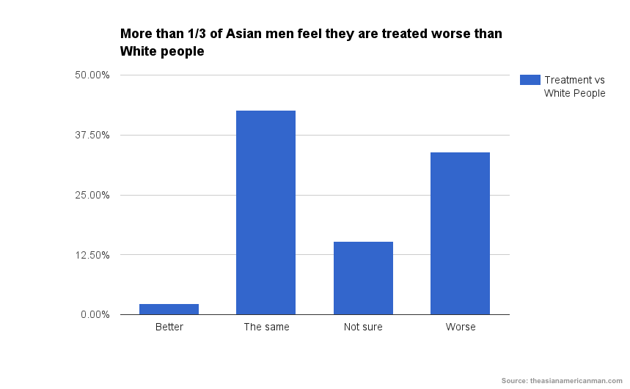 Mary Min disagrees. She leads global development for SEWORKS, a mobile-security company, and believes these biases and discrimination often go hand in hand. Min does say her upbringing in an Asian-American household provided a major emphasis on respect, and she wants to hold on to that. The workplace, however, can misinterpret respect.
"In certain cases in Western society, especially at the workplace, respect can sometimes be taken advantage of," she says. "Or people may perceive it as a weakness or deference rather than just respect."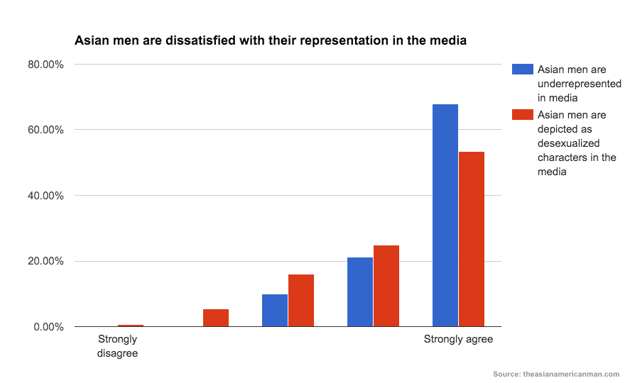 Before moving to SEWORKS, Min spent about 17 years working in mobile gaming. Walking into a boardroom composed mostly of white men, she said her own insights were often dismissed—and sometimes would later be openly received if repeated by a male colleague. While many women in the workplace may be familiar with such situations, she said that being an Asian-American woman was a "double whammy." She wouldn't necessarily be penalized for speaking up, but she did notice that doing so surprised her male colleagues.
"We either have to choose to be that meek, compliant Asian person or we have to be dragon lady," she says. "There's no middle ground."
The Asian American Man survey found that 62 percent of respondents believe that race plays a role in obstructing advancement in their careers. Only 4 percent, however, reported physical or verbal harassment at work.
"I think it's the job of everyone who's in a position of privilege to realize that they have been given benefits that others do not, and try to accommodate or adjust behaviors to create a more equitable workplace and society," Shen says. "It's on both. But without Asians bringing this attention to people's minds, it's not going to magically happen on its own."