African Innovators and Entrepreneurs Welcomed
Why this group decided to focus on professionals from the African Diaspora.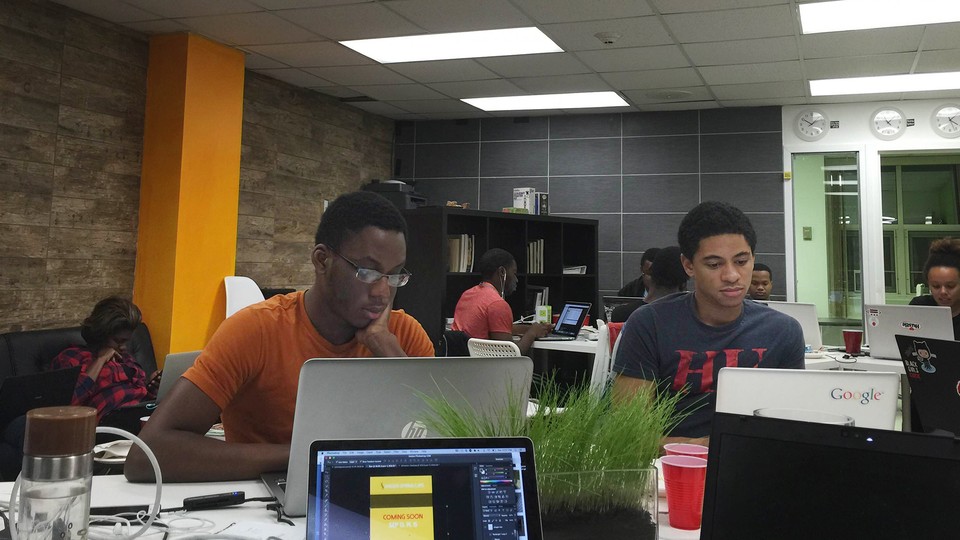 This article is from the archive of our partner

As smartphones, social media, and other emerging technologies spread across the globe, the people who design iPhones and write code for Facebook remain stubbornly homogeneous: usually white or Asian, overwhelmingly male, and from a select number of well-regarded schools.
Two Cameroonian-born tech workers are trying to diversify the industry with what is likely the nation's first co-working space aimed at the African diaspora.
"Ninety percent of Silicon Valley start-ups are majority-white. … You would think San Francisco is majority-white," says Leslie Tita, cofounder of I/O Spaces, located just outside Washington, D.C., in Silver Spring, Maryland. "People use 'diversity in tech' as a buzzword, but we're actually doing it."
Tita started I/O Spaces last year with his collaborator and former mentor, Rebecca Enonchong. It looks like most co-working spaces: Whiteboards covered in scribbles hang on brightly colored walls; young workers peck away at Macs under exposed ductwork. On a chalkboard of member ideas for the space, there's a note reading "MORE HAPPY HOURS."
But I/O Spaces' membership is 60 percent female, and many members are immigrants from African countries including Congo and Angola, as well as from Sri Lanka and England.
"Even though we're trying to empower [the diaspora], we're not closed," says Tita. "Any entrepreneur that comes to our space will find it easy to work." (Businesses serving the diaspora do get some special perks, though. A group of Cameroonian angel investors will discount membership for any entrepreneur who works in that country.)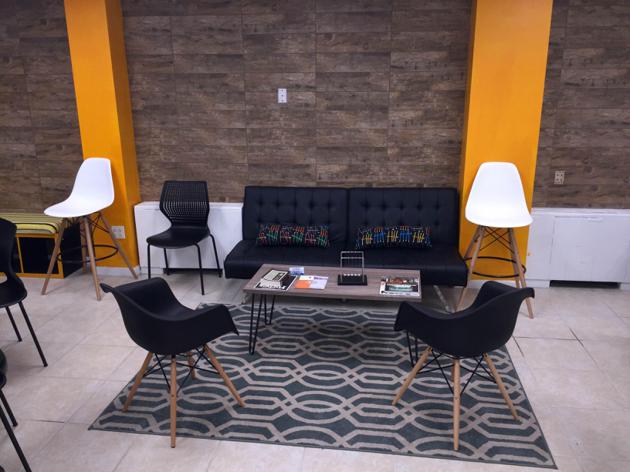 A user-interface designer, Tita launched his first start-up in 2006 while living in Cameroon, and he emigrated to the United States for school in 2010. Upon moving to the D.C. area, he found that many co-working spaces seemed to "cater to a certain crowd" and weren't always welcoming to people who don't fit the tech stereotype, especially the African community.
He also found a dearth of product designers who understood what minority or immigrant users are looking for. "More [tech] users are people of color, but people [making the products] don't know what they want."
In the winter of 2014, Tita outlined his idea for a co-working space geared to the African diaspora on his blog and reached out to Enonchong, who agreed to join him. To test the waters, he first attended a Diaspora Demo event to pitch the idea to African entrepreneurs.
After opening the space in June 2015, they did little formal advertising, instead choosing to promote their space at African community events and the monthly DC Tech Meetup. More than 80 percent of their membership comes from referrals.
They purposely located I/O Spaces in Silver Spring, a dense inner suburb home to both a large Ethiopian population and media companies like Discovery Communications and Radio One. (It's also where Tita lives and where Enonchong went to high school.) Their office sits across from the Ethiopian Community Center of Maryland and on a street lined with Ethiopian restaurants, and around the corner from a cocktail bar and microbrewery. It's also a few blocks from two other co-working spaces and a makerspace.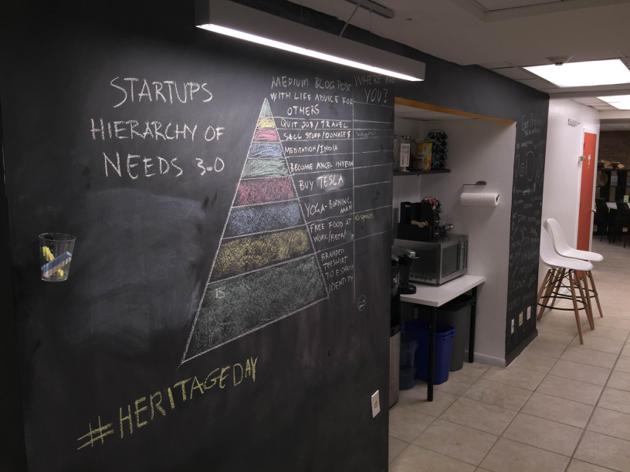 "Silver Spring is very diverse, so the community tends to be," says Tita. "The way you portray and sell yourself, you tend to get more people from different backgrounds."
The Washington area has a large African population. More than 160,000 people of African descent live in the region, 10 percent of the nation's total African immigrants. Roughly 120,000 of them live in Maryland alone. Montgomery County, home to Silver Spring, is the No. 2 destination in the U.S. for African immigrants, trailing only Los Angeles.
Membership has exceeded Tita's expectations, and it isn't just tech companies. "We have … tech to health care to fashion designers to freelancers to real estate," he says. It's allowed them to host a wide variety of events, from a fashion show to a photo exhibit, that showcase all the different activities going on in the space.
Building an African diaspora tech scene in the D.C. area may only be a matter of time. Co-working has become an increasingly popular option for tech firms on the African continent, so much so that its aficionados have an annual conference. It's easy to imagine African tech firms that want to set up in the D.C. area, with its large diaspora population, seeking out I/O Spaces.
Tita has ambitions to expand as well. "I/O Spaces is not just in Silver Spring," he says. "We want to have the same concept in different cities around the world."
This article is from the archive of our partner CityLab.