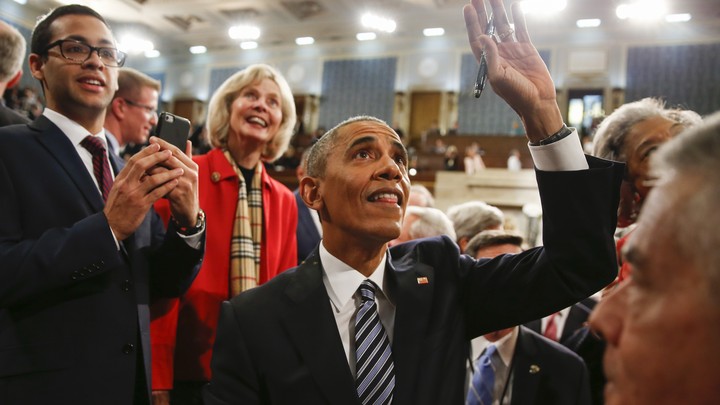 For months, President Obama and the White House have brushed aside most questions about the Republican campaign to replace him. But, after the president's final State of the Union address, it is clear that he has been listening. Closely. And, with 30 million people watching on television, he decided it was time to fire back at some of his harshest critics.
He didn't do it by name. That wouldn't have been presidential in this quintessential presidential occasion. But there wasn't much doubt that he was taking aim at Donald Trump and Sen. Ted Cruz, the two GOP front-runners, and the other candidates who spend so much time in Iowa and New Hampshire talking about American decline, economic mismanagement, and feckless stewardship of foreign policy.
Obama also did something presidents rarely do, admitting failure—on the goal he first set in a memorable 2004 keynote address to the Democratic convention, to bring people together. Instead, he confessed, "rancor and suspicion between the parties has gotten worse instead of better" on his watch. With this admission, he tried to address the populist fury that has characterized so much of Campaign 2016.
Maybe this was the right place for a president to inch closer to an acknowledgement that much of the nation is clamoring to overthrow the political and government establishment. Here, after all, was that same establishment gathered together in shared disdain, the Congress with its paltry 13 percent approval rating and the president with his less-than-robust 45 percent. Maybe the State of the Union address was the time and place for a president who will never face angry voters again to plead with those who aspire to replace him to elevate their campaigns, to wage "rational, constructive debates."
But this president is, at best, an imperfect messenger for that message. And his effort Tuesday night, while welcome, is likely to carry little weight. To the Republican candidates who seek to replace him, nothing he could say would matter. To the voters who are lashing out at the Washington elite, it will take far more than words to calm their fears, quiet their anxieties, or elevate their view of the future.
The large crowds drawn to the promise to "make America great again" certainly are not going to be swayed by the president's insistence that they should neither "fear the future" nor believe we could "restore past glory if we just got some group or idea that was threatening America under control."
Clearly, the president has been paying attention to the rise of Donald Trump. And just as clearly, he hoped to use his final State of the Union address to offer a political road map to his own party to defeat the threat of Trumpism. But just as senior Republicans were blindsided by the potency of Trump's appeal, neither the president nor the GOP-controlled Congress likely offered enough Tuesday to blunt that appeal. In fact, the political spectacle of the modern State of the Union may serve to reinforce the antiestablishment prescriptions offered by Trump on the Right and Sen. Bernie Sanders on the Left.
No one would know from the night's promises, pleas, and proclamations that very little is going to get done in the coming months in Congress. But that is the harsh reality. This is, after all, an election year with a president reluctantly sliding into the background and a Congress that will be out of town politicking more than it will be in Washington legislating.
No one would know from the way members of Congress comported themselves before the cameras that they understand that the country is fed up with Washington game-playing. For this is a night for standing up and clapping with such frequency as to turn a constitutionally mandated report into a partisan pep rally. Republican pollster Frank Luntz, who has monitored groups of voters as they watch State of the Union speeches, told National Journal before an earlier address that the constant up-and-down of the lawmakers "is actually annoying to people." He confirmed Tuesday that that has not changed.
Other pollsters concur. "This is the sort of dripping-with-symbolism D.C. event that people are annoyed at," said Lee Miringoff, director of the Marist College Institute for Public Opinion. John Zogby, founder of the Zogby Poll, said many people get angry watching the event because "it doesn't seem to have any connection with their reality. Reduce the income gap? Yeah, sure. Make us feel safe and secure? Right."
The difference between this State of the Union and those in the past is that "you used to have a sense that something is going to get done and someone is leading the country," he said. "Now, there is very little sense that anything is going to get done. All it becomes is another form of polarization."
For those who remember Obama's 2004 convention address or his previous speeches to Congress, Tuesday's address served as a reminder of the high hopes that he stirred when he burst on the national scene. Everything seemed possible. Seven years later, this latest speech ended with a poignant sense of what might have been. A man blessed with enormous oratorical gifts has been cursed by a political milieu stubbornly hostile to his best efforts and his soaring rhetoric. In the end, he was left with a decidedly modest promise, pledging, "I'll keep trying to be better so long as I hold this office."
We want to hear what you think about this article. Submit a letter to the editor or write to letters@theatlantic.com.