A Debate Without The Donald?
Trump or no Trump, the Republican hopefuls will try to dent the front-runner's lead in the final match-up before the Iowa caucuses.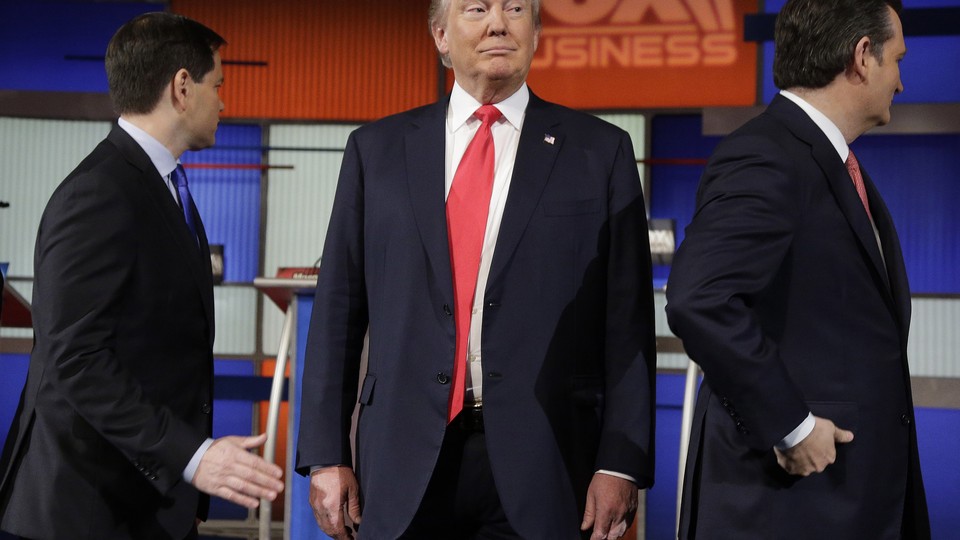 The Republican Party will begin its seventh and final pre-Iowa debate the same way it began its first: obsessed over Donald Trump and his hijacking of the GOP's presidential primary.
The only difference is that when the candidates gather in Des Moines on Thursday night, the loudest elephant probably won't be in the room. With his typical grandiosity, Trump has pulled out of the debate because of a spat with Fox News, the channel televising the event. Yet while he's announced plans to hold a competing rally and benefit to support wounded veterans, no one would be surprised if Trump made a dramatic, last-minute, or even mid-debate entrance, announcing a "deal" that only he could strike.
Trump is correct about one thing: Without the front-runner there, the debate loses some of its luster. Will Fox show an empty podium in the middle of the stage? (The network says no.) Will the moderators—including Trump target Megyn Kelly—kick things off by giving his opponents a free opportunity to attack and mock his absence? (Prediction: Yes) Will a slip in the event's television ratings prove Trump right about his outsized influence on the debates? (Prediction: Also yes.)
No matter how many viewers tune out, a Trump-less debate offers an opportunity for most of his rivals, who at this point in the race are mainly vying to finish a strong third or fourth in Iowa to propel themselves forward in New Hampshire and beyond. The exception is Ted Cruz, the Republican who stands to lose the most because of Trump's absence. He'll miss the chance to go toe-to-toe with the one man above him in the polls and recover some of the ground he lost to Trump since the last debate. Cruz might also become more of a target for contenders like Marco Rubio, Chris Christie, John Kasich, and Jeb Bush. They know they'll need to knock off Cruz before they can get to Trump, although the Texan's strong debating skills make that a challenging task.
Cruz, meanwhile, has been the most aggressive in attacking Trump for his pre-debate antics. Launching a web page and fund-raising drive dubbed "ducking Donald," Cruz has turned to the time-honored tradition of challenging the frontrunner to a one-on-one, Lincoln-Douglas-style debate—which Trump has predictably rejected unless and until he and Cruz are the last men standing in the field.
Thursday's 9 p.m. debate marks a return to the main stage for Rand Paul after Fox Business Network excluded him from the last contest two weeks ago. And this may be the last debate to feature an undercard event, since ABC News has already nixed the warm-up round for next week's debate in New Hampshire. That means the end is probably near for Mike Huckabee, Carly Fiorina, and Rick Santorum. And it's now or never for Jim Gilmore, the long-ago Virginia governor who is, yes, still running for president despite having appeared only in a single GOP undercard debate back in August. Thanks to the departures of George Pataki, Lindsey Graham, and Bobby Jindal, Gilmore has surged to one percent in the polls—just enough to snag a spot in the undercard debate. He'll get credit for persistence, if nothing else.
Trump's curveball and the timing of the early debate also provide an unexpected opportunity for the trailing candidates: Both Huckabee and Santorum reportedly plan to attend his benefit for wounded veterans, taking advantage of some added screen time and the chance to appeal to a military crowd. (Not all veterans' groups are appreciative of Trump's move, however, with some calling it a stunt.) In Huckabee's case, the joint event with Trump could be a prelude to an endorsement if he doesn't surprise in Iowa on Monday night.
The prime-time debate, meanwhile, should offer at least a brief glimpse at what the Republican presidential race might have looked like had Trump not upended it with his entry. Devoid of his dominating personality, perhaps the match-up will be more substantive. Cruz and Rubio can continue their fierce debate over immigration policy, while Paul's presence could again expand the discussion over national security, privacy, and foreign policy. Ben Carson might not sound so quiet without Trump there to drown him out. Kasich and Bush have shown blips of strength recently in New Hampshire: Can they recapture voters' attention now that they won't be baited into fights with Trump?
In one way, Trump's decision to skip the debate is a typical frontrunner's move. There's only a few days left until the caucuses, and he wants to run out the clock. His opponents can wail all they want, but Trump's participation in the six previous debates and his constant accessibility to the media make it hard to argue he's hiding or afraid. This being Trump, it's the pretext that presents the most risk: His ranting about Megyn Kelly and then his bickering with Roger Ailes over an insult-laden Fox statement made him seem thin-skinned. Yet this, too, is the very reason for his success so far. The debate is all about Trump, even when he's off the stage.