700 Miles in Search of Elected Latinos in Iowa
An 18-hour drive around the state exemplifies the slow progress and remaining challenges this fast-growing group faces in running for office.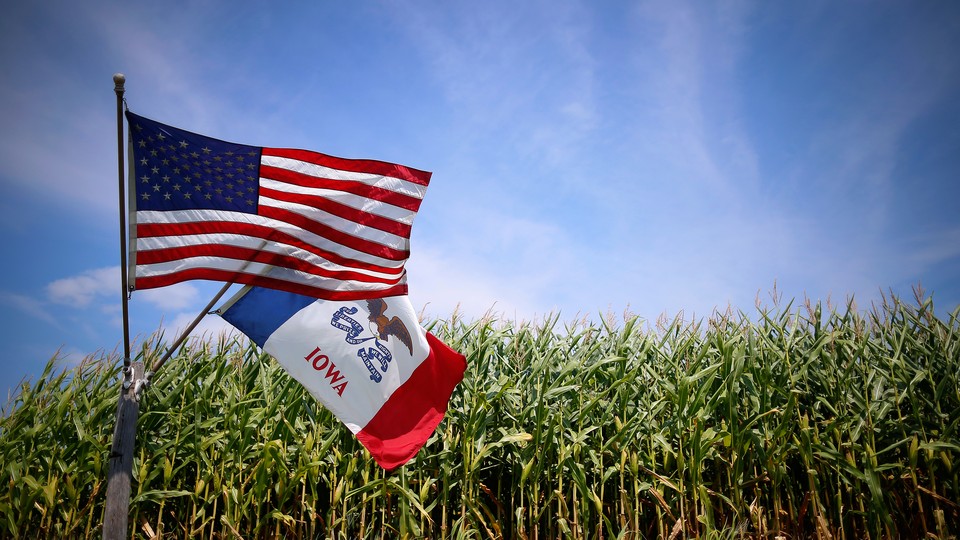 DES MOINES, Iowa—I had to drive over 700 miles in 18 hours to find three Latino elected officials in this state.
My grueling day trip this month speaks to just how few Latinos have run a successful campaign at the local level in Iowa, despite the fact that there are 180,000 of them out of a 3.1 million total population, making up nearly 6 percent of the state's population.
Of the 7,500 elected offices in Iowa, 14 are held by Latinos. No Latino has ever been elected to a federal or statewide office. That means there are no state legislators or members of Congress for Iowa's fastest-growing and youngest population.
I've reported a couple of times on why Latinos have such a poor history of caucusing for presidential candidates. One major reason is that campaigns rarely reach out Latino voters with serious efforts. But another is that Latinos haven't seen their peers elected to public office, giving them little incentive to participate civically.
Rob Barron, the chairman of the Des Moines School Board and founder of an organization called the Latino Political Network, which encourages more Latinos to run for office in Iowa, said at an Atlantic Live event this week that Latinos who don't know one of those 14 officials are probably not going to have a good sounding board.
"I've run," he said, "I won, but I learned a lot. And I ran from having been in politics for a number of years. I really valued electoral service. I feel like I was fortunate in that respect. As I looked around, I didn't see much of an effort to instill those values and prepare people to make those runs. We want to shave the top off the learning curve. We want folks to be successful, to feel validated in this type of service."
Mile 1: Des Moines
While Barron attempts to groom other Latinos to run for office in Iowa, I wanted to learn what worked for a handful who have already won. The distance I traveled pales in comparison to the distances they covered to get elected to local office.
Mile 156: Storm Lake
You wouldn't know it looking out at the snow, but there's a lake outside the floor-to-ceiling windows in Storm Lake's big resort. The lakefront is what Sara Huddleston first saw when she moved to this small town in northwest Iowa, "an oasis in the middle of nowhere," she says. The second thing she saw: "Caucasians."
Latinos weren't the large presence they are now, at 36 percent, when Huddleston and her Iowan husband arrived in 1991. It was the first time in her life that she had people staring at her because of her brown skin. The lessons she learned in the following decades helped launch a political career that might make her the first Latina elected to the Iowa state legislature.
Huddleston's path to Storm Lake is different than many of the Latinos who have moved here. She grew up in a middle-class family in Mexico, studying English with hopes of teaching at the university level. Her family at the time hosted three American students from Iowa, who became like brothers to her. After they left, she got a letter from Simpson College in Iowa, inviting her to study there and assist in the Spanish Department. All she had to do was go to the embassy and have her visa stamped. They put "everything on a silver plate" for her to come to the United States, she says.
It was at Simpson that she met her future husband. His family owned a home three hours north in Storm Lake, and the couple decided to move to start their lives there. When she arrived, she tried to get a job at the meatpacking plant, but found that she couldn't operate the plant's tools. After jobs at a bakery and bank, where she was the first Latina hired at both, in 1996 she found work that gave her purpose: helping victims of domestic violence. She became a known name in the town through her advocacy.
Huddleston became a naturalized citizen in 2000. Four years later, her friend and former Des Moines Register columnist Chuck Offenburger approached her about running for city council, something she never imagined herself doing. He helped with her communication techniques and went door-to-door with her to gain support—which would have to come from the town's conservative, white population because the few Latinos in town were not citizens and couldn't vote.
"Latinos did not make the difference," she said. "I went through town—to churches, to nonprofit organizations, all over—and when I knocked on the door, they knew my name. 'Oh, Sara, you've got my vote,' they'd say."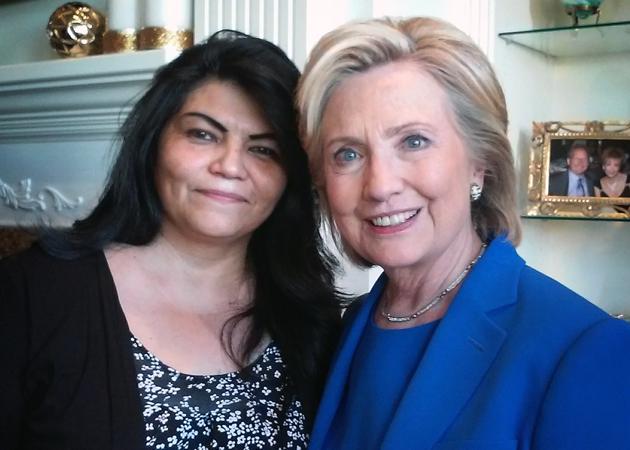 She ran against six other people, including business owners, community leaders, and bank managers. She doubted she could compete. One of her advantages, though, was her last name. Voters either recognized that she was the daughter-in-law of a locally renowned minister or, she jokes, they thought they were voting for someone who was white. But mostly they knew her work in domestic-violence advocacy.
"Caucasians want you to get involved and participate in the government, in the community," she tells me. "We're in an area that is very conservative, very Republican. They don't like change. That's why I'm so shocked I got elected, and got elected three times."
She worked her way into what she calls "the old boys' club" in town, comprised of older, white conservatives, as the only Latina. Now, she wants to break into that club at the state level. Since getting elected to city council, she's learned to demand the respect of the room.
"Every time I walk in, I can tell you proudly, they all stand up and say, 'Hi, Sara,'" she says. "All of them. That's something that you don't learn in college. Nobody teaches you that. When you're in politics, it's tough. I learned this these years. You have tougher skin."
She tells other Latinos that they need to get involved at the local level, like she did, through city zoning and planning commissions, boards, and the library. By not participating, learning English, and finishing school, she says, they are self-segregating and letting others make decisions for them.
"The only way you're going to have progress and go forward is to ally and integrate with the others," she says she tells people. "That doesn't mean you're going to be like the others, but you're going to learn from them. That's what I do."
There are now 1,600 registered Latino voters in Storm Lake, she says. She wants to rally their support, along with the support of white voters who helped elect and reelect her to the city council, even as she moves forward as a Democrat.
"We will make history," she tells me. "That's the one thing. I like to make history."
Mile 430: West Liberty
Jose Zacarias's hardwood-floored, second-floor loft just above a Chinese restaurant along the main drag of town, like his political career, is a project still in process.
Spanish guitar plays gently in the background as he shows me what is effectively his bachelor pad. Beyond the pool table, where his tools are scattered, hangs the bicycle he uses in the annual RAGBRAI race on a wall he's repainting. His term in the city council ended earlier this month, and he decided not to run for reelection. Instead, he wants to focus on the local school board, where he won a seat in 2014, and get better at public service.
He didn't run a traditional campaign when he ran for city council in 2012. He didn't have to, he says.
West Liberty just became Iowa's first majority-Latino town following the 2010 Census. The Latino population had been growing for decades, attracted to this small town of 3,700 just west of Iowa City for its meatpacking plant. When he arrived 31 years ago, Zacarias worked that same assembly line, cutting turkeys.
He was a lawyer back in Mexico, but couldn't say "hi" to save his life when he came here. He learned English by reading the comics section of The Des Moines Register and slowly moved to better jobs as a barber, and then with General Mills and Procter & Gamble, and then went back to practicing law.
Zacarias gained a name for himself in town volunteering through the Rotary Club at churches, playgrounds, and for various projects. After Latinos officially became the town's majority population, and with newfound free time after his children moved out, he decided to run for a city council seat in 2012.
"We needed to be prepared to provide services for Juan Perez and John Doe," he tells me. "Most people already knew me through volunteering. I said, 'Guys, I'm going to run. I expect your votes.'"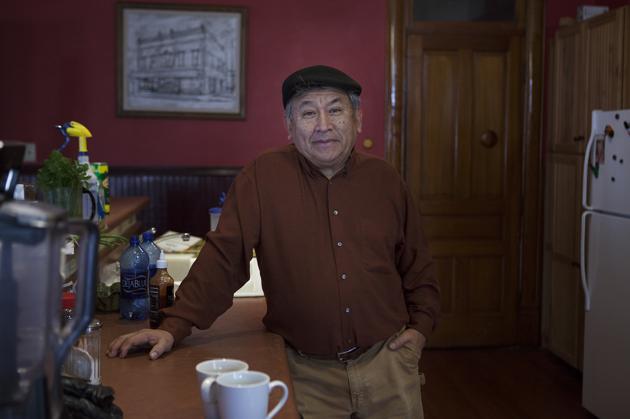 That was his entire campaign, he says. He won his seat with 95 percent of his support coming from white voters. Many of the Latinos in town are undocumented, like he was when he arrived. Several other Latinos are not yet citizens, while many others who could vote, he says, chose not to cast a ballot because of generations of political disillusion in their native Mexico.
He had to rely on the relationships he made with his white neighbors. His campaign "didn't reinvent the wheel," he says. People simply saw that he was involved in the community.
"One of the best ways to fit into Iowa is doing volunteer work," he says. "They will get to know you, and once you're ready, ask for their vote. Iowa is very open when they see you doing the work."
When we spoke over traditionally brewed coffee, stove-boiled and brewed the "Central American way," he talked about his goals for the school board. West Liberty has the state's first dual-language program, where students can learn in both Spanish and English—"one of the best ways to assimilate here," Zacarias says. But challenges remain as education funding experiences statewide cuts. Those challenges, he says, require more leadership from the town's Latinos, which takes years of civic engagement and knowledge.
Mile 516: Dubuque
Jake Rios and his wife bought an old Victorian house on the bluffs that overlook Illinois and Wisconsin across the Mississippi River with hopes of growing their in-home daycare business. But in the months that followed their purchase, the neighborhood was plagued by crime. A young woman was stabbed two streets down. A man was shot around the corner. Another person was robbed down the street.
"I was like, 'Man, I'm raising my kids in this area,'" he tells me. "The thing that got me was our councilmember didn't say anything during the whole time. I said, 'I'm just going to run.'"
He never really thought about running for office before. After his professional drum corps folded, he went in and out of school, unloaded boxes at a local factory, drove a semi truck around the Midwest, and eventually helped his wife run a daycare, first on a farm just outside this port city in northeast Iowa and then in their current home.
While he would eventually win a seat by large margins, he almost immediately stumbled out of the gates when he decided to run last August. "I went and downloaded the forms online, got my neighbors to sign the paperwork, took them down to the county assessor, and when I got there found out they were the wrong forms," he laughs. "This was two days before I had to turn them in. So I went back out and got everybody's signatures again."
He also struggled during the first election forum, when candidates debated local issues. He says he "took a dive," struggling through some answers and hearing people in the crowd sniping at him.
"It's not easy," he says. "I was like, 'What the hell am I doing? I'm going to lose.' That's where it was disheartening. I just was trying to raise a family. You people don't know where I'm from, and yet, just because I'm trying to go against the status quo, I'm getting flak."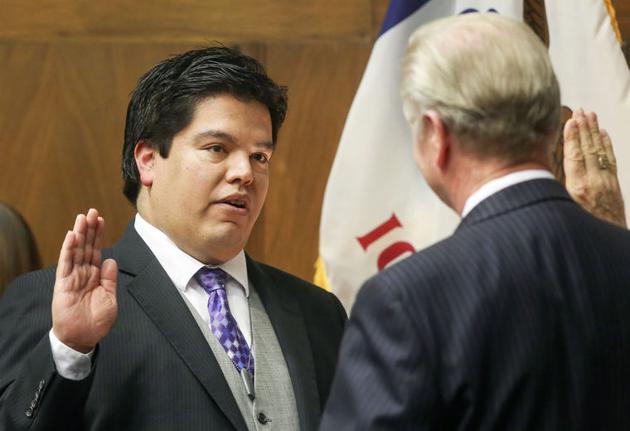 He was one of two Latinos running for city council seats in a town where Latinos comprise only 2.4 percent of the population. Rios is originally from the San Joaquin Valley in California, where his family has been since the 1800s, since immigrating from Mexico. His race wasn't brought up in the campaign, nor was it a deterrent for voters, says Rios, who ran a similar campaign to his friend Luis Del Toro, who also won.
They had Facebook pages and websites, and sent out a couple of mailings, spending a couple thousand dollars, most of which they raised. For one mailing, Rios signed 800 letters he sent out to people in his ward. "A lot of people said it was nice that it was personal," he says. But mostly, they stuck to local issues: education, cost of living, and the budget.
"I think it was just a matter of connecting to people and knowing that there's a huge commonality between all of us," he says. "That was the big thing, since there's not a huge Hispanic population here—telling people it's across the board. It's whites, blacks, whoever else."
His personal approach to the campaign seemed to have worked. Now in a town of few Latinos, two of six city councilors are Latinos.
Mile 712: Des Moines
While the Latino population continues to grow throughout the state, and more of them become citizens and can vote, they'll gain further influence in this traditionally white state.
But they won't be able to rely on just Latino support, as all three elected officials point out. Like a successful community, their support was diverse and integrated. The biggest challenge, beyond lobbying for votes, was just deciding to run in the first place.
Before I left Storm Lake, Sara Huddleston gave me a parting thought. "The goal is not to win," she told me. "The goal is to break the ice."