2016 Iowa Caucuses Cheat Sheet
Everything you need to prepare for the first presidential nominating contest of the cycle.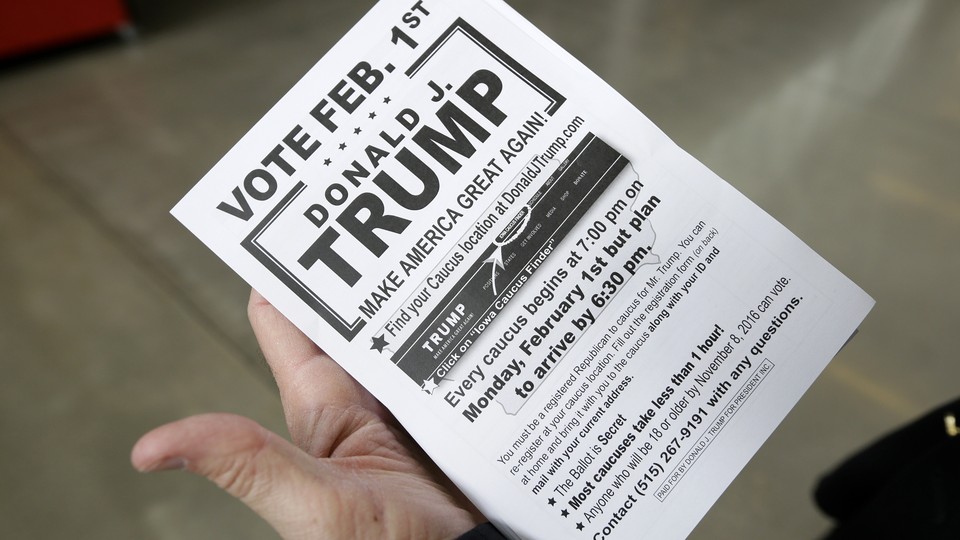 The 2016 Iowa caucuses are finally upon us. Here's what you need to know before the results begin pouring in Monday night:
TIMING
The caucuses will begin at 1,681 precincts across Iowa's 99 counties starting at 7 p.m. CST/8 p.m. EST. There is not a set end time.
RESULTS
The results will be available here for the Republicans and here for the Democrats as they are reported.
DELEGATES
On the GOP side, 30 delegates will be allocated proportionally based on the statewide results. Candidates are not required to reach a certain threshold to win a delegate.
Democrats have 52 delegates in Iowa, but only 44 will be up for grabs Monday. Those 44 delegates will be awarded proportionally at both the statewide and congressional district level. To win any of those delegates, candidates must reach a threshold of 15 percent. The other eight delegates in the state, known as "superdelegates," are free to support any candidate, regardless of Monday's results.
HOW THE CAUCUSES WORK
Caucuses are not like a normal primary election, where voters can simply enter a booth, check a box and be on their way. And the process in Iowa is different for the two parties.
For the Republicans, the caucus process is more straightforward. At each precinct, representatives for each of the campaigns will give a speech to the group. Then a binding, secret straw poll is taken, and the results are reported to the state party.
On the Democratic side, campaigns will also pick someone to address the precinct in support of their candidate. But supporters for each of the candidates are split up into different sections of the room where the caucus is taking place. Uncommitted caucus-goers are also separated into their own group. After the first round of voting, which is taken publicly, if a candidate doesn't receive at least 15 percent, his or her supporters must then move to a different candidate. Once all of the remaining groups have reached the viability threshold, the delegates can be awarded.
TURNOUT
It's one of the oldest political clichés, but turnout will play a major role in determining who will walk out of Iowa with a victory. Bernie Sanders and Donald Trump in particular are banking on expanding the electorate to Iowans who were less likely to participate in past caucuses. Sanders will be hard-pressed to top the last competitive election for Democrats in 2008, when nearly 240,000 of the 606,000 registered Democrats showed up to caucus, a turnout rate of roughly 40 percent.
On the Republican side, turnout hovered around 20 percent in 2008 and 2012. The number of active, registered Republicans is the same this year as it was in 2012, with 615,000 on the rolls. The number of active Democrats has decreased by nearly 20,000 since 2008. As of last week, there were about 586,000 active Democratic voters registered.
There is a large number of registered voters with no party affiliation in Iowa—more than 726,000—and voters are allowed to register for a party the day of the caucus and still participate.
COUNTIES TO WATCH
In addition to watching overall turnout levels, there are a several counties to keep an eye on as indicators of who will do well on caucus night.
Polk County: This is Iowa's most populous county, so it's difficult for a candidate, Democrat or Republican, to win the state without taking it. Roughly one in six Democratic voters reside here.
Eastern Iowa: Counties such as Black Hawk, Johnson, Linn, and Scott will be key for the establishment-oriented candidates (Marco Rubio, Jeb Bush, Chris Christie, and John Kasich) looking to break through. This area was Mitt Romney country in 2012.
Northwest Iowa: GOP candidates relying on social conservatives, like Ted Cruz and Ben Carson, will need to post strong numbers in the state's rural northwest corner. In particular, keep an eye on one of the most Republican counties in the country, Sioux.
College towns: Black Hawk County (University of Northern Iowa), Johnson County (University of Iowa) and Story County (Iowa State University) are all home to sizable universities, so these will be important areas for Sanders.
Southwest Iowa: This region was at the core of Hillary Clinton's base in 2008. Counties such as Pottawattamie will be critical to her delegate count, and she will need to extend that advantage across the southern part of the state, where voters are older on average and John Edwards did well eight years ago.
RECOUNT PROCEDURE?
There is no recount procedure for the Iowa caucuses. Both parties will use an app from Microsoft to report the results Monday night, which the parties hope will speed up verification time. Once the results are verified, they're final—candidates cannot challenge the results.