11 Questions That Will Define Congress in 2016
Against the backdrop of a presidential election, will the House and Senate get anything done?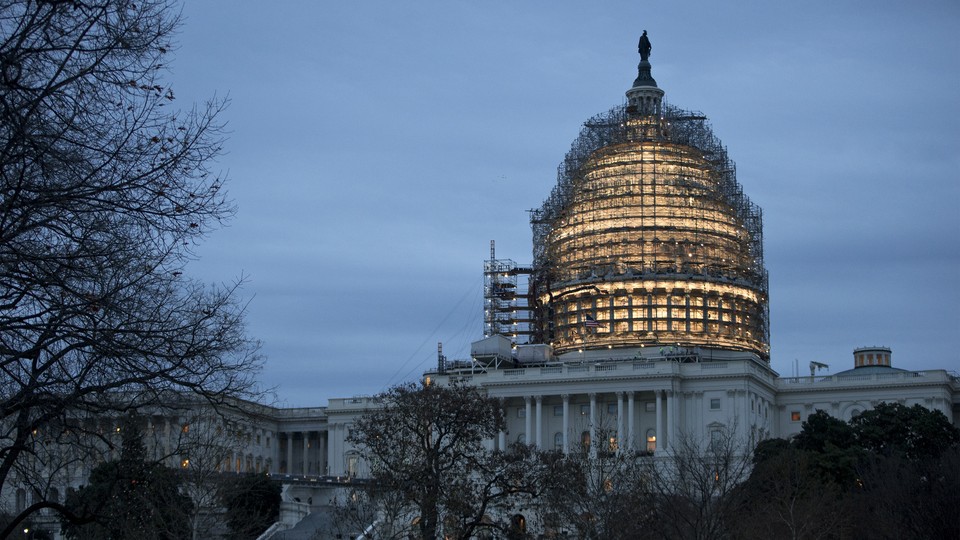 In the weeks after Paul Ryan took the House speaker's gavel, reporters began casting various bills and decisions as his "first test."  That instant cliché has more than run its course. But 2016 will test the new speaker many times over, even if it's thankfully way too soon for hot takes on "Paul Ryan's Final Exam."
Across the Capitol, where the filibuster makes it even harder to get anything done, 2016 brings the final year of battles between Senate GOP leader Mitch McConnell and retiring Democratic leader Harry Reid. Maybe the two longtime rivals will be in a mood to negotiate, or the presidential race could mean that political messaging trumps governing.
Here's a rundown of 11 questions that will actually determine what this Congress can still accomplish, where the political fault lines will be drawn, and where power will truly reside.
Will Paul Ryan Be a 'Regular' Guy?
Ryan has vowed to break with the John Boehner era by giving real power to the committees and rank-and-file members, rather than concentrating all the decision-making leadership suites. In Beltway jargon, he promised "regular order."
But that will be easier said than done, especially in a Capitol Hill culture of last-second decision making. It certainly isn't the new norm yet. Recently, a quickly crafted bill to temporarily block Syrian and Iraqi refugees from entering the U.S. and tighten screening never went through committee. Nor did the massive "omnibus" spending package approved in December, which members saw just two days before casting votes.
Ryan has argued that he gets a pass on the omnibus because he inherited the broken spending-bill process, and that a new day has dawned. "You'll see a return to regular order, where men and women in Congress can bring their bills to the floor, make their amendments in order, and we will run Congress the way the Founders intended it to be run," he told conservative pundit and radio host Bill Bennett shortly before Christmas.
Will Cruz vs. Rubio Take Center Stage?
Ted Cruz and Marco Rubio have been fighting a lot over who is tougher on immigration, and that could easily spill over onto the Senate floor in 2016 as the primaries heat up.
While broad immigration-policy overhaul bills are in a deep freeze, battles over refugee policy and visa screenings (see above) could provide plenty of chances for the two rivals to do battle. So could messaging votes on amendments. And beyond immigration, look for both of the first-term senators, when they're not on the stump, to use Senate votes and Senate microphones as a way to show their bona fides on spending, tax policy, and other topics.
Along the way, expect more Republican senators to pick sides—especially with popular Sen. Lindsey Graham now out of the race. Cruz is well-liked among conservatives nationally, but has made a lot of personal enemies in the Senate. Will that hinder his ability to grab endorsements?
Can Congress Tackle Criminal-Justice Reform?
Plenty of issues will suck up political oxygen, but without much consequence. No, Congress won't succeed at killing President Obama's climate regulations or repealing Obamacare. But there's a real bipartisan appetite to make big changes to the nation's broken criminal-justice system. Goals include easing the harsh mandatory minimum-sentencing guidelines for drug offenses, and reforming the "back end" of the system to ease prisoners' transition back into society and cut recidivism.
The effort has powerful allies on Capitol Hill. One of the leading proponents is John Cornyn, the Senate's second-ranking Republican, who has teamed up with liberal Democrat Sheldon Whitehouse on the issue. Both McConnell and Obama have highlighted criminal-justice reform as a priority topic next year.
Is Obama's Trade Agenda Still Alive?
The president says he's hopeful that the sweeping Trans-Pacific Partnership can clear Congress. But it looks to be a slow burn amid divisions on trade in both parties and the GOP presidential field. Senate Majority Leader Mitch McConnell told The Washington Post recently that the bill won't come up until after the 2016 elections and warned that "there's pushback all over the place."
Obama acknowledged the difficulty during his year-end press conference. "There are both proponents and opponents of this in both Democratic and Republican parties, and so it's going to be an interesting situation where we're going to have to stitch together the same kind of bipartisan effort in order for us to get it done," he said on Dec. 18.
Does Paul Ryan Care About Freedom?
This one is related to whether Ryan truly honors his pledge to restore "regular order." The archconservative and restive House Freedom Caucus, which helped to push John Boehner out the door, now have a speaker who advertises himself as a "movement conservative."
But Ryan has already shown a pragmatic streak—just look at the horse-trading in the year-end budget deal. And Ryan's allies rebuffed efforts by the roughly 40-member Freedom Caucus to yank the bill to the right. But it's also true that Ryan has been given something of a pass so far, given that he only took the gavel with around seven weeks left in the session. How much Ryan listens to the group, and how much patience they exhibit if losses start piling up, will be a something to watch all year.
What About Those Refugees From Syria and Iraq?
The House easily passed a quickly assembled bill in November that's designed to toughen security screenings of refugees from Iraq and Syria, a measure the White House opposed, arguing it would impose impractical requirements that hamstring resettlement efforts.
The issue is likely to resurface in 2016 as security concerns remain high on the political agenda in the wake of attacks in Paris and San Bernardino. And lawmakers on both sides of the aisle also hope to force federal officials to better screen the social media activity of visa applicants—even if a news report that helped to sparked that effort turned out to be false.
Will Congress Help Puerto Rico?
Measures to tackle the island $70 billion debt crisis didn't make it onto the omnibus deal. And there's a thicket of wealthy competing interests with a stake in how U.S. policy does—or doesn't—provide relief.
The New York Times put it this way: "On the surface, it is a battle over whether Puerto Rico should be granted bankruptcy protections, putting at risk tens of billions of dollars from investors around the country. But it is also testing the power of an ascendant class of ultra-rich Americans to steer the fate of a territory that is home to more than three million fellow citizens."
Ryan says he's committed to action early and has tasked committees to come up with a solution by the end of March.
Does Trey Gowdy Have a Trump Card?
The House Select Committee on Benghazi has been out of the public eye since a trio of events put the GOP probe onto the defensive last fall. There was Hillary Clinton's smooth performance at a marathon public hearing; Rep. Kevin McCarthy's quickly infamous comments that put a highly partisan gloss on the committee's work; and a fired committee investigator going public with explosive allegations.
But at some point the panel's work will be made public, and Chairman Trey Gowdy has repeatedly said the committee has broken new ground in its long probe of the 2012 attacks in Benghazi that left four Americans dead. But what the investigation adds to the public understanding of the attack—and then-Secretary of State Clinton's handling of it—won't be clear until the final report surfaces.
Is There More Energy to Burn?
Secretive talks over the year-end spending-and-tax deal surprisingly produced the most far-reaching piece of energy legislation signed into law since 2007. (For those who missed it, Republicans and a few conservative Democrats scored a big win by lifting the decades-old crude-oil-export ban, while the bill also gave Democrats reason to cheer by extending tax credits for renewable electricity projects for five years.)
If there's more political appetite for policy-making on energy, there are several areas of potential compromise, though please read that with all the grains of salt needed when considering the modern Congress. Topics in the mix include efforts to reform the unwieldy national biofuels mandate; better protecting the power grid against cyber-attacks; and consensus measures on energy efficiency that have previously been ensnared in fights over the Keystone pipeline and Obamacare.
Obamacare politics—and maybe a sweet spot on mental health?
The House will come back swinging against Obamacare yet again. While the chamber already passed legislation repealing provisions of Obama's signature health law, the Senate passed a broader version in December that went even further—such as repealing Medicaid expansion—and the House will vote on this in January. While it's clear that Obama won't sign the measure, the bill serve as a blueprint if the GOP wins the White House come November. Additionally, Ryan has vowed to offer a replacement plan to the Affordable Care Act in 2016.
For now, the anti-Obamacare efforts are more politics than reality, given who occupies the White House. But there is a health-policy topic that could potentially be ripe for cooperation. Within Congress's health-focused committees, the idea of reforming the mental-health system has been swirling as a response to recent mass shootings. House Republicans have touted Rep. Tim Murphy's bill to improve mental health services, but Democrats have reservations. On the other side of the Capitol, multiple lawmakers have been working on proposals, including Senate Majority Whip John Cornyn and a bipartisan effort by Sens. Bill Cassidy and Chris Murphy. The Health, Education, Labor, and Pensions Committee aims to hold another hearing on mental health legislation in late January and may try and move broad legislation.
Will FOIA Reform Really Happen?
This is something of a sleeper issue. But it's important. There's a bipartisan push underway to improve the federal government's compliance with Freedom of Information Act requests.
The twin problems of slow—often very slow—response times and excessive secrecy were brought into sharp relief last June at a two-day hearing before the House Oversight and Government Reform Committee.
Reps. Jason Chaffetz and Elijah Cummings, who are the GOP chairman and top Democrat on that panel, are working together on legislation to reform the FOIA process with steps that include preventing agencies' overuse of exemptions that enable them to withhold documents. But the schedule for getting anything onto the floor in either chamber remains unclear.
---
Rachel Roubein contributed to this article