'You Have To Believe In Your Experience'
She's the only woman in Dell's top executive ranks, leading through tech culture without compromising work-life balance.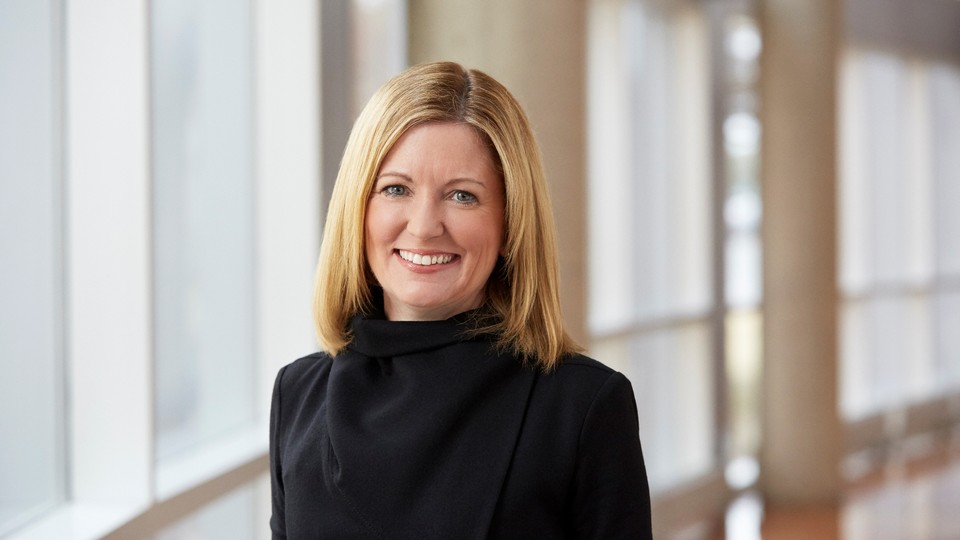 The "brogrammer" culture in the tech seeps into all areas in Silicon Valley and its industry giants.
In fact, about 53 percent of tech companies don't have women working in the executive C-suite, according to a recent survey by Silicon Valley Bank.
The gender gap sparked national attention last year when companies like Facebook, Google, and Twitter released their employee workforce diversity data, and confirmed how poorly their employee ranks reflect the country at large in terms of ethnic and gender diversity.
Karen Quintos is one exception.
The only woman in the executive team at Dell, which is based outside of Austin, Texas, Quintos is the chief marketing officer in charge of branding, advertising, and customer data analytics. In 2014, Forbes named Quintos one of the most influential CMOs in the world, and Working Mother named her Mother of the Year in 2012.
Quintos recently met with Next America to talk about what it's like to be a woman in tech leadership and what companies like Dell need to do to attract more women to their ranks.
This interview has been edited for length and clarity.
There's been a lot of attention paid to the lack of female employees at big tech companies. Why do you think there is such a gender gap?
I think it's a multifaceted issue. I don't think there's a silver bullet. If there were a silver bullet, I think we would have figured it out a long time ago. I think it's a combination of, there aren't enough role models so it's kind of this self-perpetuating thing—so you need more role models. Secondly, I think that companies and culture play a big, big role. I think that companies such as Dell are working to create cultures where women can be themselves. There are programs that are put in place, like parental leave, paid leave, and those types of benefits.
I also think there are some inherent attributes associated with women that women need to continue to work on and develop. Women need to put their hand up and ask for a raise. Women need to put their hand up and ask for the job or the promotion. And if they're told no, they need to really be OK to ask why and go back and ask again in the next three to six months. And I think these are things that are naturally ingrained in men and socialized in men, but women have not historically been socialized in the same way.
There is a stereotype that women and girls don't belong in the tech industry. How can large tech companies like Dell do a better job marketing the tech field to them?
It's something I think about a lot  because I have two daughters. I think today the conversation is easier because today technology permeates everything. So when I was going through school, technology was about being a coder, being a programmer, coding a big mainframe type of thing. Now technology is everywhere, and this next generation of employees entering the workforce is living in this all-digital, all-technology world. So I think that part of it is a little bit easier. But I think companies like Dell need to reach girls at an earlier age, and actually we've done that with one of the programs from our women's networking organization. It's a program called 'IT is Not for Geeks.' We have gone to thousands of high schools across the world and have talked to girls about what being in technology is all about, and that you're not going to have to sit in front of a mainframe and code all day. So you have to make it fun, you have to make it interesting, you have to talk about it in a way that girls like to talk about it.
The other thing that I think we need to do a better job of is to have more role models that we make more visible. So whether that's a company like Dell looking at what we need to do to showcase the female talent that we have; it could be in the events that we do and by making sure that we have leaders on stage that represent a diverse group of individuals; and frankly, I think Hollywood needs to play a bigger role in this—not continuing to just repeat the stereotypes that turn girls away from being doctors, being in the medical field, being in technology.
I know you cofounded Dell's networking group called Women in Search of Excellence. Why do you think it's important for women to network with other women?
I have a huge belief that we just simply need more women in leadership positions in corporate America and in the public sector. I think that women have a lot to share with each other, and women don't always reach out for help as much as I think they need to. I think these employee groups give employees a safety net of other women who have gone through similar challenges. Perfect case in point: maternity leave. It's stressful. Not only are you pregnant for nine months, but you are trying to figure out when do you get pregnant if you want to have a career. This is a great question to ask other women. Then you go ahead and have the baby, take whatever period of time off, and then that transition period back for many women can be really, really hard.
When I transitioned back from my first child, the woman who I was working for at the time gave me some of the best advice that anybody ever gave me. She said, 'You know what? For the first two weeks that you are going to come back, come and go as you please, as you want to. Don't make any decisions. You're not going to want to be here. You will eventually get back into this part of your life that you'll realize that you have missed, but ease into it.' I think that's one example of how women can help women in choosing jobs, choosing careers, choosing companies, and figuring out when to go on maternity leave.
Was that the case for you? Was it as difficult as she said?
You know, it was emotionally hard. Especially after the first child. First of all, you worry about child care and you want to know that your child is going to be OK. You miss your child. That was one piece of it. Then, with me, it was somewhere in that two- to three-week period when it got easier. Every day got easier. But I can't imagine the pressure of coming back, starting a brand new job, having to be at work for eight-plus hours on Day One from coming back from maternity leave.
You are the only female on the senior executive team at Dell. Do you feel that you've faced challenges that men don't face to get to your position?
You know, I don't ever feel like the challenges that I had hindered me from getting to my position at Dell. I will tell you that I have worked at other companies prior to Dell where I did see some of the hurdles and the roadblocks clearly for other women across the marketing and technology area. I've been super fortunate, which is one of the reasons I feel so strongly about being such an advocate for this, because I do see it. There are lots of examples out there.
Can you give me some examples of the hurdles you've dealt with?
I've seen women who have worked in companies and have made decisions to put their child-care leave on hold because they work for a manager who won't even have a conversation with them about how it's really OK to take time off and have children. I've seen situations where men will talk to women in a way that makes them feel that they are being excluded from a conversation. I've heard women who talk about the fact that they're not golfers and they don't like to golf, but they know that a lot of times that is where some of the really interesting conversations come up. Like 'I've got this project and I'm thinking about doing this and I'm thinking about going into this market.' Golfing is how men socialize. When you are not in those inner circles from a social perspective, women are often stuck trying to figure out how to overcome that. I've certainly seen those social settings preclude women from getting into roles as fast as men.
You were named a Working Mother of the Year by Working Mother magazine. Do people constantly ask you how you juggle a career and family?
They used to ask about it a lot more. I think the conversation has really evolved now that men are talking about work-life balance as much as women are. Men are taking paternity leave. I mean, look at Mark Zuckerberg [who took two months of paternity leave after the birth of his first child]. That's fantastic. I tell anyone that ever asks me that I really do think it's about working for the right company that allows you to balance your life. We are super fortunate at Dell because it's not a face-time company. We are a results-oriented company, which makes the work-life-balance discussion at times kind of a moot point, because really it's about what you are delivering and not about how many hours you have been there.
When I was younger, I was moving up quickly in the corporate ladder and I prioritized the hours. Then when I had kids, I thought, I'm not going to work as many hours and I need the flexibility. I'm pretty maniacal about organizing my calendar around band concerts, cross-country meets, football games, all of that. And by the way, so is [CEO] Michael [Dell]. That was actually one of the things I was pleasantly surprised about when I moved onto his leadership team. He really supports this notion of balancing your work and your family. And I often sit back and think, if he can figure out how to take vacation, we can all figure out how to take vacation. So he's a great role model when it comes to this. Now there are times where the business needs you there and you are going to work longer hours. But there also lots of times where you don't have to physically be in the office and there is a good degree of flexibility.
What advice would you give to women who would like to reach your rank at a big tech company?
I would say, clearly delivering business value, and results matter, but I think that's just a ticket to entry. I think you have to have the confidence and believe in yourself and believe in your experience, believe in your advocates and use your advocates to really help you figure out how you can take your career aspirations and have them met. And I believe picking the right company really matters, and the right boss, too.