With Focus on Guns, Democrats Try to Flip the Security Issue
Democrats believe their push for gun control will help in swing districts, but Republicans beg to differ.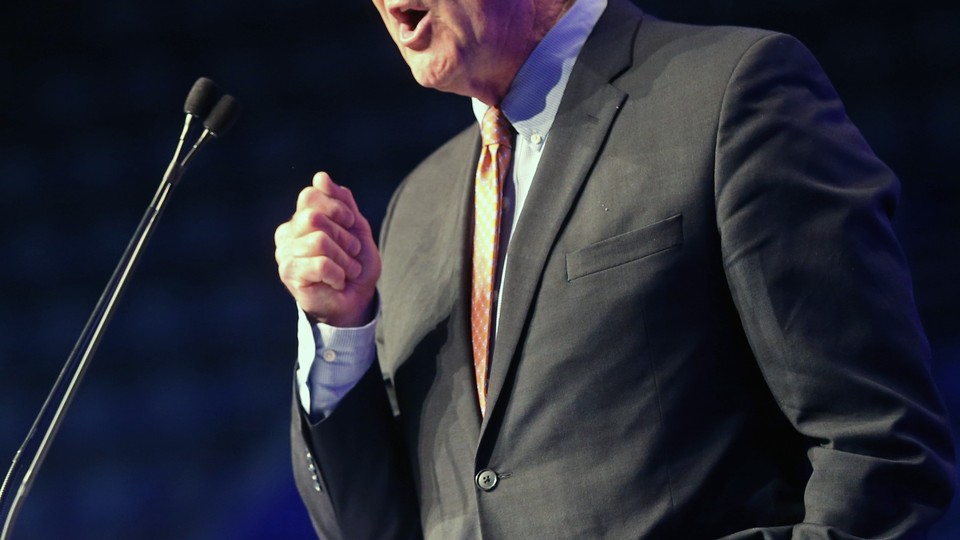 House Democrats are going on offense on gun reform—and, for once, they don't seem concerned that the issue will be a political loser.
"Republicans are saying that national security is going to be a major issue in House races," said Rep. Steve Israel, who heads House Democrats' messaging efforts and helmed the Democratic Congressional Campaign Committee for two cycles. "That may or may not be. But I do know that personal security will be a major issue. And if Republicans continue to protect the NRA and fail in their responsibility to protect people's personal securities, we're going to make that an issue."
Israel has led the charge on trying to force a vote on a bill to ban people on the FBI's terror watch list from buying guns. His caucus has filed numerous procedural motions this week to tie up House floor time and "shame" Republicans into holding a vote on the issue. Meanwhile, Rep. Mike Thompson has filed a discharge petition aiming to earn enough signatures to bring it to the floor—an unlikely proposition.
But Democrats' efforts aren't limited to wonky maneuvers on Capitol Hill. Already, at least half a dozen Democratic challengers are hitting GOP incumbents on the issue, and the party's campaign leaders plan to stay on the attack. "All across the country, all the polling is showing us, all the interactions with constituents—and I've been traveling the country very aggressively and extensively—this notion that Republicans' refusal to allow for a bill to come to the floor that would ban the sale of guns to the people who are listed on the FBI terrorist watch list, it's a no-brainer," said DCCC Chair Ben Ray Lujan.
Among the Re­pub­lic­ans tak­ing heat on the is­sue, the DCCC said Reps. Mike Coff­man, Cresent Hardy, Robert Dold, Martha Mc­Sally, Lee Zeld­in, and Scott Gar­rett are already being taken to task by Democratic challengers. And on Thursday the group released its first radio ads on the issue. Those six incumbents, along with Reps. Barbara Comstock, John Mica, Carlos Curbelo and Steve Knight, will all have attack ads running in their districts. Mean­while, Is­rael thinks that Demo­crats could ex­pand their at­tacks to at least 35-50 sub­urb­an and ex­urb­an dis­tricts to force Re­pub­lic­ans to de­fend on this front.
But Republicans maintain that they still hold the upper hand on gun-related issues—and it's actually swing-seat Democratic incumbents who should be concerned.
"House Democrats continue to play politics with this gimmick procedural vote," said National Republican Congressional Committee communications director Katie Martin. "The radicalized shooters in California were not on the no-fly list and this gimmick would have done nothing to prevent this terrorist attack. Instead of continuing to play political games with gimmicks and procedural votes, House Democrats should join with Republicans in asking that President Obama develop and implement a serious plan to combat and defeat ISIS and keep this country safe."
The GOP believes that national Democrats' focus on guns will backfire on their members who represent rural areas with populations that cling fiercely to their Second Amendment rights. But swing-seat Democrats don't seem overly concerned.
"Most people in this country are comfortable with the reforms that are being proposed—background checks, particularly for people who are on the terror watch list," said Rep. Rick Nolan. The Minnesota Democrat won reelection last cycle despite the National Rifle Association spending nearly $1 million to oppose him. He claims their ads were dishonest, and he's run ads of his own featuring him wielding a hunting rifle.
Nolan is now pitted in a rematch with businessman Stewart Mills, whose family's retail chain sells firearms, among other outdoor equipment.  He doesn't expect the attacks to go away anytime soon, but he's not running away from the issue. "The NRA gets carried away, and of course I have a gun salesman running against me, so I understand why he wants to sell more guns to anybody and everybody, but I just think that's a mistake," he said.
Another Democrat on the GOP's target list, Nebraska Rep. Brad Ashford, said the political consequences of inaction would be far worse than the blowback for supporting the bill. "If you look at it in reverse—If someone does commit a terrorist act with a firearm who's on the no-fly list and has purchased a gun, well it's going to be a pretty bad deal," he said. "[The NRA has] attacked me plenty of times. I respect the right to bear arms and I understand it's important in my state. I just think we're in a new place here with terrorism and this is a tool we have, and that's why I support it."
Democrats' bet is that voters are focused on national security and attentive enough to draw a distinction between the terror watch list and gun issues more generally. Almost all of the Democrats interviewed for this story cited polling on the issue that they said shows close to 80 percent support among gun owners. "We are focusing intently and exclusively on one issue, and that is the terrorist watch list and the ability of people on that watch list to go buy guns and use those guns to murder Americans," Israel said. "You've got about 50, 60-percent support for an assault-weapons ban. On the terrorist watch list, it's about 80 percent. This is an issue where Republicans are exposed and they have no defense."
Rep. Dan Kildee, who heads the DCCC's Frontline efforts to protect vulnerable incumbents, also sees it as a political winner. "Whenever they fail to take up legislation that is universally considered common sense, it helps everybody carrying the Democratic banner because it continues to paint the Republicans as extreme and unwilling to do the things most Americans would like them to do," he said. "Voters are pretty capable of discerning this question from some of the other questions that there's a diversity of views within our caucus on. The focus is so much on national security and on dealing with the threat of terrorism that it's really being framed in that context."
Lujan said he was raised in a family that owned guns, and he believes this is an issue where Republicans have lost touch with even their proudest gun-toting supporters. "Across the country, even NRA members, card-carrying NRA members that pay their dues, support closing this loophole," he said. "There seems to be more agreement on this than there is disagreement."
This article has been updated.