Winners and Losers in the Las Vegas GOP Presidential Debate
Donald Trump and Ted Cruz emerge largely unscathed while Ben Carson's downward trend continues.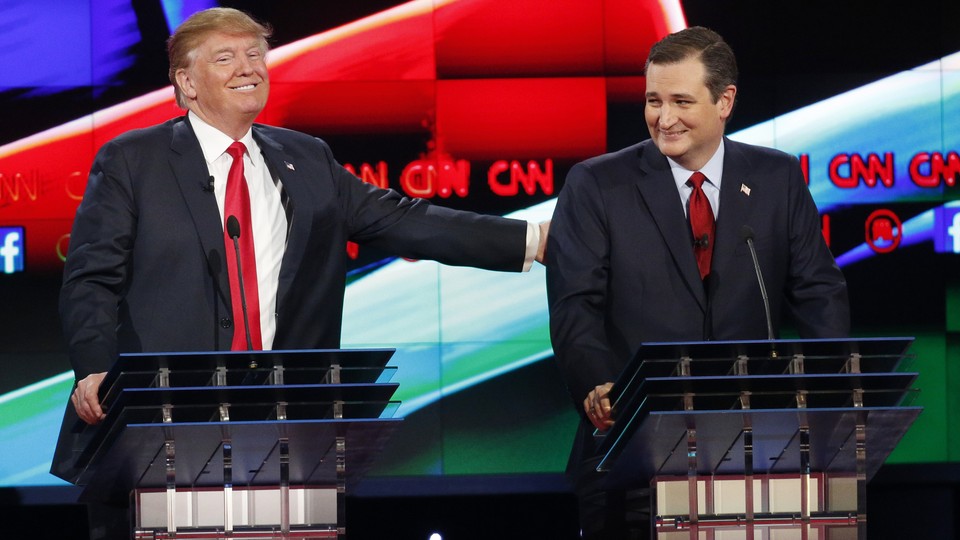 Tuesday night's Republican presidential debate in Las Vegas didn't offer any major race-altering moments, but it did solidify the recent trajectory of the 2016 campaign. That's welcome news for Donald Trump and Ted Cruz, and a bad sign for Ben Carson.
Here's National Journal's complete list of the winners and losers from the fifth debate of the GOP primary:
WINNERS
THE POLL-TOPPERS
Trump and Cruz took the stage Tuesday night as the candidates to beat, and more than two hours later, they emerged in the same position. The two leaders in Iowa and national polls refused to turn their knives on one another, even after Trump referred to Cruz as a "bit of a maniac" just a few days ago following a New York Times report that Cruz questioned Trump's judgment at a private fundraiser. In fact, Trump completely reversed himself, saying Cruz has "a wonderful temperament."
Instead, Cruz sparred repeatedly with Marco Rubio on national security and immigration, while Trump tussled with Jeb Bush on several occasions, providing moments that all camps involved could point to as victories.
Notably, toward the end of the debate, Trump also ruled out (again) launching an independent bid for the White House, which could blunt criticisms that he's not a true Republican. And every candidate on stage signaled they'd support him over Hillary Clinton if he's the GOP nominee. Above all, the two poll-toppers emerged largely unscathed.
JEB BUSH
Bush finally seemed to find his voice Tuesday night. But was it too little, too late?
After struggling to assert himself in the first four debates, the former Florida governor came across as much more confident and polished in Las Vegas. Bush trained most of his fire on Trump, and even though he didn't take the poll-leader down, he certainly scored points by repeatedly asserting that Trump is not a serious candidate.
Bush delivered one of the most memorable lines of the night, when he told Trump: "You can't insult your way to the presidency." The remark not only drew huge applause from the Las Vegas audience, but according to data provided by Facebook, it was the top social moment of the debate. How much, if at all, this performance helps Bush rise out of the single digits in polls remains to be seen, but in the short term it should help ease the minds of some nervous donors.
RAND PAUL
Just appearing in the prime-time debate alone was a victory for Rand Paul, whom CNN allowed on stage "in the spirit of being as inclusive as possible" despite his poor poll numbers. Paul kept up his attacks on Rubio, at one point calling him "the weakest of all the candidates on immigration." He also carved out his space as a libertarian on surveillance at a time when Cruz has already made inroads with voters receptive to this message.
This was the Paul that many of his supporters have been waiting to see on the national stage. The danger for Paul, when he sounds more and more like his father, Ron Paul, is that doing so limits his opportunities to expand his base. But at this stage, Paul needs to lock down his father's old backers to boost his struggling campaign, and he took another step toward accomplishing that Tuesday night.
LOSERS
BEN CARSON
While there wasn't one overwhelming winner, there was a clear loser: Ben Carson. The retired neurosurgeon had a rough night right from the get-go. The very first time moderator Wolf Blitzer came to him with a question, Carson complained about not being given enough time to talk. But from there, it only got worse. In a debate dominated by foreign policy, Carson's lack of bona fides on the topic was again painfully evident.
At one point, panelist Hugh Hewitt asked Carson if he was comfortable making decisions that put innocent children and civilians at risk. Carson gave a meandering response: "Well, interestingly enough, you should see the eyes of some of those children when I say to them, 'We're going to have to open your head up and take out this tumor.' They're not happy about it; they don't like me very much at that point. But later on, they love me. ... Later on, you know, they really realize what's going on. And by the same token, you have to be able to look at the big picture and understand that it's actually merciful if you go ahead and finish the job rather than death by a thousand pricks."
"So you are OK with the deaths of thousands of innocent children?" Hewitt followed up to boos from the audience, ending the exchange, mercifully for Carson.
JOHN KASICH
After his super PAC launched a multimillion-dollar anti-Trump campaign, and after he took on the role of chief Trump agitator himself in past debates, John Kasich all of a sudden decided to play peacemaker in Las Vegas. In his opening statement, he said his daughter doesn't like politics because "there's too much fighting, too much yelling."
But by not doing much fighting or yelling on Tuesday, Kasich faded into the background for most of the debate, as Cruz-Rubio and Bush-Trump showdowns dominated the action. And Kasich could use a rebound, as he's fallen behind Chris Christie, Bush, and Rubio in the most recent surveys in New Hampshire, a make-or-break state for the Ohio governor.
GOP ESTABLISHMENT
If Trump and Cruz were two of the winners Tuesday night, then by default the Republican establishment was a loser. Less than seven weeks out from Iowa, the party's center-right wing has yet to coalesce around a single candidate, and likely won't be any closer to doing so after the debate.
The candidate who appears best-positioned to claim the party's establishment mantle, Rubio, delivered a mostly solid performance. But it was also the Florida senator's toughest debate thus far; he was the top target of Cruz and Paul, who repeatedly hit him on national security and what could be his Achilles' heel, immigration. Relatively strong showings from two other mainstream conservative candidates, Bush and Chris Christie, also assure this lane will remain crowded for some time yet, creating a smoother path for antiestablishment candidates like Trump and Cruz.
---
Alex Roarty contributed to this article